First, congrats to Stephanie S., winner of the Amazon gift card. Stephanie, you've been emailed! And thanks to ecoATM for the giveaway. Don't forget to look for an ecoATM when you need to sell/recycle a mobile device!
_______________________________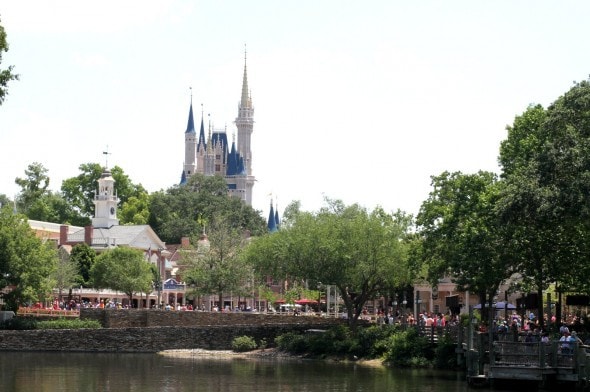 As you all know, the family FG took a trip to Disney World in Florida in May.
We don't normally do such splurge-y vacations, but I had $1500 to spend thanks to Glad's SaveItSunday campaign ($1500 is a year's worth of average food waste!), and we decided to spend it at Disney.
I'm not anywhere near a Disney expert after just one trip, but we did manage to do Disney without completely breaking the bank, so I thought I'd share what worked for us.
Transportation
We opted to drive instead of flying, since the gas expenditure was going to be far less than round trip tickets for six. Plus, we weren't staying on the resort, so we'd have had to rent a car to get around if we flew. So, this was definitely our most practical, inexpensive option.
On the way down, we got to visit some friends who live in north Florida, near the beach.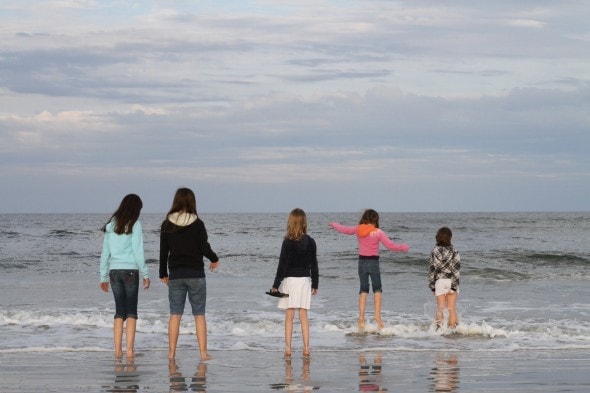 Zoe was pleased with a chance to jump in the waves.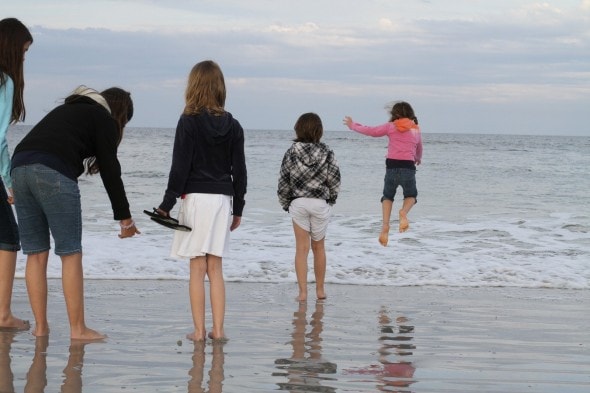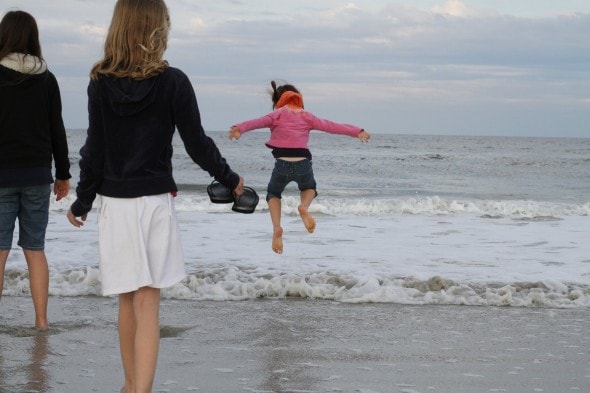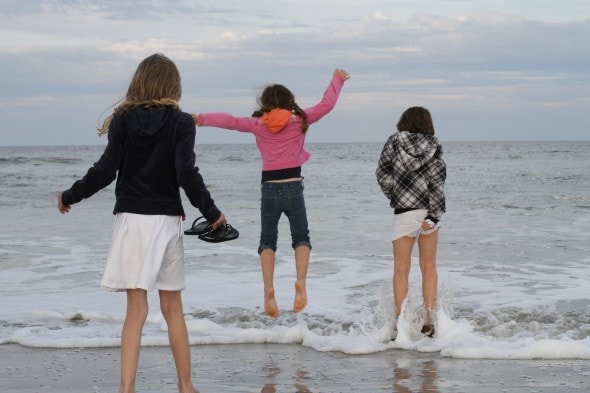 Accommodations
We stayed off-resort, in a condo (at Orbit One Vacation Villas) with two bedrooms, a kitchen, and washer and dryer.   We rented it as an extra vacation through my parents' timeshare, and the whole week cost us $500, which is a great deal.
Staying off-resort was less expensive to begin with, and having a full kitchen meant we could avoid eating out almost entirely.   We ate breakfast at the condo every day, packed lunches, and cooked dinner most evenings as well.
Eating out for six people even once a day ends up costing a LOT of money, so accommodations with a kitchen are really important to me.
Orbit One was in Kissimee, and was only about a 5-10 minute drive from all of the Disney parks.   The rooms were clean and updated, the resort was quiet, and it had two pools, one with waterslides.   I'd definitely stay there again!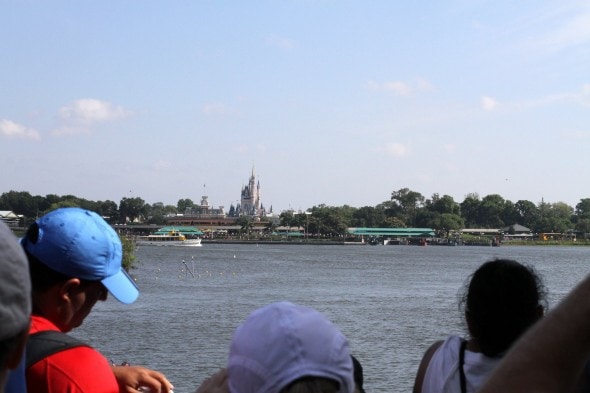 Tickets
We bought our tickets ahead of time through Undercover Tourist.   They do offer a small discount on Disney ticket prices, but Disney tickets are expensive no matter how you slice it.
We discovered, though, that tickets are significantly cheaper per day once you get past three days.   So while we were initially going to buy 3-day passes, when we saw that 5-day passes were only about $60-80 more total, we opted for that.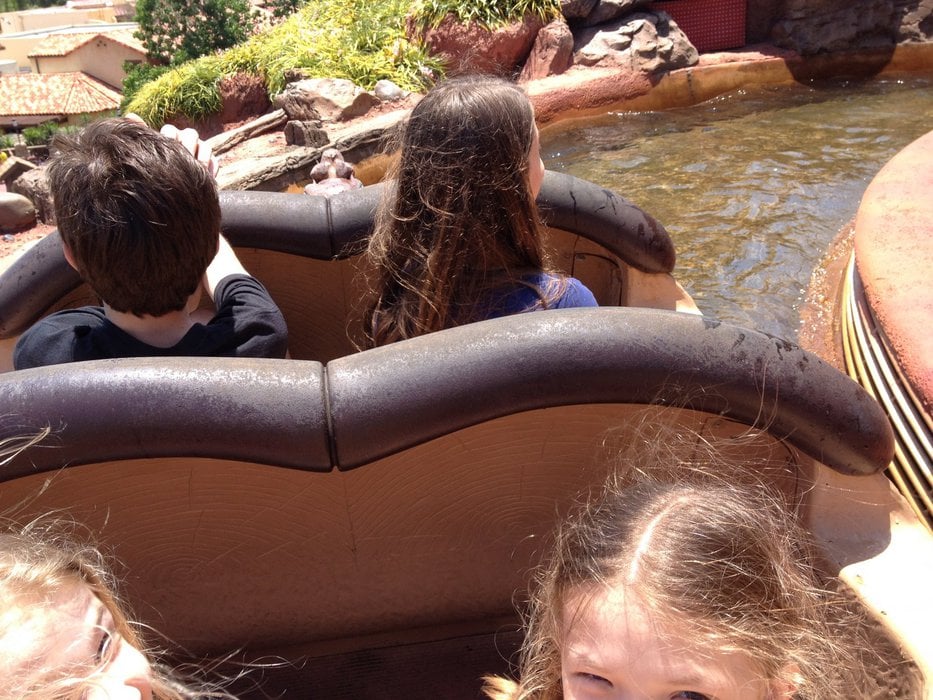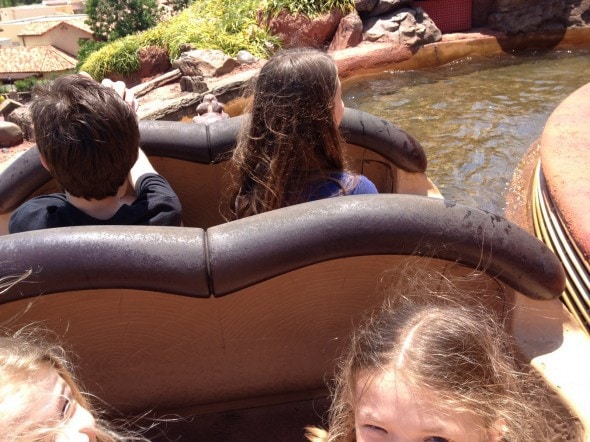 Since we bought our tickets early, we had time to have them shipped to us, which meant we didn't have to stand in the will-call line at the park.
Because we had 5 days' worth of tickets, we didn't get the park hopper option.   If we'd had fewer days to spend at Disney, that might have been a good idea, but we had enough time to get to all of the parks without doing multiple parks in a day.   Plus, to be very honest, the idea of hopping around to multiple parks seems a little bit tiring to me. I'd rather just get to a park and stay there.
Food
As I mentioned earlier, we managed to do very little in the way of eating out.   Yay!
Breakfast was easy to eat before we left for the park each day, and every day, I filled my backpack with things like beef jerky, peanuts, fruit leather, and granola bars so that we had something to snack on.   We also brought water bottles for all six of us (we usually had three backpacks between us.)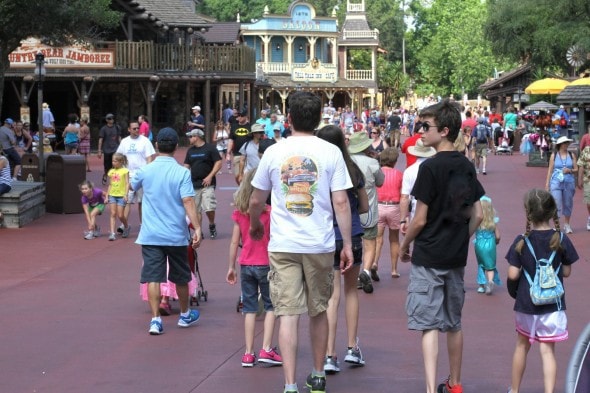 We usually drained our water bottles before the day was over, but thanks to a tip from you guys, we just stopped at snack stands and asked for ice water.   They won't fill your water bottle directly, but they give you big paper cups of ice water, and it's free and filtered and cold, and we just used them to fill up our bottles.
I packed a lunch in the cooler every day and left it in the car.   Some days we made it out to eat lunch and other days we didn't.
At Epcot, where the parking lot is right by the car, it was easy to just walk out, grab the cooler, and eat lunch in a grassy, shaded area.   At Magic Kingdom, where you have to ride a tram and then a monorail to get into the park, it just wasn't practical to go and get the cooler.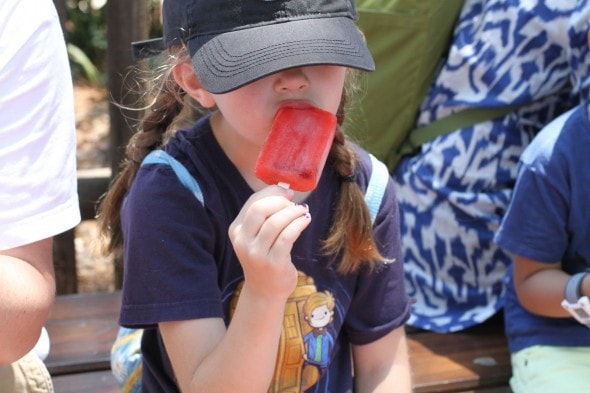 We did buy a little bit of food at the parks.   We tried Dole Whip (thanks for the tip!), and one day at Magic Kingdom, we bought ice cream novelties and popsicles.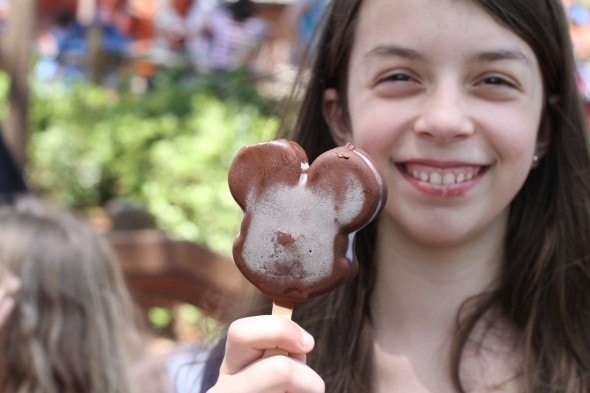 They were much more expensive than grocery store novelties, but oh, they tasted so good on that hot day!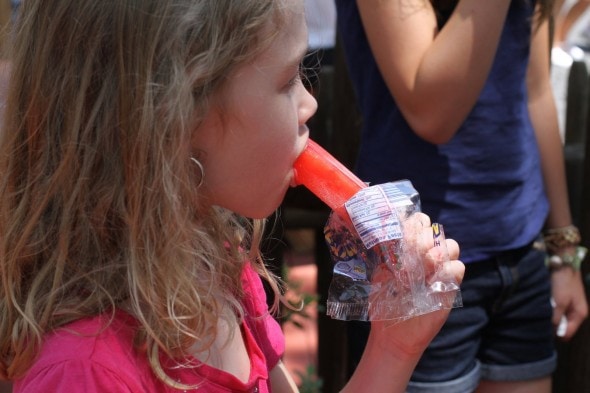 Fast Passes, Wait Times, and Park Apps
We spent a surprisingly short amount of time waiting in lines at Disney.   Granted, we went in early May, but the park was nowhere near empty, despite it being slightly off-season.
Disney does a really, really great job of efficiently handling huge groups of people.   They have good waiting areas (many in shade!), and tons of employees to keep things running smoothly.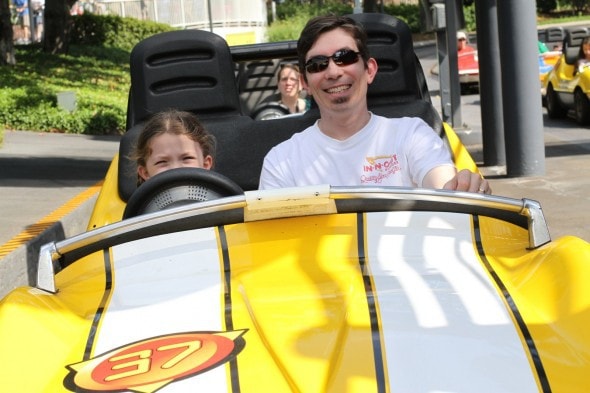 Also, the Fast Pass system helped us a lot.   Each ticket comes with three fast passes, which we selected ahead of time online. It's so awesome to be able to go right to the front of the line!
Also, sometimes when we arrived for our FastPass time slot, the line was very short, so we'd go through the regular line, and then come back around and use the FastPass as the line got bigger.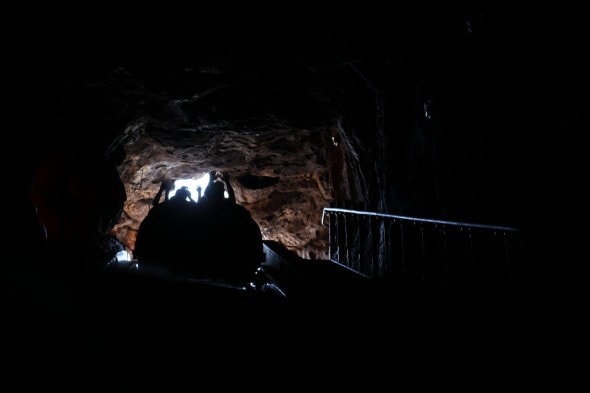 We used the free Undercover Tourist app to help us decide which park to visit .   It forecasts crowds each day, so we planned our week to hit each park on an optimal day.   It's also got a realtime wait-length list for each ride, but we found that to be not completely accurate.
(It was really handy to have our smartphones with us, and Disney has free wi-fi at all the parks, so we didn't even have to use any of our Ting data!)
We're used to being up fairly early, so we opted to rise and shine and get to the parks when they opened, and that probably helped us avoid some wait times as well.
Favorite Parks
We had five days of tickets, so we visited all four parks once and Magic Kingdom twice.
Magic Kingdom and Hollywood Studios were our top two parks for sure.   They're big parks and they've got so many great rides.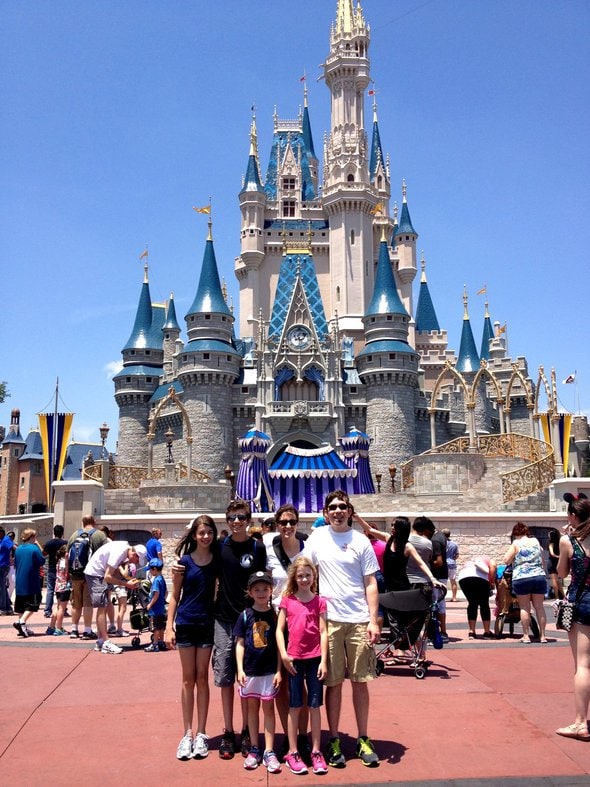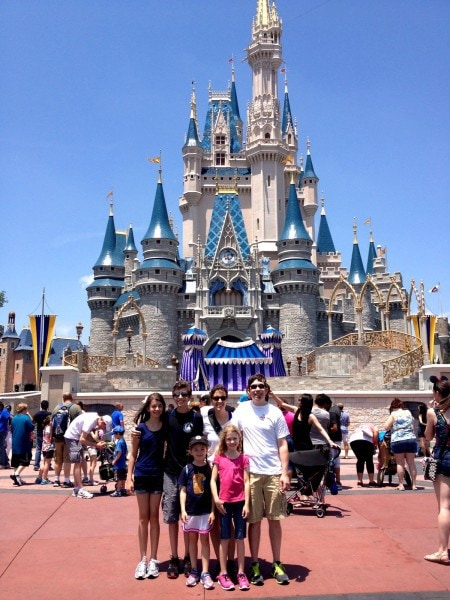 We did like Epcot a lot, but it just didn't have quite as many thrilling rides as Magic Kingdom and Hollywood (Soarin and Test Track were really great, though, and so was Mission Space!)
And although we have lots of animal lovers in our family, Animal Kingdom was definitely at the bottom of the list for all of us.   It has some great rides (Kali River Rapids and Everest!), but we felt like it would be a much more awesome park with more rides.   It feels kind of like visiting a really expensive zoo, with some rides thrown in.   However, we really wanted to ride the river rapids and Everest, so we're still glad that we visited for one day.
A Few Random Things
-Our kids are at a really great age for this.   No one was in strollers, no one needed naps, no one had meltdowns, everyone was able to walk, and everyone was tall enough for all the rides (Sonia and Zoe went on every single scary thing in all the parks, actually!)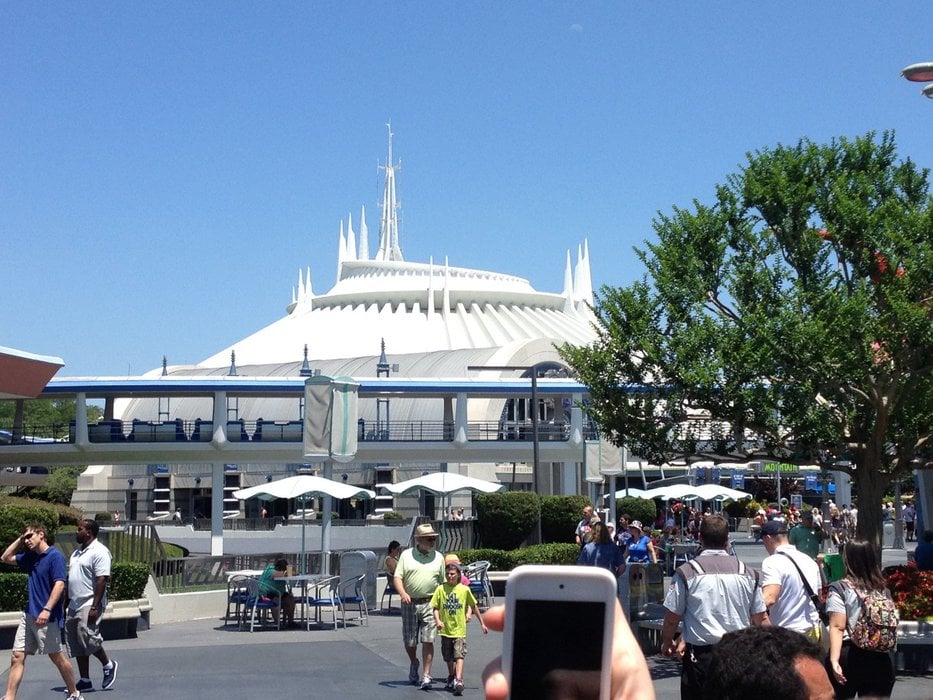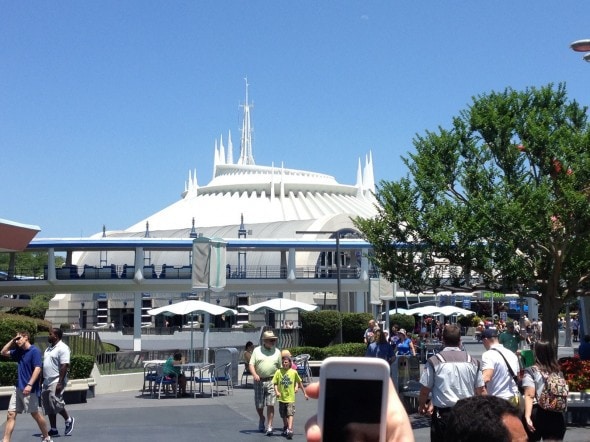 -Disney has gift shops positioned at the end of pretty much every ride (Cha-ching!).   Fortunately, our kiddos did a great job of cheerfully walking right by.   The only souvenirs we bought were four smashed pennies from Splash Mountain (cheap, fun, and not hard to lug around the park after you buy 'em!)
-We bought a pack of cheap ponchos from Amazon, but it didn't rain a single drop the whole week, so we returned them when we got home.
-We applied sunscreen each morning and even the burn-prone among us didn't get burnt.
-We didn't spend any time meeting characters because our kids just aren't into that.   Bring on the thrill rides!
-Since we had five days of passes, we pretty much spent our whole week at Disney.   However, one day we ventured out to Clearwater on the Gulf Coast just to see the beach.
______________________
This post has gotten awfully long, so I'll stop with the Disney talk.   Hopefully I covered all the important stuff.
And I would be remiss if I didn't say thank you! for all of the helpful tips you gave us before we left.   You guys are great!
(If you're in need of Disney advice, check out the comments on this post.)
_________________________
Joshua's 52 Project Post: Monarch
(I believe he took this in the butterfly garden at Epcot, actually!)