New here? Thankful Thursday is our weekly practice of sharing things we are grateful for. Appreciating what we have and experience costs nothing but can provide a serious happiness boost. Join in and share your own list in the comments!
This week, I am thankful:
for a fun Hershey Park trip with Lisey and Zoe
After I took Zoe and a friend earlier this summer, Lisey said she'd really like to go along with us some time too.
Then Hershey Park sent me an "upgrade your tickets to season passes" offer that cost about the same as a one-day ticket.
So, I bought three season passes, and yesterday the three of us coordinated schedules and went to Hershey for the day.
(Sonia's not as into amusement parks, in case you were wondering why she didn't come along!)
Since we have the passes now, we might try to get to Hershey for some of their fall/winter offerings as well.
that I had the money to take the girls to Hershey
As you know, I've been working hard to keep my expenses down (please see all my painting projects!) and due in part to those efforts, I had the money to pay for Hershey tickets for us.
I'm happy I can rehab furniture and then use those savings for things like this; it's probably the last summer that Lisey will live here, so prioritizing fun times with her is super important to me.
that the three of us are compatible amusement-park visitors
We all appreciate the more thrilling rides, so we never have any trouble agreeing on what to do next.
And no one gets left out because we all want to do the same things!
for a not-too-hot day at the park
We got sweaty, of course, but the skies had partial cloud cover, and the temps were not as miserable as they'd been the previous few days. Yay!
Thunderstorms were forecast, but they never materialized. And I think the not-so-great forecast kept the crowds down; this is exactly the reason I purposely choose to go to amusement parks on days when the weather looks slightly sketchy.
for safe travels to and from Hershey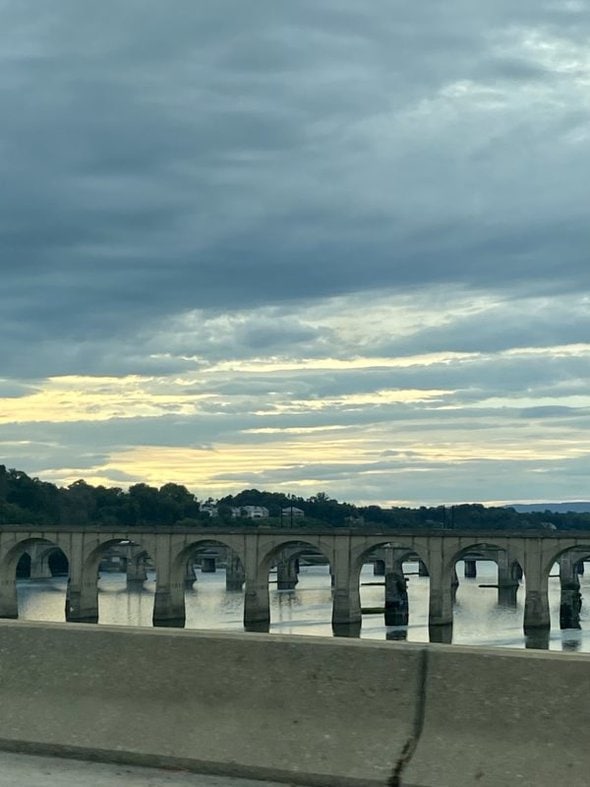 Zoe drove the whole way both times (her driver's test is coming and we are trying to squeeze in all the hours before then) and on the way back, it was dark and rainy, which makes for challenging driving.
I mean, I've been driving for decades, and even I have a hard time seeing the lane markers in weather like that.
But she did great and we made it home safely.
for an extra summer with Lisey
She was originally slated to do all her aviation mechanic semesters back-to-back, but she opted to take a gap semester to work this summer (she will do her last two semesters this upcoming school year.)
This was definitely a good decision for Lisey, but I'm also happy about it! Now we have the gift of an extra summer to see her and do fun things (because working doesn't take 100% of her time.)
that the carport snake is not dangerous
As you know if you follow me on Instagram, a long black rat snake appeared in my carport the other day, then left rather quickly.
But when the girls and I came home after dark that night, he was back, and he was climbing up our carport walls and over the door frame. SO CREEPY.
The only thing I can think is that perhaps some little critter has made a nest inside the carport attic area, and the snake is trying to figure out how to get in there.
Happily, rat snakes are non-venomous. But still, I prefer not to have a snake above my head when I go out the door to the carport, and I hope he either finds his prey or gives up soon!
that a break in the weather is coming tomorrow
It has been a seriously hot last few weeks here, but starting tomorrow, we get some cooler days in the low 80s.
And most importantly, my weather app tells me the humidity will be significantly lower. YES.
Maybe I can actually finish up a few of my painting projects then. Even if I wanted to suffer in the weather, it's been too hot and humid for the paint to even work properly!
that we are all done signing up for college classes
Mine are all taken care of, I helped Sonia figure out her path a few weeks ago, and this week, I helped Zoe pick out and sign up for classes.
Yay!
I just have to drop off a piece of paperwork to get Zoe's 50% high school student discount, and then I will be good to go.
Except…I just realized I have not looked at textbook lists yet. Hmm. I will have to see what we need.
But at least our schedules are all figured out.
What are you thankful for this week?