Hey friends!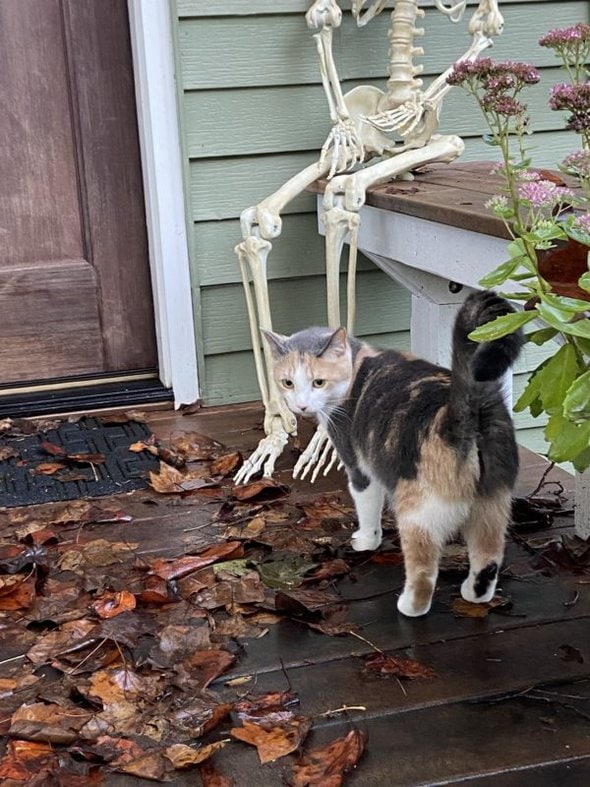 This week, I am thankful:
for our cats, even though they always sit on my schoolwork
Upstairs cat getting in the way: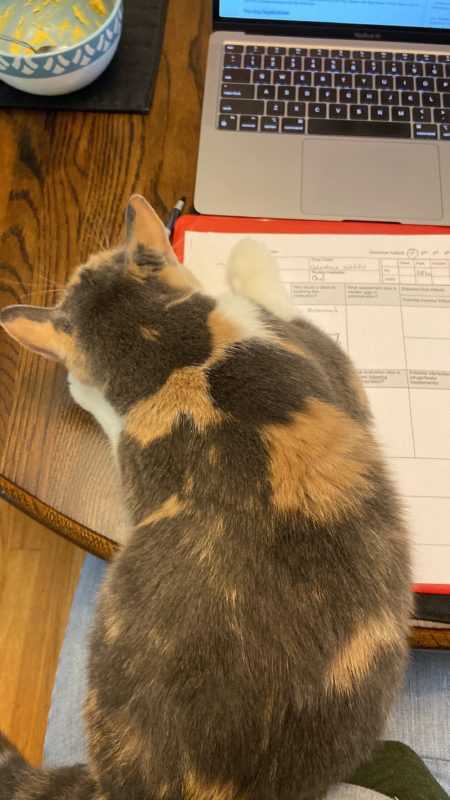 Downstairs cat getting in the way:
Random but: did I tell you Zoe and I used my stethoscope to listen to cat purrs? They're SO loud through a stethoscope, and it's super cute to listen to.
for raindrops
I love it when it rains overnight and then there are lovely water droplets hanging around for my morning walk.
that my math practice exam score was wrong
I did a practice exam and initially, the system said I got 80%. For the actual test, that would be a failing grade because you have to get a 90% or better.
Soooo, I didn't feel too good about that. A fail on this test means you gotta sit out the rest of the semester and start over in January, and I was starting to envision having to do that because I could NOT figure out for the life of me how I got an 80%.
Happily, though, my actual grade was more than passing. Apparently, some of the questions just had to be manually graded. WHEW.
So now I feel less nervous about the upcoming math test.
for a good study session with my friend
One of my pals has to get at least an 80% on an exam this Friday, or she's gonna be sitting out the rest of the semester. She's so nervous about the exam (understandable!), so she and I got together and studied/made flashcards.
I think she feels better, and I do too! Talking about the concepts with other students definitely helps to solidify them in my brain.
that reader Talia is ok
You may remember that reader Talia lives in Israel with her husband and children; we have been wondering how she is faring, and yesterday she left a comment letting us know that she is ok, although there is terrible loss all around her.
(Please note: I am not gonna be able to stay on top of a discussion about the war and who's ultimately to blame and how we think it should be solved, so if you leave a comment along those lines, I'm not going to publish it. There are lots of other places on the internet for such discussions; here, we can just agree that human suffering is a heart-breaking reality, and we can hope for resolution in a way that preserves as much human life and dignity as possible. Thank you for understanding!)
for some days with sunny skies
This is always good for my mood.
for my base of biology and anatomy and physiology
I know I say this all the time, but my goodness, I use that knowledge almost every day in my nursing classes. I am thankful for every bit of pre-req knowledge that is still rolling around in my brain!
for general good health
I'm not very far into nursing school, but thus far, it's making me really thankful for all the things that aren't wrong with my body.
Because a lot of the interventions we do are not that pleasant for the patient!
for a strong stomach
Being not-easily grossed out is such a boon for me as a student. This week we've been studying urinary and bowel elimination, so I spent lots of time listening to chapters on those topics while cooking dinner and eating meals, and it didn't bother me in the slightest.
And I actually watched some lab videos on enemas and stoma care while eating my dinner the other night.
A strong stomach is good for studying efficiency. Heh.
that my semester is already half done!
Or at least, it will be at the end of this week. And then once this semester is done, I'm 25% of the way through nursing school. Woohoo!
What are you thankful for this week?