This week, I'm thankful:
that we found Zoe's hamster
One morning this week, we realized that he had gotten out (as hamsters will do!)
We went on a hunt for him, dearly hoping he hadn't made it down to the basement.
Mercifully, I spied a little pile of seeds underneath the baseboard heat in my office, and sure enough, I heard some little feet scrabbling around in there.
I figured out how to take the cover off, and Zoe managed to grab him and put him safely back in his cage.
And then I had to vacuum out the massive amount of food he'd brought into the heater overnight. I wondered how many trips he'd taken overnight!
The funny thing is, earlier that morning, I'd noticed that our cat was hanging around by my desk, and I thought, "Hmmm, that's a little weird. She never sits there."
But now it has all become clear. 😉
So, I guess I can also add: I'm thankful our cat didn't get the hamster!
for air-conditioning (every day!)
We are not experiencing 100+ degree heat like a lot of the country is, but oof, it has been awfully hot and humid here and I am so thankful for a cool house to hide in.
for a snuggly cat
I've met some cats who are not interested in snuggling, and I'm glad ours does like to hang out with us!
for time with the little kids in my family
Yesterday afternoon, I spent the afternoon playing at the pool with my nephew and nieces and also my cousin's children.
And last Saturday night, I babysat for a nephew and three nieces.
They are always excited to see me and play with me and show me things, and that warms my heart.
for kid misspellings
My niece made me this drawing of "types of dogs" and I could not love her spelling more. I adore the sensible, phonetic way that young kids spell words! So, so, cute.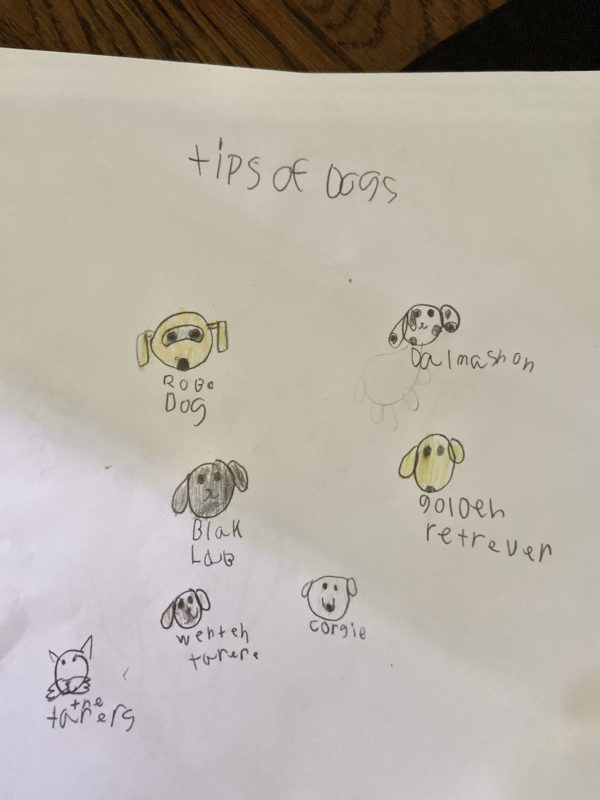 Another case: I'm "Ant Kristan" when we play Wii games. 😉
that several of my eBay listings have sold
Remember how I did a pretty big batch of listings after organizing my office here at my rental? Well, a small pile of those have sold, so, yay!
for my dad's help in hanging blinds in Zoe's room
This was kind of a process because these windows are a little unusual. But we got it done, and I made it through the annoying process of shortening the blinds.
(Annoying AND stressful, because I am always terrified that I will cut the wrong string and ruin the blind!)
What are you thankful for this week?