This morning I was thinking about how thankful I am to live in a place where this hot and humid weather is a temporary experience, not a year-round or most-of-the-year experience. I'm sweaty, but at least I know some cooler air is coming eventually!
This week, I am thankful:
for a little flower/card drop off
Reader Kim lives in my area, and she kindly dropped off flowers and a little encouraging card on my front bench this week.
that I'm more on top of my game this week
Now that the first week is over, I'm getting a better idea of where everything is (mostly online stuff to log into) and I'm getting a better system for keeping track of everything.
I understand the convenience of school readings/assignments being online, but this online world does make it a little harder to keep track of assignments and readings.
They're in so many different places online, it's easy to forget to check everything.
for the way pre-reqs ease you into school
I am really grateful I had a few years to slowly work through my pre-reqs. If I'd had to re-enter college life by diving right into the nursing program, I'd be struggling way more!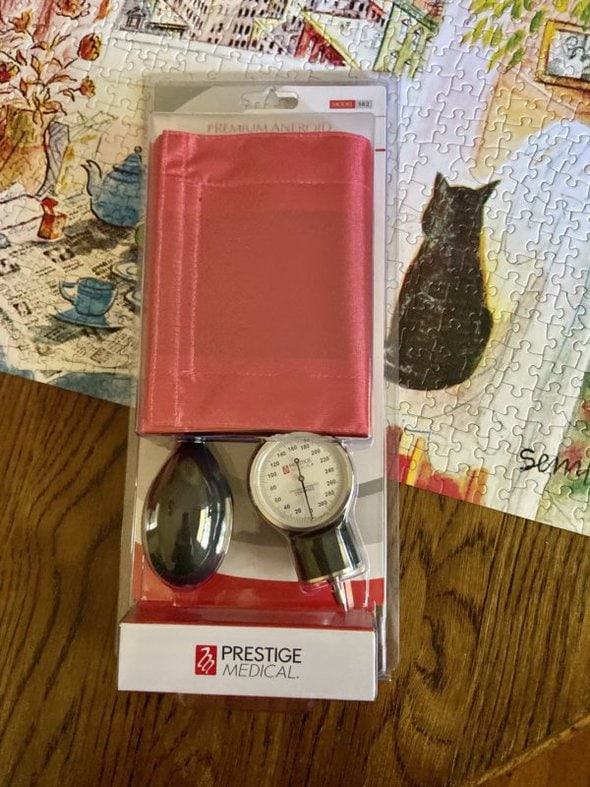 My previous semesters helped me learn a lot of these online systems, which are so different than the way college was done back when I originally enrolled (1996/1997).
that I've worked online during my mothering years
I have noticed that some of the adult returning students really struggle with the tech aspect of school; figuring out how to access things, log onto things, download things, and so on.
But I think since I've been working online for so long as a blogger, some of this stuff is a little less challenging for me.
for the way life experience is easing my way
I know it's early, but some of the stuff we've been going over so far feels like common sense to me at this point in my life.
The study habits/time management stuff definitely feels familiar to me. And a lot of the soft skills we're learning about things (like communication)…those are things that are somewhat second nature to me at this age.
I know my actual practical nursing skills are non-existent at this point, but I am grateful that some of the other necessary skills are things I already have in my toolbelt.
that temperatures are going down
We've had a tremendously hot week, but starting this weekend, things will cool back down a bit.
It will still be humid, but at least we won't be in the upper 90s!
This has been a week where I have opted NOT to walk to school; I'd arrive drenched in sweat if I tried that.
Maybe next week will be more walk-to-school-friendly weather.
that my flu shot got approved
I submitted the record through the school app and I just saw it got approved. Sweet!
Now I just need my November hepatitis shot and all of my health to-dos will be crossed off.
for the places I find Chiquita
She is everywhere, all the time. 😉
Yesterday, I got up from my chair for about 30 seconds and poof, there she was, taking my spot.
So, like a good softie, what did I do? I took the empty chair instead of making Chiquita move.
I have nothing to say for myself. 😉
Also…you know how we have a rule that she's not allowed on the table?
Well. I came out one morning and found a placemat looking like this:
Which leads me to believe perhaps Chiquita is having a little bit of rebellious fun while I am sleeping.
for the flowers and plants I see
We are moving toward fall, and after fall comes a season of brown, dead scenery.
So, right now I'm feeling especially appreciative of the flowers and green leaves I see as I walk.
What are you thankful for this week?