This week, I am thankful:
that my dad added leaf latches to my table
You all have seen my abandoned-house table, which my dad helped me rehab.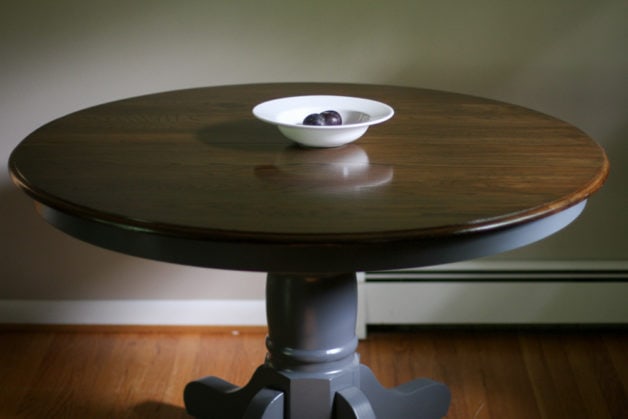 Oddly, it didn't have any latches to keep the pieces together, and this was starting to get a little bit annoying…the tabletop pieces would slowly slide apart a bit, and then we had gaps where food could get stuck.
So, my dad bought me a little set of latches and his gift came with his installation services included. 😉
for the cute little bottle Lisey brought me
I like that it is cute, that it has a cat, and that it has an encouraging message on it.
for some warm days
After a string of unusual cold, we are now in a period of unusual warmth. In fact, I wore flip-flops to the grocery store last night.
for the bottle-opener on my can opener
Last night I was wanting to open a bottle of clam juice for the clam chowder I was making, but I saw it had one of those lids that does not unscrew.
And then I was like, "Crap! My bottle opener is at my old house."
But then I realized that my can opener (which was a hand-me-down from a neighbor when I moved here) has a bottle opener on it. Yay!
that it is so easy to get a Christmas tree out of this house
My other house is a split foyer and MAN it is hard to get a dry Christmas tree out of that style of house. There's no good way to avoid squishing it through a narrow space, and then all the needles go flying.
At my current house, I just had to scoot the tree over by the front door and then scoot it right out.
No narrow stairways to deal with!
that Lisey and I managed to navigate our way to our concert
We went to one of those candlelight concerts (I saw them advertised all over Facebook in December), and it was in a big nearby city. We took the train in and walked to the venue, and it was actually pretty easy overall.
I generally avoid big cities like the plague, so I am always relieved when I manage to get to and from a city event successfully!
that Zoe's back from her puppy-sitting job
We're glad to have her back, and our cat is ESPECIALLY glad to have her back! The cat was getting very lonely without Zoe here.
for all of you that shared in yesterday's comments
In part of yesterday's post, I mentioned that we tend not to talk about grief and the really hard things in our lives…but so many of you did in the comments, and I am so glad you felt comfortable enough to do that.
What are you thankful for this week?