This week, I am thankful:
for my new blue Converse
I feel pretty happy when I wear them. 🙂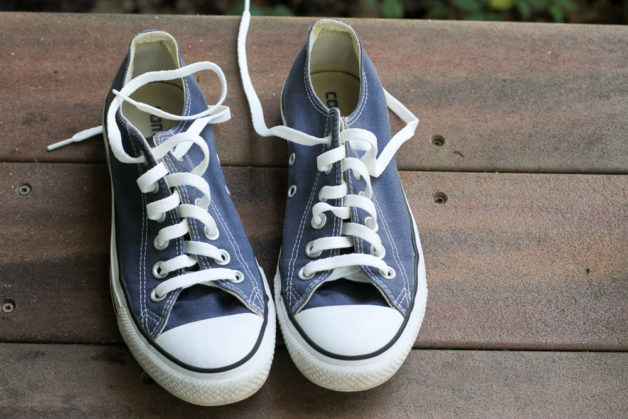 that my first microbiology exam went well
I got a solid A, so, yay! And now I know better what to expect on the next exams in this class.
that I took Bio 101 so recently
Bio 101 was my first class back as an adult student (spring 2021), so that was pretty recent. This is a good thing because wow, all the stuff I learned in that class has repeatedly appeared in my subsequent classes.
For instance, this week in microbiology, we are talking about active and passive transport, exocytosis, endocytosis, pinocytosis, and so on.
And this has been super easy because I remember it all from Bio 101.
that I do not have to take a ton of chemistry classes
I'm doing an intro to chemistry class this semester and oof, I just do not find this material faintly interesting.
It's not that I can't do it; it's that it is not bringing me joy. Kinda the same way I feel about algebra. 😉
I like biology types of science WAY better.
So, I am feeling super grateful that I don't have multiple semesters of chemistry ahead of me!
Two and a half more months, and then I can kiss this chemistry class goodbye.
for the fan I found in my basement
I set up my weights in the unfinished area of the basement, and I found a floor fan in there, left by the previous renters. So now I have some breeze hitting me while I work out. Yay!
for our cat
I know…she's always on the list.
I think it's so cute how she always wants to be where we are.
for beautiful skies
I've been going for super early walks some mornings, and I have seen some lovely sunrise skies as a result.
for the hardwood floors here
The other morning I got up and noticed how lovely my office was looking, largely because of the wood floors.
I really love them! And I am especially appreciative of having them in a rental.
for hoodie weather
I was PRETTY excited to pull out some jeans and hoodies this week.
I know I will eventually be tired of jeans and hoodies, but for right now, it's a welcome change.
Speaking of which….
that seasons change in my area
We get a pretty even mix of all four seasons and I am HERE for that. I never get too sick of any one season this way!
What are you thankful for this week?