I shared about this soup on Instagram and in my menu post this week, and I got a fair number of message asking for the recipe.
This is definitely going into our regular rotation because:
we all thought it was delicious (most importantly!)
it uses chicken broth, which I am always trying to get into our bellies
it presents sweet potatoes in a way that does not gross out my sweet potato haters
it has no dairy, which makes this a great option for Sonia
it's a pretty speedy main dish to throw together
And though no one at my house has issues with gluten, this soup is also gluten-free, which means I could serve it to gluten-sensitive friends.
It comes from my Dinner Illustrated cookbook, which I've been using an awful lot lately!
(If you want a copy, check your library or look for the used copies on Amazon.)
Whenever I make a Thai-inspired recipe, I'm always a little surprised at how the ingredients come together to make something that's really delicious (especially when fish sauce is involved, because that stuff smells so disgusting!)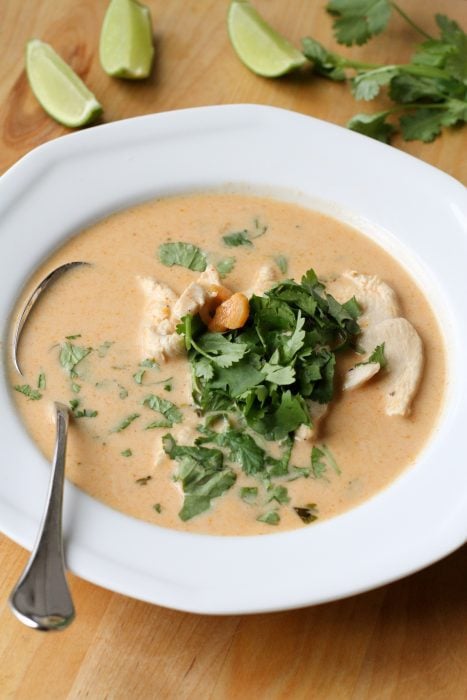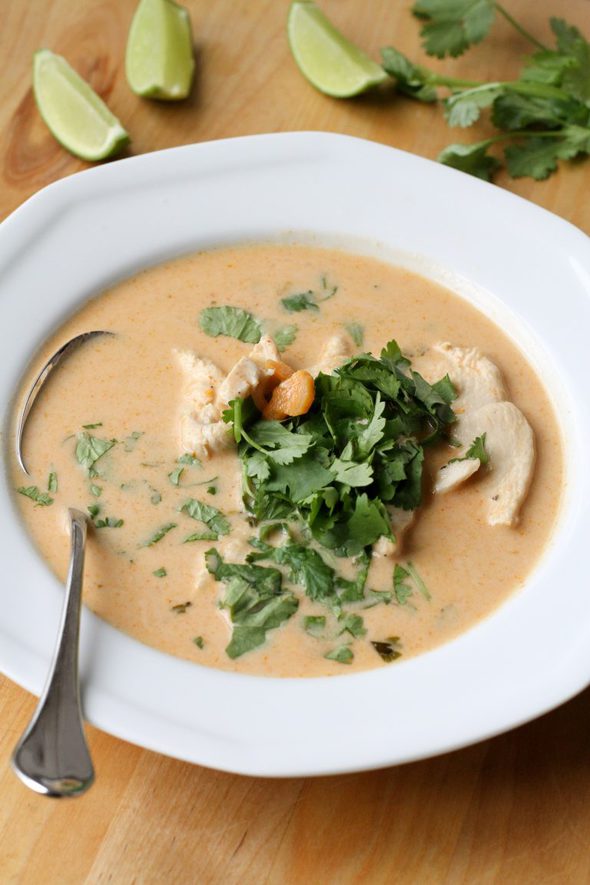 Speaking of which, if fish sauce squicks you out, you can use less of it, sub soy sauce for it, or use a combo of fish sauce and soy sauce.
I often do a 50/50 mix of the two because sometimes I do feel like fish sauce becomes a tad overpowering in recipes.
A large portion of this soup's flavor comes from the red curry paste. I use the Thai Kitchen brand, which I linked to in the recipe card, but it can be easily found at most grocery stores.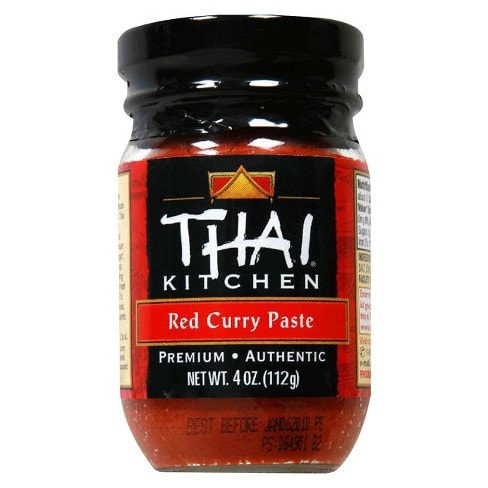 It's usually labelled as hot, but I did not find this soup to be especially spicy, and even the spice wimps in my house agreed. If you like more heat (like me!), stir some extra curry paste right into your bowl of soup. 😉
One last thing: when I made this, I used the single sweet potato specified in the recipe, but I definitely did not think it was enough potato.
So, I'm going to use two next time, and I modified the ingredient list to reflect that.
I hope you guys like this soup as much as we do!
Thai Chicken Soup
a slightly-spicy, dairy free chicken soup
Ingredients
3 scallions
fresh cilantro
2 medium sweet potatoes (24 ounces)
1 1/2 pounds boneless, skinless chicken breasts
salt and pepper
1 tablespoon vegetable oil
2 tablespoons red curry paste
4 cups chicken broth
4 teaspoons fish sauce
2 (14-ounce) cans coconut milk
2 limes
Instructions
Prep veggies. Finely slices scallions, separating the whites and greens. Chop six tablespoons cilantro. Peel sweet potato; cut into quarters lengthwise and slice thinly.
Prep chicken., Trim breasts, halve lengthwise, slice 1/4 inch thick. Sprinkle with salt and pepper.
Start the soup! Heat vegetable oil in medium saucepan over medium high heat until shimmering. Add curry paste, scallion whites, and 3 tablespoons cilantro, and cook for 1 minute.
Add broth, 2 teaspoons fish sauce, and coconut milk; bring to boil. Reduce heat to low and simmer 5 minutes.
Turn heat up to medium-high, add sweet potato and chicken, and cook until chicken is done and sweet potato is tender, about 5 minutes.
add 2 teaspoons fish sauce to soup. Juice limes and add 3 tablespoons lime juice to soup. Or leave soup as-is and serve with lime wedges. Serve bowls of soup sprinkled with scallions greens and chopped cilantro.
Notes
I like to salt my chicken an hour ahead of time if possible, as I think it improves the texture.
If you find fish sauce to be too fishy, you can use soy sauce instead. Or you can use a combo of the two.
I use Thai Kitchen red curry paste, which does not seem super spicy to me. I stir some extra into my bowl of soup to add a little more heat.
Recommended Products
As an Amazon Associate and member of other affiliate programs, I earn from qualifying purchases.