When I came across this recipe on Pinterest, I knew I wanted to try it ASAP.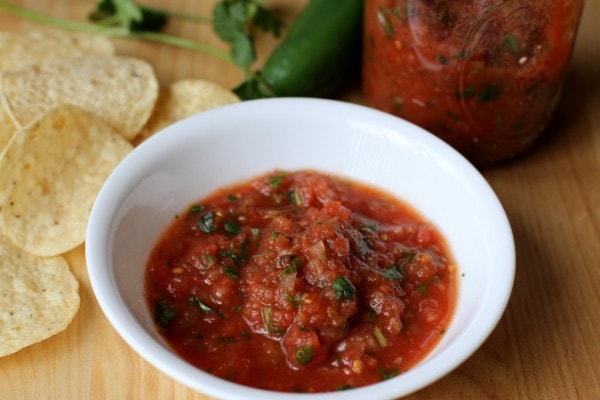 It's really quick because it uses a combo of canned and fresh veggies, and there's minimal chopping because it all goes right into the blender.
I love me some salsa made with garden-fresh tomatoes, but as you know, in the winter the tomatoes at the store are both expensive and horrible.
So this recipe is perfect for the blah days of winter when juicy tomatoes are but a faint memory.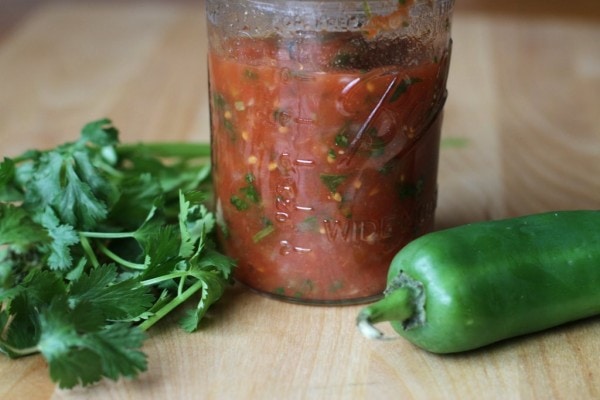 Because everything goes into the blender, this is not so much like garden salsa, but more like the smooth-ish salsas you get when a restaurant brings out salsa and chips.
And I know it looks a bit like the salsa you get in a jar, but the cilantro and raw onion make it WAY more fresh-tasting than that. My kids seriously cannot get enough of this.
You should totally go mix up a batch.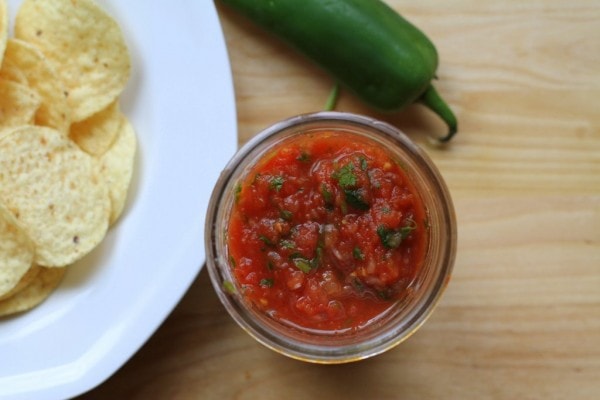 Those of you that are Aldi shoppers will be pleased to know that you can buy all of the ingredients for this right at Aldi except for the optional jalapeno.
By the way, I made just a few modifications to the original recipe. I found mine to be a bit too watery, so the next time I made it, I drained the excess liquid from the diced tomatoes.
Also, I found that this salsa was more than sufficiently hot for my family without the jalapeno, so I leave that out. If you like more spice, though, do feel free to add it in!
Wintertime Blender Salsa
1- 14 oz can diced tomatoes, drained of excess liquid
1- 10 oz can original Rotel (you can use a generic brand. I buy mine at Aldi.)
1/2 small onion, roughly chopped
1 clove garlic, peeled and smashed
1/2-1 jalapeno, seeded or not (I leave this out)
1 teaspoon honey
1/2 teaspoon salt
1/4 teaspoon ground cumin
small to medium size handful of cilantro, washed
juice of 1 lime
Combine everything in a blender or food processor and blend until salsa reaches desired consistency. Taste to check seasoning and add more salt if necessary.
_______________________
Food Waste Friday is at Simply Being Mum today.
Joshua's 365 post: Tempus Fugit