Mr. FG's been eying the Fiskars StaySharp Max Push Reel Lawn Mower
(he's had one too many frustrating sessions trying to get our gas mower to start!), so I wrote to Fiskars to see if they'd like to send one for me to review. And they graciously said yes.
It came while Mr. FG was at work, so I did the easy assembly myself.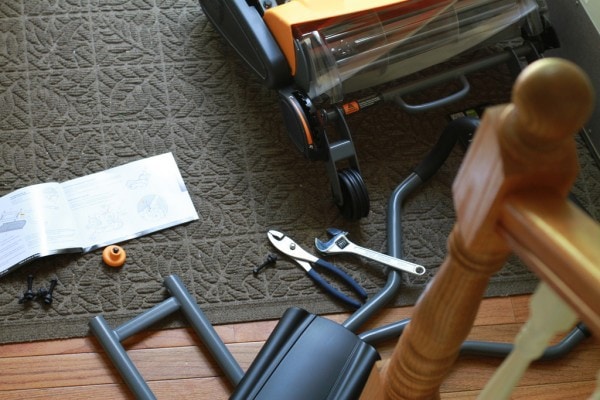 And here it is!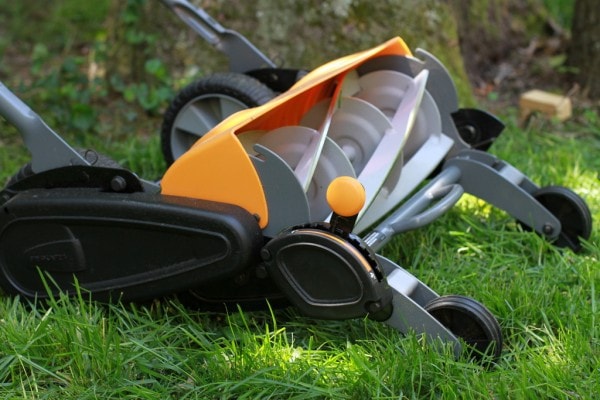 It's kind of the Cadillac of reel mowers.
The mower spits the grass out in front, which keeps it off the pants of the operator. Veddy nice.
You can get a grass catcher
for if it you prefer not to leave your grass clippings on the lawn, though.
One thing that sets this mower apart from other reel mowers is that the blade height is adjustable. You just have to move the orange lever that you see on the far side of the mower in the picture above. That's way easier than adjusting the blade height on our regular mower.
The mower is 18 inches wide, which is on the wide end of things for a reel mower but a little on the short end compared to a gas mower. So, you'll have to make more passes with this than with a gas mower, but it's as wide as you could hope for with a reel.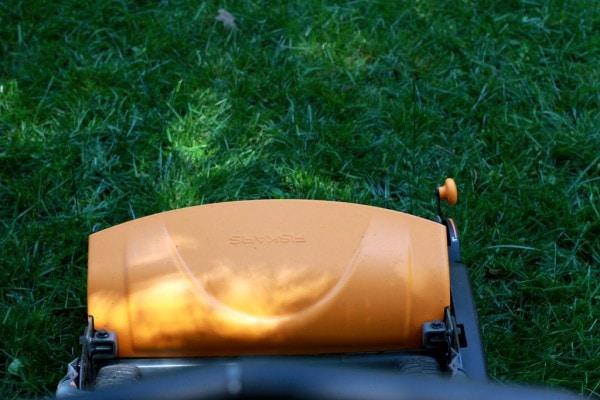 It's fairly easy to push, depending on how high or low you have the blade set. If it's set high, Zoe and Sonia can do it, but if it's set low, Joshua's the only kid in the family who can push it.
Since there's no motor, it's super quiet and totally not smelly (Joshua can even talk on the phone to his friend while he mows!)
Plus, there's never any worry about whether it will start.
Also, this mower requires very little maintenance…most reel mowers need annual sharpening, but since the Fiskars blades cut without actually touching each other, they stay sharp longer.
I took a video of it in operation so you could see and hear it. (email subscribers, just click on this link to see the video.
This mower is kind of fun to use…it takes some effort to push, but watching the grass fly out the front is entertaining. And the kids are always wanting to use the mower, so that's a pretty great upside!
We used this first in our backyard, where the grass had gotten kind of long. It cut the grass without a problem, but refused to cut the tall, still grass pieces that had gone to seed, even with multiple passes…they just wanted to lay down instead of being cut.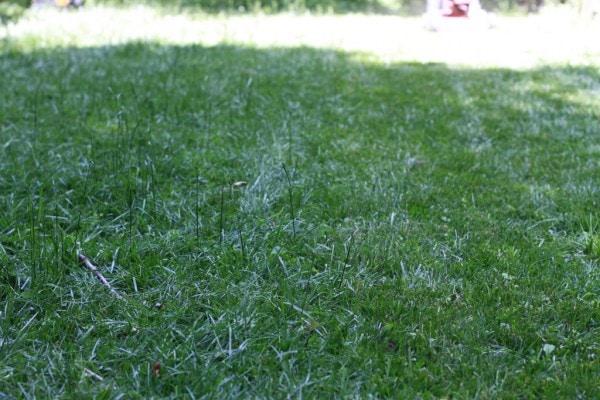 To compare, we ran over the same section with a gas mower, and it cut down the weeds with no problem.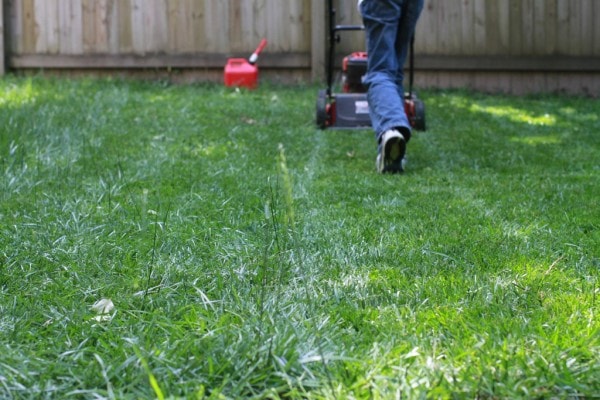 Fiskars does say that the mower works best when the grass isn't too tall, though, and I'd say it did a much better job in our front yard, where the grass wasn't as overgrown.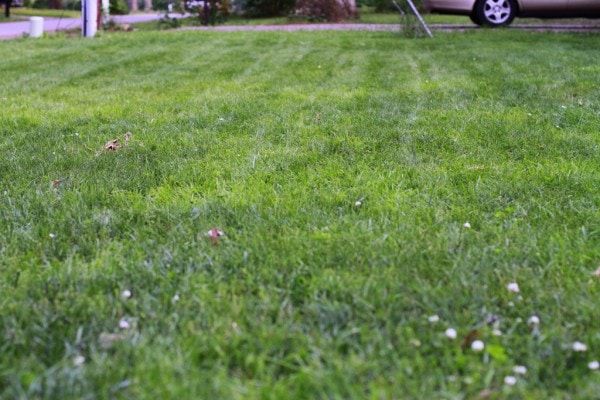 It doesn't cut as cleanly as a gas mower does, but I think the job it does is quite good under the right circumstances.
The mower definitely works best when it's cutting grass as opposed to a mixture of grass and weeds. Our front and back yards are mostly grass, but our side yard has a lot of shade, and the ground covering is a wide variety of weeds. Plus, there are all sorts of twigs over there which can jam up the reel mower's blades.
So the gas mower is a better choice for that part of our yard.
Should you buy this mower?
If you have a huge yard filled with twigs and weeds, you should probably stick with a gas mower.
But I think the Fiskars mower would be a great choice if you:
have a yard that's mostly grass
don't let your grass get too long between mowings
don't have a lot of tree debris
don't have acres to mow
are interested in a greener mowing option
want a quiet lawnmower
want to avoid maintaining a lawnmower engine
Where can you get a mower of your own?
The StaySharp Reel Mower is available at Amazon for $199
and I've also seen them at home improvement stores like Home Depot.
Do you use a reel mower? I'd love to hear what you think of this mower if you've got one!
Disclosure: Fiskars sent me a mower to try but I was not otherwise compensated for this review. All opinions and text are my own.
_______________________________________
Lisey and I have a new recipe up on our baking blog. Go check it out! It's super easy and it doesn't even require any flour.


Today's 365 post: I think they're trying to say they want their allowance.
Joshua's 365 post: Toadstool