Just need the recipe? Click here for the printable Shrimp and Red Pepper Stir Fry recipe.
I've been making this stir-fry for years, so it's been in my menu plan posts regularly. But for some reason, I've never posted the actual recipe.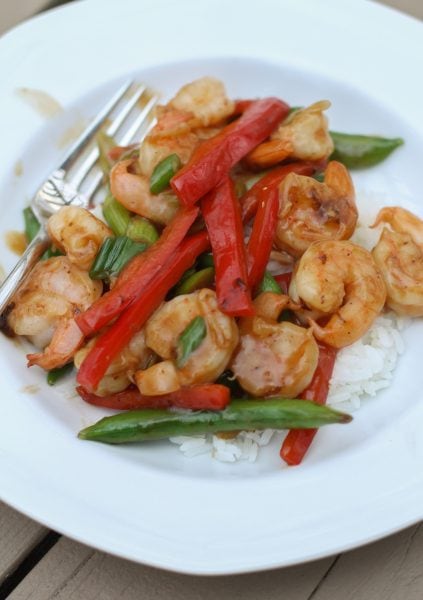 Several of you had recently asked how to make a stir-fry, though, so that reminded me to get this done.
You'll need a pound of raw shrimp for this recipe. Frozen shrimp are fine; in fact, that's all I ever use!
Combine the shrimp with ground ginger, cayenne pepper, garlic, black pepper, and sesame seeds (optional). If you're not into spice, use less cayenne.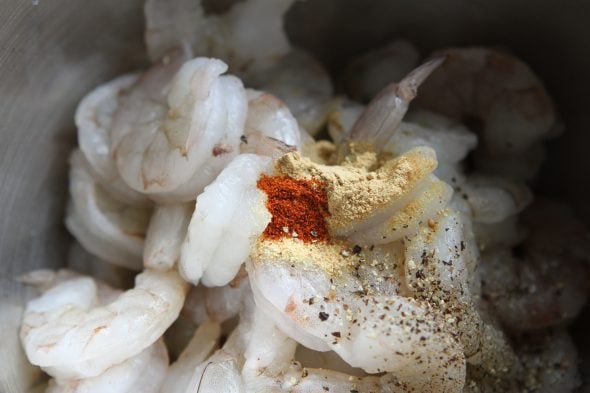 The original recipe directs you to put the shrimp and seasonings into a plastic bag, but I just always use a metal or glass container for marinating/seasoning.
One less bag to waste!
Let the shrimp sit in the fridge for about 20 minutes while you prep the other ingredients.
Here's the rest of what you'll need. Stir-frying goes fast, so it's best to have everything ready to go before you heat up your pan.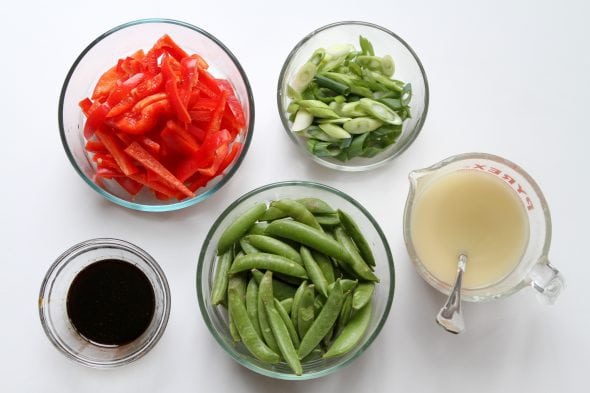 For veggies, we have julienned red pepper, sliced green onions, and whole sugar snap peas. I've also used green beans in place of the peas, and yellow or green pepper in place of the red.
And for the sauce, there's a chicken broth/cornstarch mixture, plus some teriyaki sauce.
You can buy teriyaki sauce, of course, but it's also super easy to make. I use the recipe from this teriyaki chicken.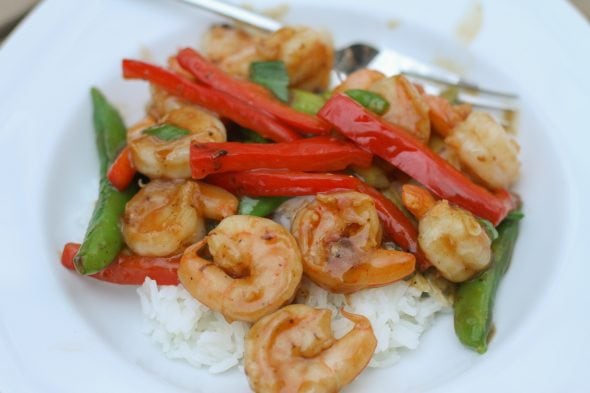 Two things:
I use a skillet for stir fries instead of a wok. It works fine, and I don't have to store a wok!
I cook my ingredients in batches so that the pan stays super hot. If you throw too many ingredients into the pan at once, you'll end up steaming them instead of sauteing them.
So! I heat my skillet over medium heat with a tablespoon of vegetable, and add the shrimp.
Once that's cooked, I dump the shrimp onto a plate, add more oil to the pan, and let it get hot again.
Then I add the peas and peppers, and cook them until they're crisp-tender.
Next, I add the green onions, saute them for just a minute or two, and add the teriyaki sauce and the broth mixture. That thickens up in about 30 seconds, and then I stir in the cooked shrimp.
Shrimp and Red Pepper Stir Fry
Printable Shrimp and Red Pepper Stir Fry
1 pound medium shrimp, peeled and deveined
1/4 teaspoon ground ginger
1/4 teaspoon cayenne pepper
1 clove garlic, minced
1 tablespoon sesame seeds
1/4 teaspoon ground black pepper
3 tablespoons teriyaki sauce
1/8 cup cornstarch
1 cup chicken broth
1/4 teaspoon salt
2 tablespoons sesame oil or other vegetable oil
1 red bell pepper, sliced into thin strips
3 green onions, sliced
1/2 pound sugar snap peas
Combine shrimp, ginger, cayenne pepper, garlic, sesame seeds, and pepper in a bowl. Cover and refrigerate 20 minutes.
In a small bowl, combine cornstarch, chicken broth, teriyaki sauce, and salt.
Heat a tablespoon of oil in a skillet over medium heat until nearly smoking. Add shrimp and cook, flipping once, until opaque (a few minutes on each side). Remove shrimp to dinner plate; set aside.
Return skillet to heat with one more tablespoon of oil. Heat until nearly smoking; add peppers and peas. Stir fry for a few minutes, or until veggies are crisp tender. Stir in green onions and cook for one minute.
Add broth mixture to skillet and cook and stir until thickened, about 30 seconds. Stir in shrimp until heated and coated with sauce.
Serve over rice.
recipe slightly modified from the original on All Recipes
Save