Unlike many other budget categories, the beverage category is one that is largely unnecessary. If we had to, most of us could give up buying beverages without suffering any ill nutritional effects (often, the opposite is true!), and since I work with a pretty limited budget, beverage spending makes up a very small portion of our grocery spending.
Water
Unless you're buying designer bottled water, this is definitely the cheapest thing to drink. We drink water almost exclusively, which saves us money and helps us to be healthier.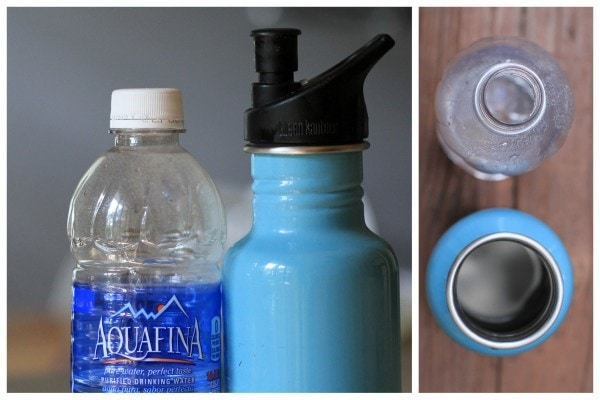 If you're a big fan of bottled water, and you can't possibly give it up, it would pay to look for it on sale or find a cheap place to obtain it. Discount or not, this is going to be an expensive way of buying water, and it creates a lot of unnecessary plastic waste. Still, bottled water on sale is better than bottled water at full price.
However, the cheapest option is obviously to use the water that comes out of your faucet. Most Americans are blessed with good, clean drinking water, but if your water has a taste that bothers you or if you're concerned about the purity of the water, a water filter is well worth the money, especially if it keeps you from buying bottled water. A simple Brita pitcher will make your water taste a lot better, or if you want to spend a little more, a filter that fits onto your faucet is a good option.
For water on the go, my family and I use refillable water bottles. Because we're trying to minimize the amount of plastic that touches our food and drinks, we use Kleen Kanteen water bottles, but if your children are prone to losing their water bottles, you might want to go with something cheaper.
Milk
Milk is arguably one of the more nutritionally positive beverages out there, but it is also quite expensive. It's hard to find cheap milk (how often does milk go on sale?), and so about the only way to reduce milk costs is to use less.
The six of us go through two gallons a week. We use it almost exclusively for cereal, and we rarely consume it as a beverage. (I do use a third gallon a week to make yogurt).
One of my frugal goals is to have us eat something other than cereal every single day, and if I manage that, our milk consumption should go down.
Another option is to use powdered milk…I personally am not a huge fan of the taste of milk made this way, but I've found it to be perfectly acceptable for baking purposes. To use as a substitute for milk, put 1/3 cup of dry powder in a measuring cup and add enough water to make 1 cup of liquid. Stir and use just as you would regular milk.
Juice
Juice is a largely unnecessary part of a healthy diet…I don't think it's a terrible addition, but neither do I think that it's essential.
So, we mostly go for the "use it less" option…we buy juice only on rare occasions, like when we're on vacation.
Sodas, Teas, and other sweet beverages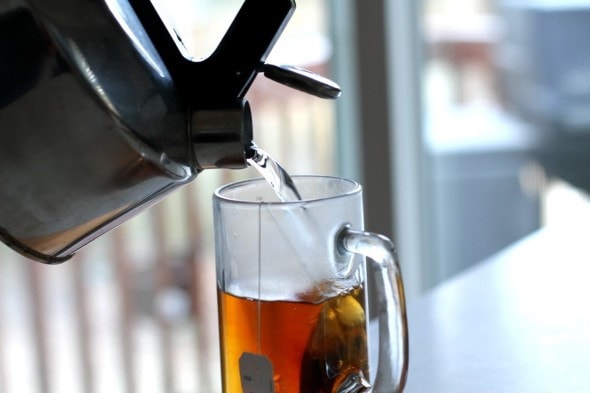 I consider all of these to be quite unnecessary, and so I don't buy a lot of them. If you can't manage to completely quit drinking sweetened drinks, though, there are a couple of things you can to do reduce your spending on these items.
Looking for sales on these, or finding a cheaper place to buy them is a good idea. We usually eat pizza once a week, and I really love to have root beer with pizza, and I usually buy whatever brand is on sale. If you're more brand-loyal, buy several when they go on sale so that you won't have to pay full price when the sale is over.
If you're buying these beverages to pack in lunches, consider buying a large container and repackaging the drink into smaller containers. My husband (I haven't managed to completely convert him to water drinking!) likes to take a bottle of iced tea in his lunch every day, so I buy a gallon of tea and pour it into Snapple bottles, which last a LONG time.
A single bottle of Snapple can cost $1.50, where as I can buy a whole gallon of name brand tea (Turkey Hill) on sale for $1.66-$2.00.
An even cheaper option is to make your own tea (Cook's Illustrated has some great flavored tea recipes), but I don't seem to find the time for that very often.
In a nutshell, my frugal beverage advice is to drink water (from your faucet!). It's good for your waistline, your wallet, and the earth. 😀