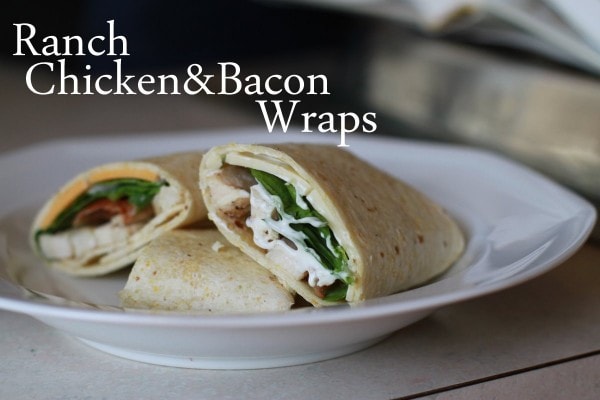 I got this idea years ago from an online friend of mine (Hi Brooke!). She hates to cook, but says even she can manage to throw these together. So, if you're the type who makes dinner by picking up the phone and a takeout menu, you can probably handle this. 😉
These are really more method than anything, and you can customize them to your heart's content. You can use different meats, cheeses, dressings, vegetables, and even tortillas….whatever thrills your heart.
The basic method is this:
1. Spread a thin layer of your favorite salad dressing (we like ranch) down the center of a tortilla.
2. Top with cheese, fresh spinach, bacon, and sliced cooked chicken.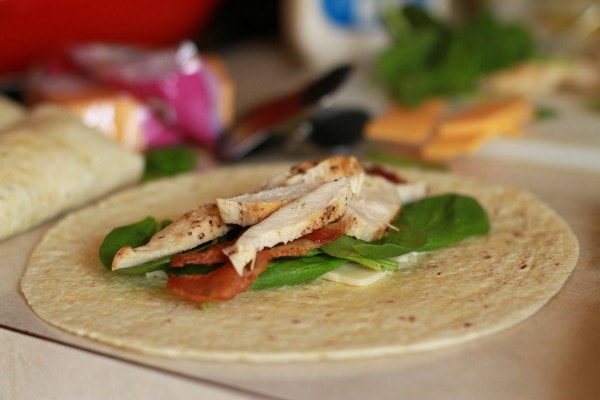 3. Roll up tightly (you can fold the ends in if you want to make a neat packet).
You can eat them right away, or if you want to serve them later, just wrap them up in plastic wrap or a plastic bag.
These are super easy to make if you're using meats that are already cooked, but I rarely am (Leftover cooked bacon? What is that??)
So, I usually slice my raw chicken breasts horizontally to make thin cutlets and then sprinkle them with salt and pepper. I then cook my bacon slices, drain the bacon fat out of the pan, and cook the chicken in the same pan. That gives the chicken a nice bit of bacon flavor and saves me from having to use two pans.
(Yay for reducing the dirty-dish pile!)
Of course, if you've got leftover cooked chicken, you can certainly use that instead…that'd be even easier.
And if you don't eat meat, you could certainly just fill your wrap with veggies, cheese, and dressing.
I serve these with fruit and some sort of veggie (like sauteed green beans). And if I'm feeling indulgent, sometimes we have chips as well.
I know some of you out there are probably wrap-making masters, so would you share your favorite wrap filling ideas with us?