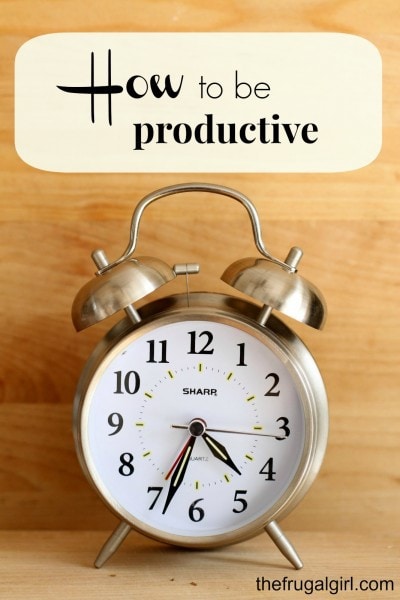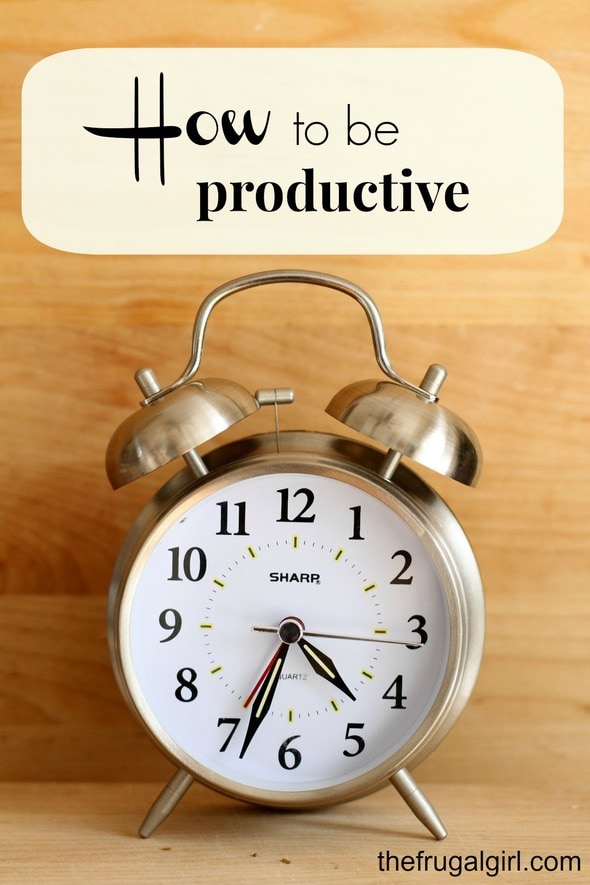 Today we're beginning a weekly series on the topic of productivity. This series is coming to be because almost since the inception of my blog, readers have been writing me and asking me how I get so much done.
For the record, I'm very aware that I don't have this productivity thing down pat…I see the areas of my life that lack organization, and I see the places where I waste time. And of course, I see the bazillion things that I don't get done.
I do realize, though, that I get more done in a day than some people do, so I'm going to share my best ideas for the sort of imperfect productivity that makes up my life.
Probably the hardest part of coming up with the posts for this series was identifying the things in my life that help me to be productive, simply because those things are habitual for me at this point. I think I've managed to identify a few keys, though, and I'll share one each Thursday for the month of November.
Next to, "Do you include toiletries in your grocery budget?" probably the most common question I get is, "Don't you ever sleep???", presumably because readers think my secret to productivity involves late night work sessions and very little sleep.
That couldn't be farther from the truth, though.
In fact, I usually get far more sleep than the average American. Getting 8 hours of sleep (which seems to be the right amount for me) is a very, very high priority for me because getting enough sleep is essential for productivity. I can't expect to be on top of my game if I'm shuffling through my day in a sleepy stupor, and you probably can't either.
I don't feel too great if I only get 6 or 7 hours of sleep, so when I hear of people consistently getting only 4-5 hours of sleep, a mixture of horror, awe, and pity washes over me. Dear fellow people! Why do you torture yourselves this way??
I have a few guesses, and they're as follows.
1. I'm too busy!
I know you're probably thinking something like, "I don't have tiiiiime to be in bed for 8 hours!!!", but I'd say you probably don't have time to not be in bed for 8 hours (or whatever number is right for you). Depriving yourself of sleep in order to get things done is like shooting yourself in the foot.
How so? People who sleep for only 4-5 hours may have more time in their day than someone who sleeps for 8 hours, but I'd venture to guess that the person running on 8 hours of sleep is going to get at least as much done as the person who slept for 4-5 hours, simply because the 8 hour person will have more energy.
Give it a try and see if that doesn't hold true for you. For a week, get yourself to bed on time, and see how things go. My guess is that you won't find yourself to be behind in your work, and you might even be ahead.
2. Sleep doesn't matter that much.
It does, and not just from a productivity standpoint. Studies have shown that sleep-deprived people are at a greater risk for heart problems, weight gain, and a compromised immune system among other things. And you don't need a study to tell you that sleep-deprived people are crabby. So, why are you still staying up so late? Get yourself to bed! 😉
3. But I'm a night owl!
Now, I know that some people are naturally night owls. I'm not, but I know they're out there and I'm actually married to one.
If you're a night owl and your life/family/work allows you to stay up late and get up late, more power to you. If it's working for you, don't mess with it!
However, an awful lot of night owls have life/family/work obligations that prevent them from sleeping late. For those people, staying up late means depriving themselves of sleep. If you're one of those people, stop living in denial and get your booty into bed at a decent hour.
Mr. FG would love to stay up late and sleep late, but it's been a good many years since he's been able to do that, mostly because of his work schedules. Getting up early is not optional for him, so the only path to enough sleep is an early bedtime. This is not at all his natural inclination, but it's the most responsible option for him right now.
So, if you're a night owl, take courage! If Mr. FG, a natural night owl, can go to bed at 8:30 PM, you probably can get to bed earlier too.
Practical Help
So, maybe you're convinced that you need to get a decent night's sleep, but you're just not sure how to get that accomplished. Simply telling yourself, "I'll get to bed earlier from now on!" isn't usually sufficient.
Here are a few things that help me to get into bed on time. Though I doubt any of you need to go to bed at 8:30 pm, hopefully some of these ideas will be helpful to you.
1. Turn off your TV/computer/phone/distracting electronic device
Staying up late and actually being productive is one thing, but our electronic devices often tempt us to stay up late without even accomplishing anything! Turning them off at a set time helps me to get into bedtime mode.
If you need to go to bed at 10:00, turn your TV off at 9:00. If you watch that 9:00-10:00 show, you're never going to make it into bed at 10:00. And you might even be tempted to stay up and watch the 10:00-11:00 show!
2. Start getting ready for bed before you actually need to go to bed.
If I want to be in bed at 8:30, I can't start getting ready for bed at 8:30. Instead, I usually start my evening activities around 7:30 (brushing my teeth, taking out my contact lenses, shutting my computer down, making sure the kitchen tasks are finished, and so on).
On nights when we're on schedule, Mr. FG and I usually head to our bedroom around 8:00 to wind down. We read our own books in bed before turning out the light, or Mr. FG reads to me while I do some mindless activity like ironing or crocheting (I've been making a Build-A-Bear scarf for Sonia's bear this month).
This way when 8:30 rolls around, we're actually ready to turn out the lights and go to sleep.
3. Set yourself up for success.
I've found that I have a hard time getting to bed at 8:30 if I don't get other evening tasks early enough. For instance, if we eat dinner later than 5:00 or 5:30, we have a hard time getting that cleaned up in time to get the kids ready for family worship (in the evenings, we read the Bible and pray together).
And if we don't have family worship at 7:00 or earlier, we have a hard time getting Sonia and Zoe into bed on time.
And if we don't get them into bed on time, I can't start my evening routine early enough to get myself into bed.
So for me, a proper bedtime routine starts before dinner.
I'm sure your life looks different than mine, but look at your evenings and see if you can identify some scheduling problems that are making it hard for you to get to bed. Then think about ways to fix those issues.
4. Remind yourself of the benefits of sleep and the downsides of being tired.
Think about how awful it feels to be exhausted, think about how hard it will be to be patient with your spouse/children/co-workers if you're sleep-deprived, and then think about how much better you'll feel tomorrow if you go to bed.
I know how dreadful I feel when I don't get enough sleep, and thinking about that is usually sufficient motivation for me to get into bed.
So, go get some sleep this week, and next Thursday I'll have another productivity idea for your well-rested self to apply! 😉
a couple of disclaimers:
-I'm not addressing sleep problems like insomnia. I'm talking about the run-of-the-mill "whoops, I stayed up too late!" kind of sleep deprivation.
-Parents of new babies are going to be a little sleep-deprived in the best of situations. My best advice for moms and dads in that phase of life is to go to bed when your baby goes to bed if that's at all possible. It's tempting to stay up late and enjoy the quiet and peace, but you'll probably regret it the next day.