Every now and then Aldi sends me a small gift certificate along with a list of seasonal projects or the option to go it on my own. I chose the latter this time around, and decided to use my certificate to buy some ingredients to make this salsa, which has been my favorite thing to eat of late.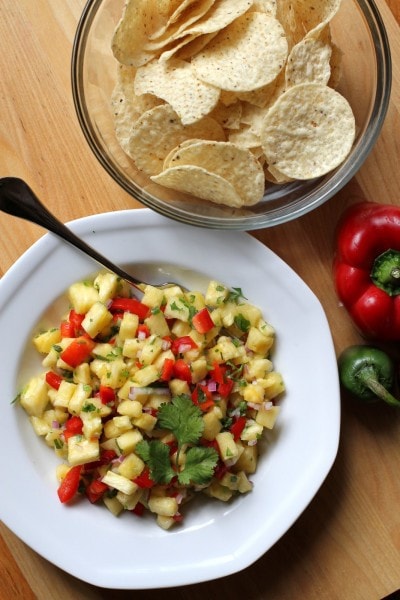 It's a nice bit of a change from regular tomato salsa, it's not expensive to make, and it contains nothing but raw produce (and salt.)
It's also super delicious.
I cheated a teeny bit this time around, because the salsa does call for two ingredients that my Aldi doesn't currently carry: cilantro and a jalapeno pepper. I hear some Aldi stores do have these in their produce departments, though, so for some of you, this could be a 100% Aldi dish. 😉
I was all organized-like and took a picture of my ingredients. Except, um, I forgot to include the red onion. Please imagine one in the photo somewhere.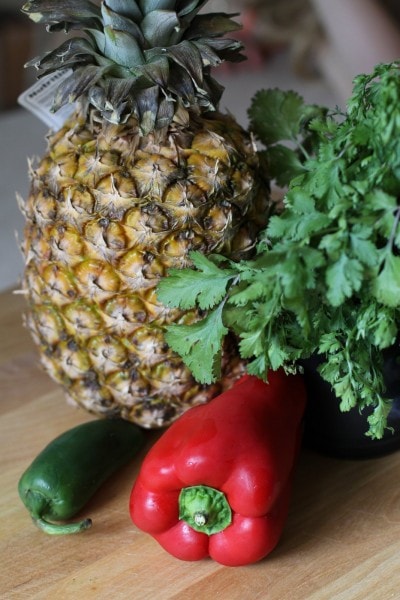 Just so you know, salsa is quite a flexible thing, so while I'm sharing the ingredients and proportions I use, feel free to change it up to suit your tastes.
Cut the top, bottom and peel off of the pineapple (I do mine kind of like this, except I'm not as careful about the eye removal!) and then chop it into small pieces. The smaller, the better.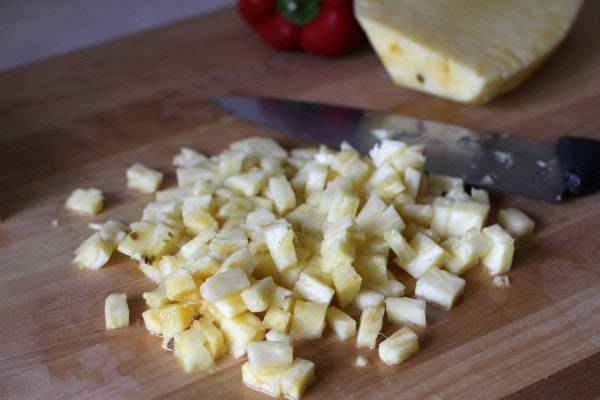 If you're skeered of cutting up a pineapple (though really, it's not that hard), you can always use canned pineapple. I prefer the texture and flavor of the fresh stuff, though, and hey, a fresh pineapple has zero packaging waste.*
Which is always marvelous.
*assuming you compost the peel
Ok. You'll also need to chop up some red onion and jalapeno. Depending on how iron-clad your mouth is, you may want to remove the ribs and seeds of the pepper (that's where lots of the heat resides) before you chop it up.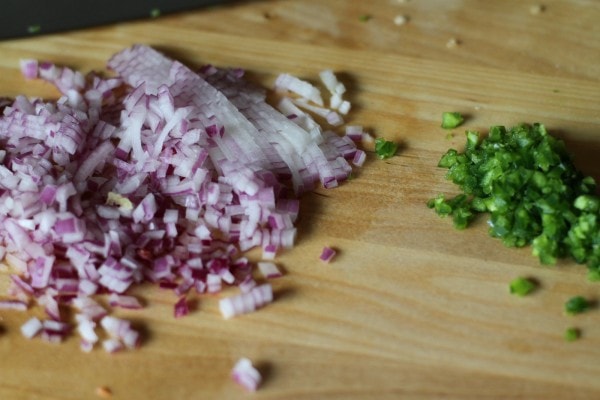 The family FG, we are wussies, so I remove the seeds and ribs.
Lastly, you'll need to dice some red pepper and chop some cilantro. If you loathe cilantro, you can leave it out. I like cilantro in pretty much everything, though, so I always add it.
Bring on the cilantro!!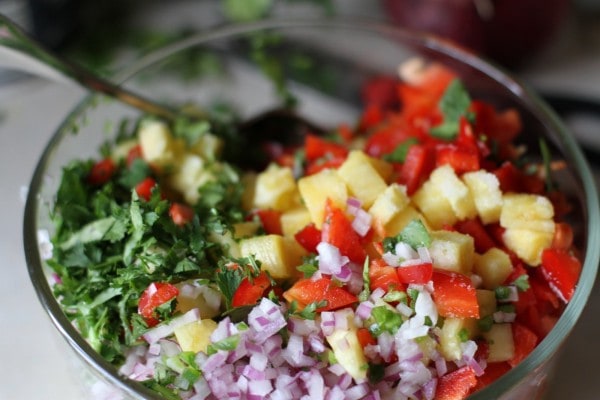 Mix the pineapple, veggies, and cilantro together in a bowl and add salt to taste. I usually start with 1/2 teaspoon and go from there.
We like to eat our salsa with corn chips, and I always have a bag of Aldi tortilla chips around (I eat them with guacamole all the time.)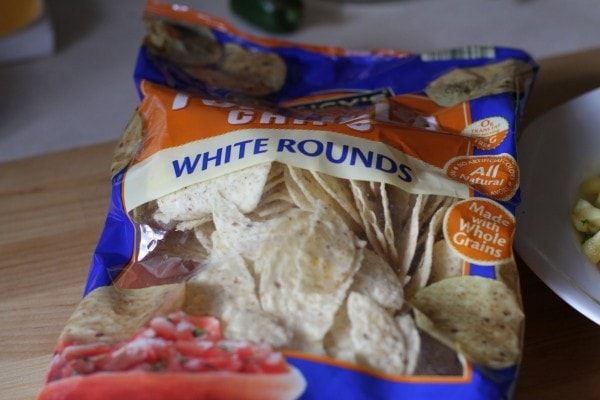 You can refrigerate your salsa and eat it later (it'll keep for a few days in the fridge) but if you're too impatient, you can dig in right away.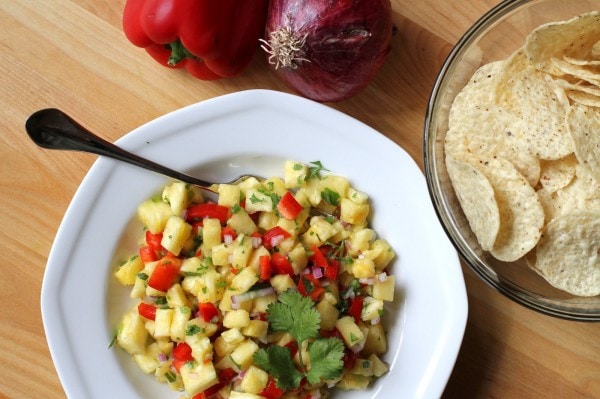 Oh, and you don't have to just eat this with chips. It's also lovely on top of grilled meats, in fajitas, on tacos, or in a burrito.
Go make some, k?
Pineapple Salsa
4 cups diced pineapple
1/2 cup diced red onion
3/4 cup diced sweet red pepper
1/2-1 jalapeno pepper, diced (remove seeds and ribs if you want less heat)
1/4 cup chopped fresh cilantro
1/2-1 teaspoon salt
Mix all ingredients in a bowl. Taste and add salt as necessary.
Disclosure: Aldi sent me a gift certificate, but they have not bought my adoration (that's 100% natural!), they didn't come up with this recipe, and my opinions and words are all my own.
________________________________
Joshua's 365 post: My latest origami