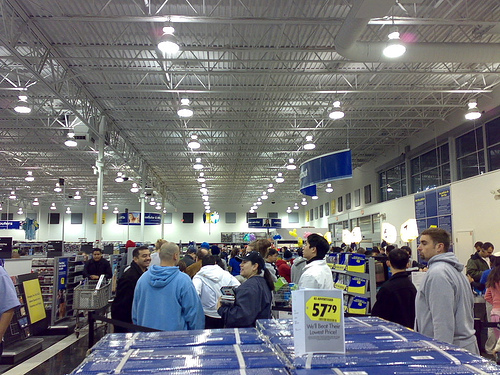 In case you couldn't guess from the title, I am NOT a Black Friday shopper. In fact, I would almost prefer to stick forks into my eyeballs than go shopping the day after Thanksgiving. Here's why.
I hate crowds. Hate them, hate them, hate them. Being a stay-at-home, work-at-home mom, I am accustomed to being able to drive and shop during off hours, and I love it. No traffic to sit in, no trouble finding a parking place, no standing in checkout lines forever, and no worries of losing track of my kiddos in the crowds.
The things on sale on Black Friday are rarely things I need to buy. This is true pretty much across the board, but it is especially applicable to toys. Most often, the toys that are deeply discounted are unitaskers (toys that do one thing), or fad toys. I'm much more prone to buying classic, not-so-electronic things for my kids, like Duplos or Bionicles, books, craft supplies and the like.
The supplies of the really good deals are exceedingly limited. Even if I could manage to find a Black Friday deal I wanted, the odds of me snagging the item are really low. Often, stores have only 10-20 (or even less) of a doorbuster item, and so even if I got to the store at 3 am and waited in line, I might not get what I came for. That is not worth the risk to me.
I can cut my Christmas spending by employing other, less miserable means. For example, I find great deals on books and music at half.com, I come across gifts in perfect shape at Goodwill, I make quite a few presents (more on that in the coming week), and I buy things throughout the year as I see good bargains (contrary to popular opinion, deep discounts can be found throughout the year, not just on Black Friday!).
So, while I will be getting up at 4:40 am on Black Friday, it won't be because I'm going shopping…it'll just be because my husband has to work that day, so we'll be getting up as usual (incidentally, he also has to work Thanksgiving day. My poor husband. But, he rocks for faithfully providing for us.)
Yes, other people can have the crowds and craziness. I'll be home hanging laundry, cooking dinner, baking bread, and decorating the house with my kids. And I know I'll be much happier for it.
What about you? Do you loathe Black Friday like me, or are you a die-hard Black Friday shopper?