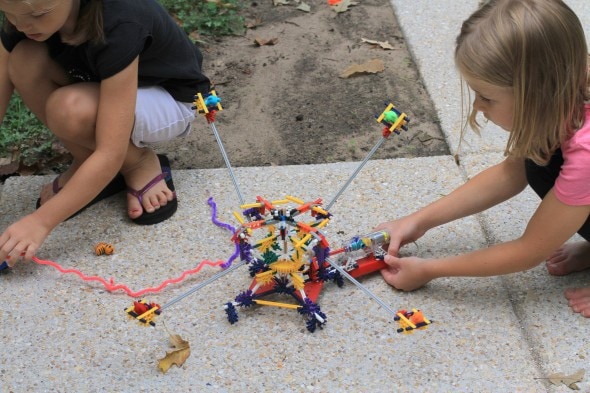 The other day, Joshua helped the girls make this amusement park ride out of Knex. The battery operated motor makes it go around in circles, and as it does, the seats go up and down.
Not gonna lie…it's pretty cool.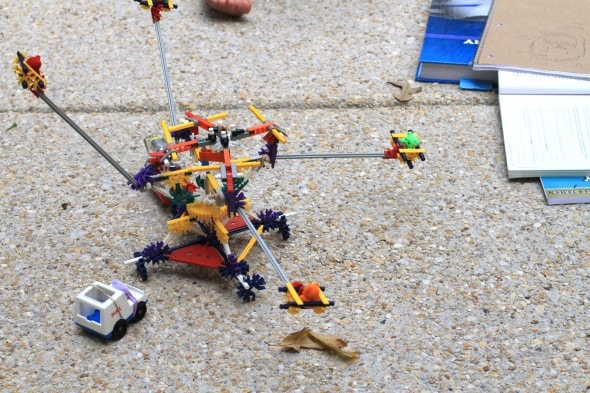 $0.29 bears from the craft store are the lucky riders. 😉
The girls also made some zip lines for the bears out of Knex.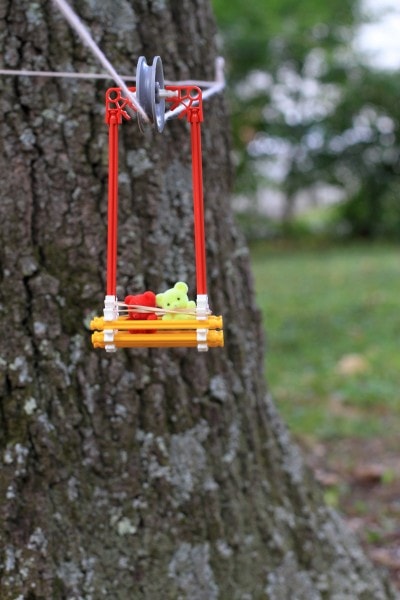 Well, the cars are Knex..the zip lines are yarn.
Some of the lines have sort of a dangerous slope. 😉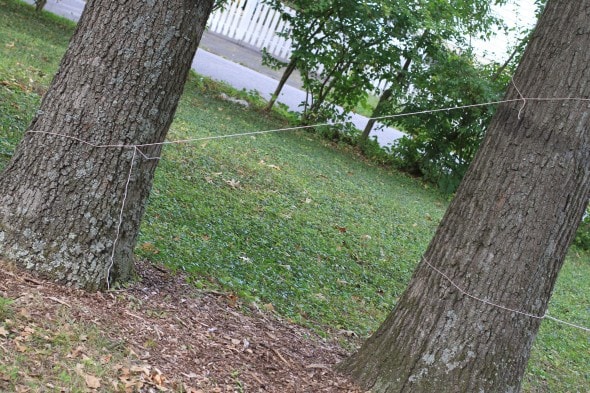 Watching this reminded me again that the toys which provide the very best value are the those that can do multiple things.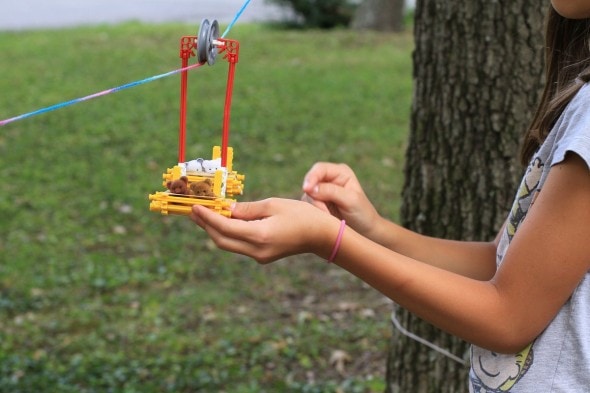 I'm sure you can buy toy amusement park rides, but the trouble with those is that they can do exactly one thing. When you get bored of the amusement park ride function, the joy of that toy is gone.
But a toy like Knex provides endless play options.
Once you get tired of the zip lines or the scrambler, they can be totally disassembled and made into something new.
(Bonus: I don't have to store a zip line or scrambler…just a box of Knex.)
Maybe I'm just getting old or something, but it does seem like in the last several decades, there's been a shift away from multi-tasking toys to unitasker toys. For instance, when I was a kid, my brother had Hot Wheels tracks that could be configured in multiple ways, but when Joshua was little, all we could find were preconfigured tracks (Boring!) They had lots of bells and whistles, but very little versatility.
And while I'm writing a curmudgeonly post, I'd like to complain about the poor quality of most of these unitasking toys. It's bad enough that they do one thing, but even worse is their tendency to break at the drop of a hat. And since they're usually all one big piece, the whole thing has to be trashed when something breaks.
Legos, Knex, and Duplos, however, can do a bajillion things, and if one piece breaks (which rarely happens), you don't have to throw the whole collection out.
Thus endeth the rant on modern toys.
P.S. Our box of Knex was a hand-me-down, but I just checked, and it appears that Knex are still available
. I think you could find great deals on these at yard sales or on eBay too.