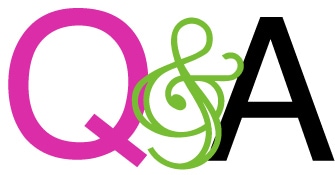 Every Monday, I answer a few of the questions that my readers send me. If you have a question you'd like me to answer in a future Q&A post, just leave me a comment here or email me (thefrugalgirl [at] gmail [dot] com) and put Q&A in the subject line. I look forward to hearing from you!
How much money do you spend per month (on average) on homeschooling? How do you keep it a frugal endeavour when it does feel like something you could easily pour a lot of money into? Any advice to someone just starting out on a minimal budget?
-Megan
I tend to spend all of my money up front in July or August, when I order supplies for the year. Then I'm usually set except for times when we run out of paper or pencils!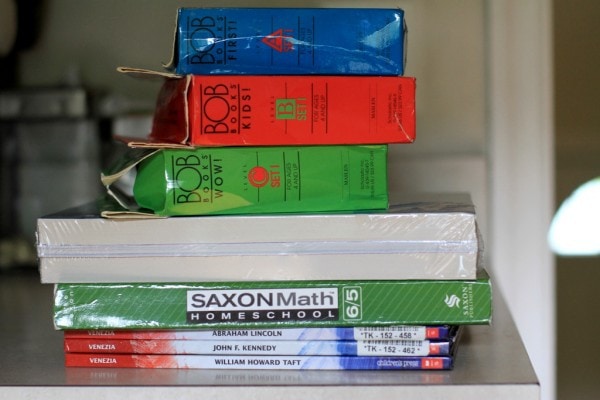 I typically spend between $100-$250 total for all four of my kids and I mostly accomplish this by buying curriculum on ebay or half.com.
A more detailed post about saving money on school supplies is in the works, so stay tuned.
I am a mother of 3 girls and planning to officially start homeschooling them this fall. 🙂
I've read posts on your blog about cleaning before… but I was very interested in finding out exactly WHEN you are able to clean with having the kids around/homeschooling.
I try to get my girls involved as much as possible (my two oldest are 5 and 3)…but I still need to put aside a lot of time to clean the house by myself.
Also, the laundry that needs to be folded keeps on coming (as you know)… I was just curious if you have a great strategy that works or any tips on how I can be more efficient with this.
-Karen
That is a tough thing about homeschooling…the people that make the house the messiest are always home! 😉
Just to give you hope, though, keep in mind that kindergarten doesn't need to take all day. I typically can get our kindergarten work done in an hour or so. So, you should still have some time for cleaning.
(Here's what we do in kindergarten.)
Still, even an hour a day is something, and once you have multiple kids doing school, the hours can add up a bit.
Here are a couple of things that help me to keep things sort of clean.
I give chores to my children.
Delegation is key, and this will get more and more helpful as your kids get older!
I make them clean up after themselves.
They clear their dishes, throw their dirty clothes in the hamper, make their beds, hang up their pjs, take their dirty laundry down to the laundry room, and clean up their rooms. Of course, it's easier to do it yourself at first, but if you hang in there, you can teach them to do these things on their own.
I fold laundry while I'm doing other tasks.
Laundry is a body-consuming task, so I pair it with a mind-consuming task (folding laundry is quite mind-numbing.) I might fold laundry during family worship, while supervising piano practicing, talking on the phone, or while Mr. FG reads to me at night.
As my kids get past the preschool years, I have them fold their own laundry. It's not perfect and I have to resist the urge to refold it all, but they do eventually get better at it.
I make a few things a priority: clean dishes, clean kitchen counters, and a clean living room and dining room.
The kitchen, living room, and dining room are the main living areas and having those under control keeps me sane even if the rest of the house is getting a little messy.
I don't keep my house spotless.
Would I love to have a perfectly spotless house? Oh yes.
But I've (sort of) made peace with the fact that at this stage in my life, a perfectly clean home isn't a reasonable goal for me. One day, the kids will all be grown up and graduated and then my house will be cleaner. But for now, my standards are just going to have to be lower.
Oh, and I do some chores throughout the day (dishes, putting laundry in) and when we're done with school for the day, I tend to do things like vacuuming.
At 46, I am going back to graduate school, and so I need to be very frugal this year, more than ever.
However, I want and need to loose about 80 pounds. That's a substantial amount of weight, and there are so many diet programs out there that promise to help! But they are all expensive–special foods, shakes, shorts, the works. I was hoping that I could lose by exercising and using portion control, and by trying to eat more good foods, such as fruits and vegetables. But, with the amount of weight I have to lose, I worry that isn't enough. Have you or any of your readers dealt with this? Thanks for any advice!
-Barbara
I'm so glad my readers are here to help with this one because I don't have much experience losing a lot of weight, except for pregnancy weight (and that seemed to come off fairly easy between nursing and being very busy with small children.)
To maintain a healthy weight, I try to eat food that leans toward the unprocessed end of things, with lots of fruits and vegetables. And I pay attention to what my body tells me about being hungry or full. Also, I typically am pretty active even on days where I'm not officially working out.
I definitely think that it's possible to lose weight without signing up for an expensive program, and I think that a plan of eating healthy foods in appropriate portions is going to be much easier to maintain over the long haul than something like, say, Slim-Fast or Jenny Craig.
But here I'm going to hand it over to my readers, some of whom doubtless have good advice for you!
___________________________
Today's 365 post: Cattails