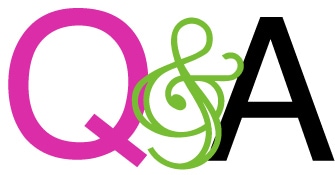 Every Monday, I answer a few of the questions that my readers send me. If you have a question you'd like me to answer in a future Q&A post, just leave me a comment here or email me (thefrugalgirl [at] gmail [dot] com) and put Q&A in the subject line. I look forward to hearing from you!
I've been getting your blog for about 2 months now and really enjoy it. I'm a fulltime working Mom with one 10 year old. I feel very humiliated by all of your great homemade food. I loved the turtle rolls you made. I have never even considered making bread products before (isn't that what Pillsbury does?) I probably cook once a week and then I use partially prepared food (pre-chopped onions, bagged lettuce etc.)
Do you ever just make hot dogs or grilled cheese for dinner? or is everything always homemade? Are you really like June Cleaver?
-Susan
Aww, I'm so sorry that my blog has made you feel that way. I hope that nothing in my tone is to blame for that, and if it is, I do apologize! I try to make it very clear that I don't think everyone needs to live their life exactly the same way I do (not everyone needs to make bread, and not everyone needs to make yogurt).
What matters is spending your time on things that are valuable and important to you (you can read more about that in my post about cutting schedule clutter). For you, that might mean that you don't need to cook dinner every night and it might mean that you need to keep your meals very simple.
To answer your question, there are definitely nights where I don't produce a lovely homemade spread. On busy nights we sometimes just grill bratwurst, steam some beans, and call it a meal. Or when my menu plan hasn't worked out well, we sometimes will order pizza.
And every Friday night, I feed my kids something ridiculously easy (this past Friday they had toasted rolls, cheese cubes, and several kinds of fruit) and Mr. FG and I eat takeout.
On average, though, most nights I do cook a meal that's relatively homemade. But again, that might not work out for you. I have the advantage of having been in the kitchen since my early teens, so cooking meals from ingredients isn't at all foreign to me.
If you're wanting to cook more meals at home, I'd suggest the following.
-Start small. If you normally cook at home once a week, try cooking twice a week. If making a homemade main dish is hard, then don't stress about using prepared side dishes (I usually prepare SUPER simple vegetable sides, like raw veggies salads or simple steamed, buttered, and salted veggies).
-Keep it simple. Try making spaghetti or breakfast for dinner, or try the Tropical Island Chicken recipe I shared.
-Make a plan. I hate the process of menu planning, but the payoffs are insanely awesome. I've written a number of posts about menu planning that might help you.
-Practice. Cooking, like most any other skill, requires practice. The more you cook, the better and faster you'll get at it.
I love your site! But I am old & only cooking for 2. How can I save on groceries with hardly any income?

-Janice
I do kind of remember cooking for only two people…it's been a while, though! I cooked for my family of 6 when I was a teenager and I now cook for my own family of 6.
If it was just Mr. FG and me and I had a very limited grocery budget, this is what I would do to feed us reasonably nutritiously on that budget (if you throw nutrition to the wind, of course, you can subsist on stuff like ramen and boxed mac n' cheese!).
Drink water. Water is nigh onto free from the tap (get a water filter if your water is icky-tasting), and most flavored beverages and juices are unnecessary, nutritionally speaking. If you're low on funds, drink tap water! (in case you missed it, I am not a fan of bottled water).
Eat simple, basic foods. Frozen plain chicken and fish aren't terribly expensive, and they usually come in bags that allow you to take out only the amount you need (which is great for a two-person household!). Buy a bag of rice instead of boxed rice mixes, buy apples instead of snacky apple chips, buy oatmeal instead of instant oatmeal packets, make a simple pot of soup instead of buying canned soups, and so on.
If I were desperate for money and unable to do a lot of cooking, I'd probably eat a lot of oatmeal, eggs, rice, beans(the legume sort), chicken, tuna, and inexpensive produce (most veggies are inexpensive, and bananas, grapes, apples, and seasonal fruit can be very cheap).
I wouldn't buy desserts, snacks, cold cereal, beverages, or much in the way of pre-packaged food.
Consider switching grocery stores. If your budget is very limited, take a look at any other shopping options you've got. For instance, if you have an Aldi or Save-A-Lot, give it a try!
Watch sales. If your grocery stores have sale flyers, check out the front page especially. This is where the best bargains are to be found. Plan your meals around what you can get cheaply that week.
Buy generic brands. Almost all of them have money-back guarantees and most generic products are pretty darn decent. At the least, they're worth a try.
Buy some frozen foods. Frozen vegetables are great for small households because they keep so well and I already mentioned that frozen meats can be handy too. Also, don't be afraid to freeze the foods you make…a lot of soups and other main dishes freeze well, so make a batch, eat some, and freeze some.
Also, I know I've mentioned this before, but if you haven't joined Swagbucks yet, do! You can earn free points that can be redeemed for Amazon gift certificates, and you can buy a lot of different grocery items. That might be a handy way to add a little more cushion to your grocery budget (if you want to know more about Swagbucks, read the post that contains my thoughts about the program).
________________________
Readers, I'm sure you've got some great advice about learning to cook at home and about cooking for two on a limited budget, so comment away!
Today's 365 post: Mr. FG comes from frugal stock too, apparently
Also, go check out the new chore system I'm trying out with Joshua, and sign up if you want to try it along with me.