Yep. It's a miscellany day.
There's no other way all of those topics could possibly go together in one post. 😉
My daffodils are working out great.
You know how last fall I ordered a bunch of vole-resistant bulbs?
(I was sick and tired of buying tulips and regular hyacinths, only to have the voles gobble them up.)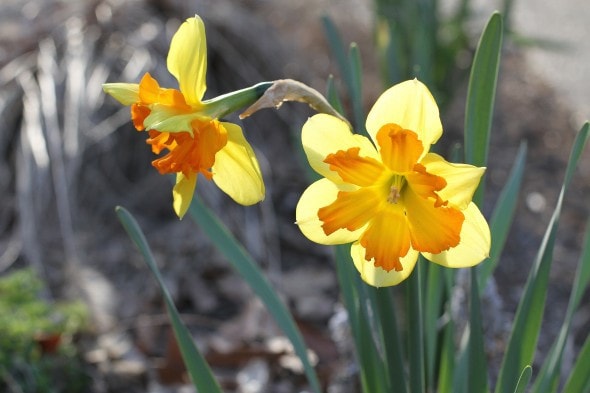 My daffodils are in full swing now, and the fun thing about the pack I ordered is that it contained a wide variety of daffodils, so I have oranges and yellows and and orange-y blush-colored flowers, to name a few.
And it is delightful to know that these will pop right up again next year, since the voles will not be destroying the bulbs.
EXCELLENT.
(This is the bulb mix I bought.)
I seriously cleaned out my fridge.
I took all of the shelves out, took the glass out, and wiped every single surface down.
(I found a lollipop in the back of the fridge. Why did someone put a lollipop in the fridge?? We may never know.)
When I put everything back in, I noticed that the fridge had stopped running, and there was a faint burning smell.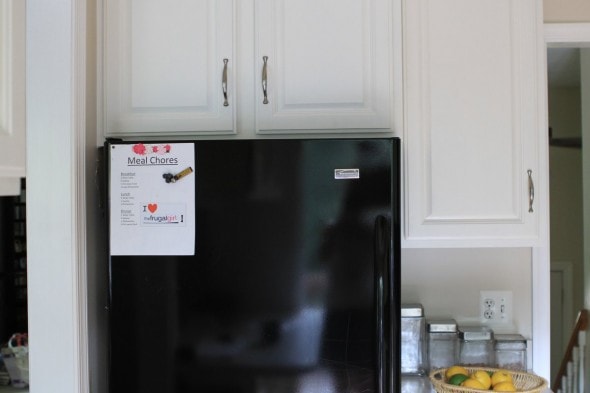 I panicked a little, called my dad (Mr. FG was gone), left a message with my repairman, and then the refrigerator magically started running again.
I have no idea what happened, but it's been hunky-dory ever since.
Weird.
And it is CRAZY clean in there.
That's also weird.
I am not known for my excellent fridge-cleaning habits.
I made a cauliflower dish that we liked. (WHAT.)
My produce box sends me cauliflower on a semi-regular basis, and so far, I haven't managed to make anything with it that my family likes.
But as I browsed through my Cook's Illustrated cookbook the other day, I saw a recipe for stir-fried cauliflower with Thai red curry sauce, and I gave it a try.
I wasn't super optimistic, but it was really tasty! The cauliflower still had a bit of crunch to it, and since it cooks for a few minutes in the sauce, it takes on the flavor of the sauce quite nicely.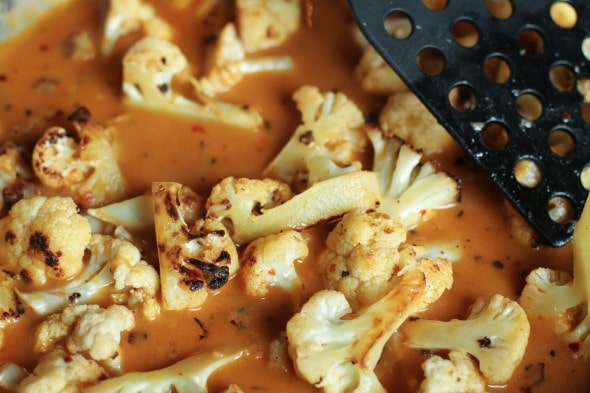 This reminded me why I need recipes.
Left to myself, I would never in a million years have thought that coconut milk, curry paste, fish sauce, and lime would come together to make a tasty sauce (indeed, I was doubtful as I mixed it up!), but somehow it all works together.
Even Joshua, who LOATHES cauliflower, thought that this was pretty good.
Mighty Fix free shipping works on the $5 offer.
A reader wondered about this yesterday, and I thought I'd answer it here. When you subscribe to The Mighty Fix, you get free shipping on anything else you order from The Mighty Nest. This is true even for your very first fix, which is the $5 stainless steel container set.
So, you can sign up, pay $5 for your first fix (the two containers), add anything else you want from The Mighty Nest to your cart and it the shipping on all of it will be free.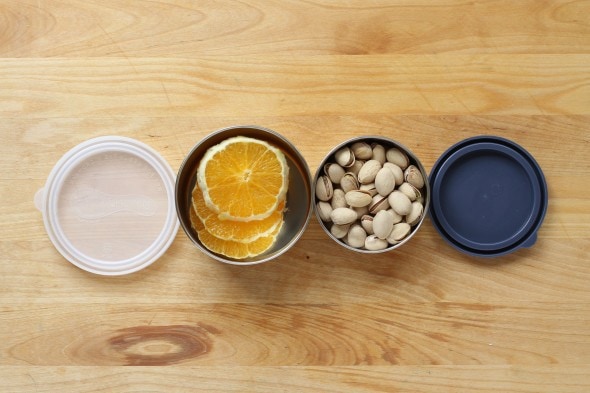 Even if you don't want to buy anything else right now, do consider signing up for The Mighty Fix with this introductory offer. $5 is a great price for these two useful containers, and I think you're really going to love them.
2 steel containers for the price of 1 fancy coffee? So awesome.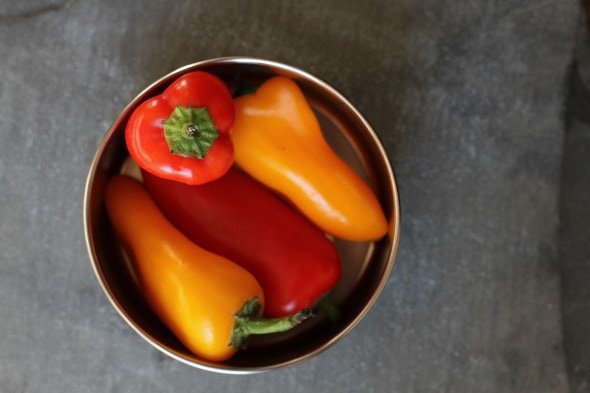 And thus endeth this week's edition of miscellany.
I'll be back tomorrow with a menu post, plus an update on how my freezer challenge is coming along.