I do actually have more than pictures this week! 🙂 They are up first, though.
Produce: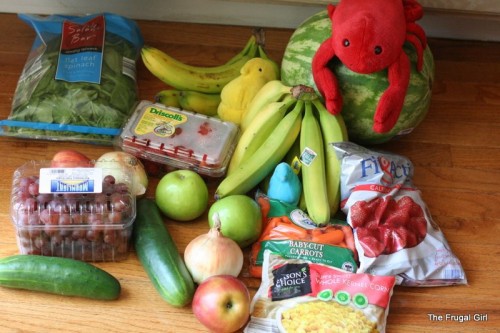 And everything else: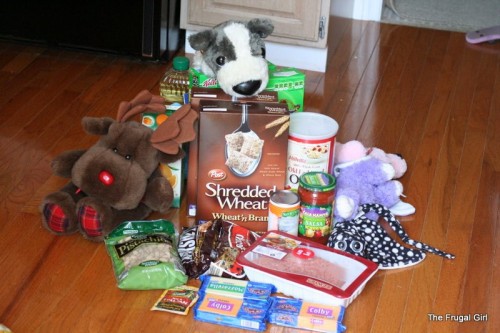 Well, everything else except for my two jars of milk, my blueberries, and the butter I stocked up on (see below).
I have a fairly complicated grocery report. First, I spent $6 on milk from the farm. Then I stopped at a local store to buy some butter (it was on sale for $1.66/pound), and spent $13.19 there.
On Thursday, I got 20 pounds of blueberries from New Jersey, and spent $28.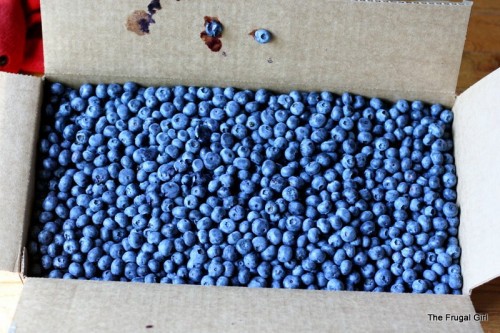 So, before I even left for my regular trip, I'd already spent $47.19 of my $100 budget.
That left me with only about $53 to spend. I spent $39.74 at Aldi, and $13.03 at Weis. Happily, that put me right at $99.96, $.04 under budget! 😉
We'll be eating our usual breakfasts (granola, toast, fruit, and some cereal) and lunches (leftovers, bread, fruit and yogurt smoothies), and here's what we're having for our dinners:
Saturday
Cajun Chicken Strips
Mediterranean Vegetable Salad (I do realize that's a weird side for Cajun Chicken!)
Cheese Bagels
Sunday
We'll be at a friend's house for a cookout, and I'm supposed to bring fruit. I will probably bring a watermelon.
Monday
Chicken Salsa Skillet
Zucchini patties
Tuesday
Shrimp Salad
Fruit Salad
English Muffin bread
Wednesday
Mexican Chicken Sandwiches
Balsamic Vegetable Salad
Thursday
Grilled Hamburgers
raw veggies
fresh fruit
probably some potato chips
Friday