This week, I did actually manage to go shopping on Thursday, instead of putting it off until I absolutely couldn't go not go anymore (like I did the last two weeks!). My husband had a day off on Thursday, and we all went shopping together.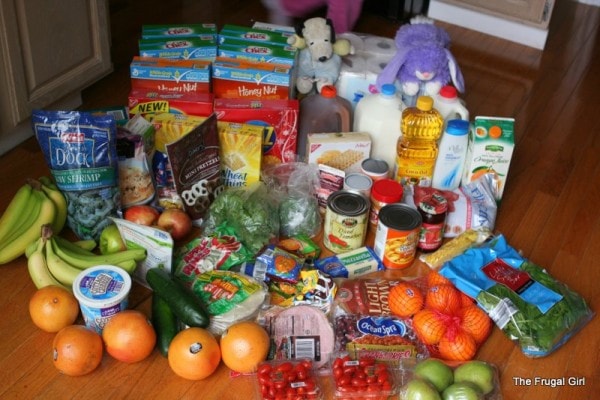 Did you see something in there, behind the ham?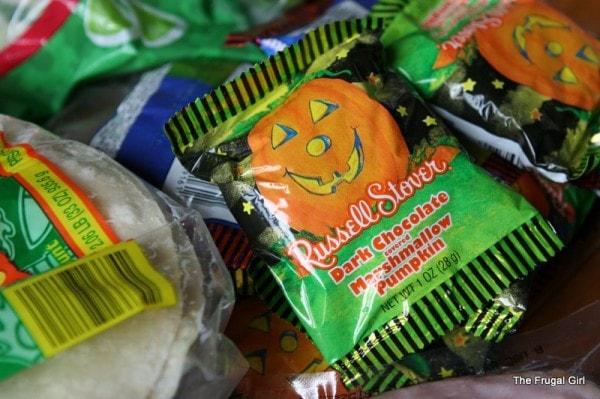 Dark chocolate covered marshmallow pumpkins were on post-Halloween clearance, and my husband insisted that I buy some (I'm easily persuaded when it comes to marshmallow confections!).
At Aldi, we spent $65.93, and at Weis, we spent $37.92. That makes for a total of $103.85, which is $3.85 above my weekly average goal.
However, I only spent $64.62 last week (woo!), aaaaand I will be getting $5 back from a rebate (for the crackers I purchased). So, everything is hunky-dory with my grocery budget. I have $231.53 of my $400 grocery budget left for November, and I just have to make that last for two weeks.

Saturday
Pizza, of some sort. I'm not sure what kind…I will poll my family in order to decide.
Sunday
Monday
Shrimp Taco Salad (a green salad)
potato rolls
Tuesday
BBQ Beef Sandwiches
Sauteed Zucchini
Wednesday
Tandoori Chicken (I STILL haven't tried the recipe! )
whatever bread and produce needs to be used by then
Thursday
Shrimp and Fish Creole
Honey-Glazed Buns
Friday
I have a bunch of leftovers frozen that are not enough individually to feed the six of us…so we'll all be having different things for dinner.