Today we're meeting a Midwestern reader who only occasionally masquerades as Mrs. Potato Head. 🙂
1. Tell us a little about yourself
I'm a married mother of two teenage boys (18 and 16) who grew up in the country near a small town in Iowa. I love the midwest and still live in Iowa, but now live in a suburb of the capital city (about 215,000 people).
I work in logistics for a small manufacturing company which I enjoy because we ship all over the world and my in-box each day greets me with messages from all over the world.
(I will say that the pandemic years were especially challenging though – I barely kept my sanity trying to ship our goods out of the country).
My husband is an engineer and we've been married for 21 years. We are both naturally frugal and a bit introverted which makes it easier to save money.
I work out 4-5 days a week. When my gym closed during the pandemic I bought three expensive kettlebells so I could keep up with my workouts.
When the gym re-opened, they offered a remote option (basically a video of that day's workout) and the membership would be half the cost of the in-person option. If I had been early in my exercise journey, I probably would have opted for in-person just for the accountability, but I didn't need that anymore so I went remote.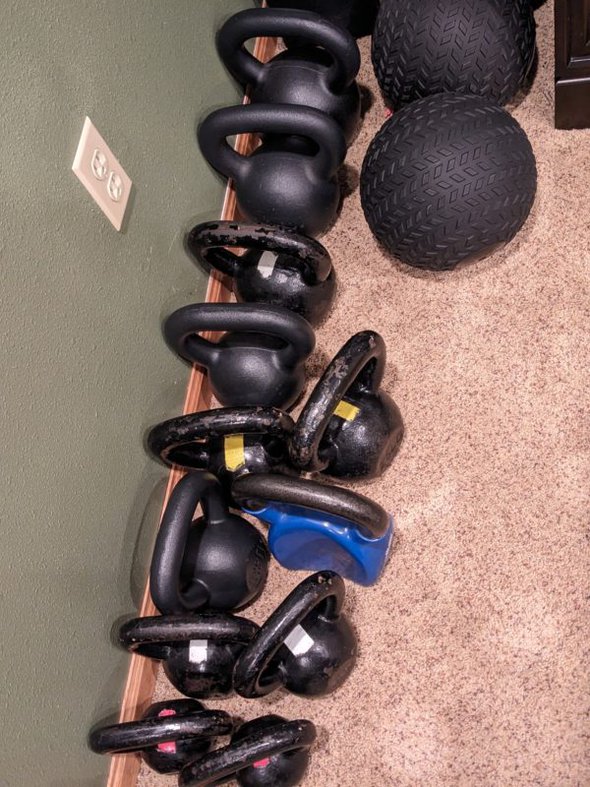 This spring, the gym closed down and sold off their equipment at a deep discount so now I am well stocked for any kettlebell weight I want to use.
2. How long have you been reading The Frugal Girl?
I first stumbled across Kristen's blog about 10 years ago. I had been at my previous job for 17 years (straight out of college) and it had turned into a very toxic situation.
I found it was bleeding into my home life in a negative way and I wanted to take a break and spend the summer with my boys who were 5 and 7 at the time.
I was looking for other's experiences and additional ways we could save money so that I could convince my husband we could survive on his salary. I didn't relate to the homeschooling posts at that time so I ended up re-discovering her blog about 6-7 years ago and have been reading regularly ever since.
I love her realistic, positive vibes and the community all the commenters have created.
3. How did you get interested in saving money?
Growing up we tended to be a paycheck-to-paycheck family. We never lacked for anything, but I didn't like the feeling and wanted to give myself more security to endure the inevitable ups and downs of life.
4. What's the "why" behind your money-saving efforts?
The security I mentioned before is a bit part of it.
We save aggressively for retirement even though my husband will have a pension that he will be eligible for in about 6 years. The plan is for us to both retire around age 58 and move back to the small town where I grew up.
We also love travel and plan on doing much more of that when we retire.
5. What's your best frugal win?
We bought our house as a short sale in 2008. We never would have been able to afford it in normal times, but we had spent many years making frugal choices that put us in a position where we could take advantage of the opportunity.
We also have many small examples just through letting people know that we are open to accepting used items (definitely not the norm in our affluent suburb).
One neighbor took out wooden shelving and put it on the curb and it now is used in our basement to store canned goods. Another neighbor put in new sod and didn't like how his one year old mower cut the grass so he gave the mower to us.
Also, if something needs repaired, we always look into whether it makes sense for us to try tackling the job.
An electric board was going out on our dryer and once we discovered that the repair/replacement was the same price as a new dryer, we decided to try repairing it ourselves. My husband did some soldering (a skill I didn't know he had and which he hadn't done since high school) and the dryer has been going strong for the last two years.
We also thought we'd fix some shingles that came off our roof in a storm, but after climbing just to the lowest part of our roof we decided that was a job best left to the professionals!
6. What's an embarrassing money mistake you've made?
One big one is when I left my toxic job. I just wanted to get away and I moved my 401K money to the advisor they referred me to. I should have just opened a Vanguard account myself (which is what I have now). I lost thousands and thousands of dollars to unnecessary fees.
A small "mistake" is buying a Vitamix blender. I make a lot of smoothies and my Ninja blender died after about 8 years. I bought into the Vitamix hype and have been SUPER unhappy with it. It doesn't blend ice as well and the way it is designed makes it super messy if you have to add ingredients in two stages.
7. What's one thing you splurge on?
Travel. International travel when I was in high school really shaped the course of my life and I wanted to share that with my boys. Our biggest trip was to Argentina and I'm hoping to get one more big trip in before my boys fly the nest.
8. What's one thing you aren't remotely tempted to splurge on?
Fancy restaurant food. Give me a slice of Costco pizza and I'm happy.
9. If $1000 was dropped into your lap today, what would you do with it?
I'd send some to my nieces to help with their college expenses and would donate half to our local food pantry. My younger son and I have been volunteering there lately and the need seems to be growing more and more.
10. What's the easiest/hardest part of being frugal?
It's easy because I have a partner with the same values. We do get some ribbing from co-workers and friends, but we laugh it off because it just doesn't matter to us.
An example of our shared values: we were looking to buy new nightstands for our bedroom, but were disappointed by the quality and designs.
We had no intention of taking on a new project, but our frustration led us to finding designs online that we liked and we ended up building these ourselves (actually we made four – my son picked out different pulls and finishes for his room).
The total cost for all four was $800 – the same price as one new one and it was much better quality.
11.Which is your favorite type of post at the Frugal Girl and why?
I enjoy the WIS/WIA posts the most. When I first started reading, I was just in awe of Kristen's meals and how varied they were (and how she dealt with her family's allergies).
Now I like that she has some leftover/easier nights sprinkled in as it matches our life more closely. We definitely keep things simple around here.
I do think Kristen's once a week take-out should go back in the date night category and not in her food spending. She should be "dating" herself and her girls right now.
12.What single action or decision has saved you the most money over your life?
Being consistent.
I think I could have gotten discouraged in my 20's when I was chipping away at student loan debt and a car loan and in my 30's when I had two kids in day care. I liken it to pushing a boulder up a hill – it's hard work and you wonder why you're doing it, but then you make it over the hill and it's SO much easier on the downhill side.
We no longer had car loans or a mortgage in our 40's (now 50's as of this summer!), but it was entirely due to the hard work and decisions we made earlier.
________________
Kim, I have been to (and through) Iowa lots of times a child. One set of grandparents lived near Davenport, IA, and the other set lived near Sioux Falls, SD. So, we'd stop in Iowa, and then drive across to South Dakota.
My favorite Iowa attraction was Wacky Waters, a water park right out in the middle of farm fields. Did you ever go there?
I smiled when I read about your Christmas cookies! I love how many people out there are making Christmas cookies with eyes, thanks to my children's creativity. 🙂
I also smiled when I saw you painting high up in the foyer. When I was pregnant with Zoe, I tackled a project in the foyer at my other house, and at one point when I was standing on a ladder, which was braced on some steps, Lisey said, "We should not tell your mom about this." Ha. I could probably have used some scaffolding. 😉
And lastly: your nightstands are so lovely. I am super impressed.
Readers, the floor is yours!