Hey everyone! I am pleased to tell that I am feeling much better than I was last week; thank you for all your prayers and well-wishes.
Today, we're meeting Beth, who has all sorts of creative ways to get free food and entertainment, such as being an elite Yelper (I had no idea that was even a thing!).
Here's Beth:
1. Tell us a little about yourself
Hi Frugal Friends! I'm Beth B. from Scottsdale, Arizona.
I am 50 years old and originally from Saginaw, Michigan and moved by myself to AZ in 1996. I wanted to get away from Michigan winters. I think I was also sun-starved!
It was definitely the best decision I've ever made. I love the desert. I met my boyfriend, Darren, in 2006, and he lives 10 minutes away.
He and I both have pet birds and are animal lovers.
I work in insurance full-time, and I live in a townhome that I purchased in 1997 (when the prices were still decent in the Scottsdale area).
2. How long have you been reading The Frugal Girl?
I have been reading the Frugal Girl for about 10 years, I think.
3. How did you get interested in saving money?
My parents are very frugal. They have done very well for themselves but live simply. That has enabled them to pay for my brother's and my college education, take us on trips, etc.
I have been interested in free stuff since I was a kid. Does anyone remember the book "Free Stuff For Kids"? It was my favorite book in the whole world!
I have also always enjoyed entering radio station concerts, and to this day, still win a ton of stuff through the radio stations. Darren and my friends love to be my "plus one" for concerts or other events that I have won tickets to. It's fun!
4. What's the "why" behind your money-saving efforts?
I am working on building up my savings. I am planning on ditching my full-time job in two years, when I am fully vested in my company's ESOP (Employee Stock Options Program).
I really hate working full-time and plan to get a part-time job (Starbucks?) that provides health insurance to their employees.
That way, I will have more time for my fun "side hustles" – pet-sitting, selling Avon (I earned a trip to Hawaii through Avon! It will be my first Avon trip!), movie, television, and commercial "extra" work, market research studies, mystery shopping, and mail decoy work (I get paid by 2 companies to report junk mail).
5. What's your best frugal win?
A frugal win happened when I was laid off from a prior job (I didn't really like the job, so I wasn't super upset about it).
Since I didn't make a fuss, they offered to sell me my company car for $3,500. It was an awesome car and I ended up putting over 200,000 miles on it.
6. What's a dumb money mistake you've made?
A dumb money mistake I've made is buying a used car without doing a lot of research. It turned out to be a lemon and I spent a lot of money trying to fix it up, which went nowhere.
I traded it in for another used car which has turned out to be a dream car for me. It was previously owned by a senior who only put 25,000 miles on it. It's been a great car for road trips.
7. What's one thing you splurge on?
I splurge on travel, but Darren and I are both frugal-minded, so we fly stand-by whenever possible (he works in the airline industry) and use my hotel points, rental car points, and miles from work travel to help make the trip more affordable.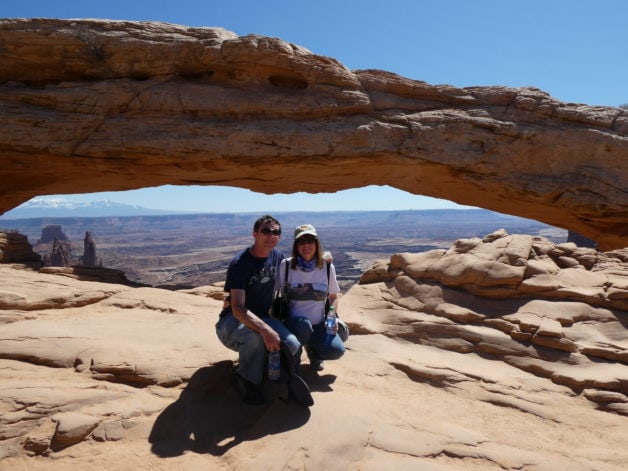 We typically like to go on one international trip a year, but since 2020, we have been taking some fun road trips to National Parks. My life goal is to visit all the US National Parks and Monuments.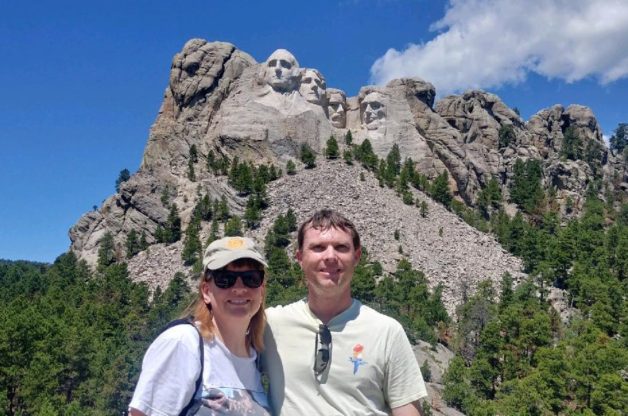 8. What's one thing you aren't remotely tempted to splurge on?
One thing I'm not tempted to splurge on are designer handbags or fashion. I'm pretty low-key and tend to wear the same things over and over. I also am hard on purses and they tend to get trashed.
9. If $1000 was dropped in your lap, what would you do with it?
I would put it into my savings account (boring, I know!). My goal this year is to build up my savings.
10. Share a frugal tip with other Frugal Girl readers
A frugal tip would be to become active on Yelp.
I started checking in, posting a lot of reviews and photos and found out that I could nominate myself to "Yelp Elite." I was excited that they liked my reviews enough to allow me to join the Yelp Elites. They have so many fun, free events, restaurant meals, virtual parties, etc. It's so much fun!
____________
Beth, thanks so much for sharing! As a fellow sunlight lover, I can imagine how much you enjoy Arizona.
I chuckled when I read about you being interested in free things when you were a kid, because that was me as well! Though I didn't have the book you had, I did send away for my fair share of free things in my childhood.
I think we are kindred spirits. 😉
Readers, leave your questions and comments for Beth!