Today's interviewee goes by "A Curious Reader" in the comment section, and she asked if she could keep that moniker for her post. And of course, I said yes, because everyone who participates in this series has their own internet privacy comfort level, and I want to respect that.
So! Here is A Curious Reader:
1. Tell us a little about yourself
I'm a European living in Hong Kong. I moved here for an internship when I was in university, and more or less never left afterward.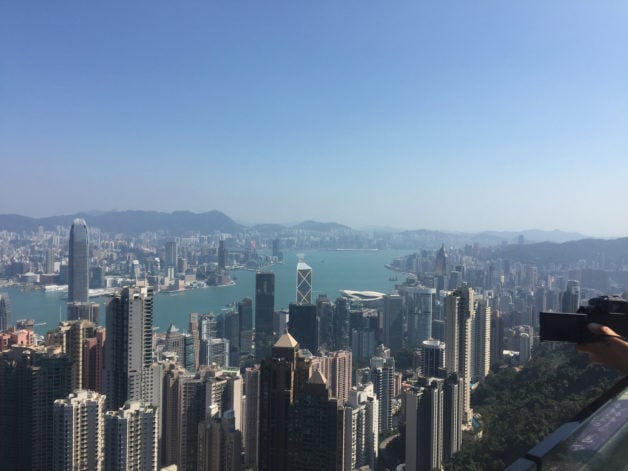 Our famous Victoria Harbor
My boyfriend and I live in a tiny 450 square foot, 2 bedroom apartment. It's small, but we're up pretty high (we live on the 28th floor; our building has 50!) and have a beautiful sea view. Earlier this year I left my job to start a business in my professional field.
Before I moved to Hong Kong, I always pictured it as a concrete jungle, and that's definitely true in some parts. However, about 2/3 of the area of Hong Kong is covered by country parks: we have beautiful islands and beaches, hills (up to around 1,000m) and fascinating wildlife – for example, a very high variety of butterflies! Hiking and camping are popular hobbies. Depending on the hike, you can enjoy city views, "mountain" views or beach views.
One of the highest peaks in Hong Kong is an island called Lantau. It doesn't look like much, but hiking it is quite exhausting as it's all stairs.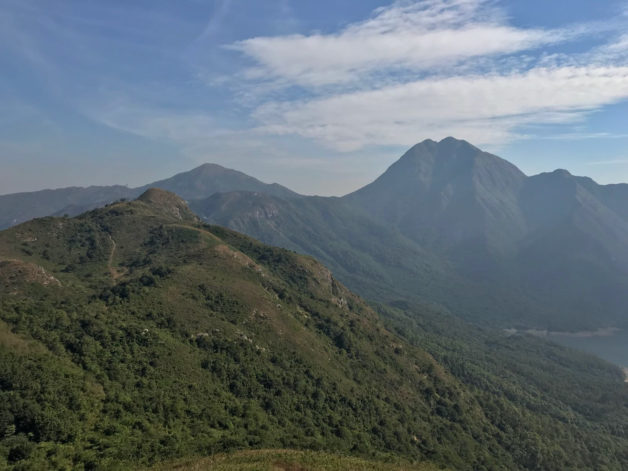 You can swim at the bottom of this waterfall!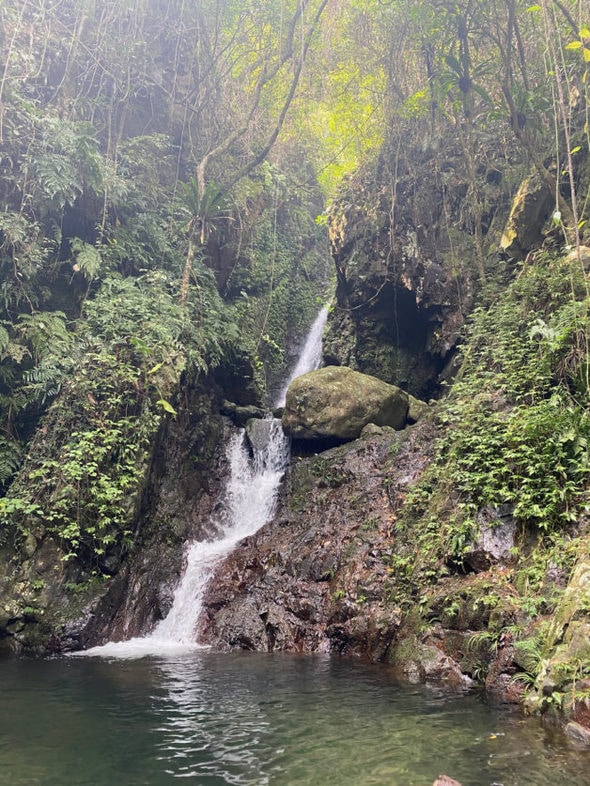 My favorite beach in Hong Kong – there is no cell phone service there, so it's a good spot to go camping and relax. Bonus: You can go back to civilisation by way of speedboat!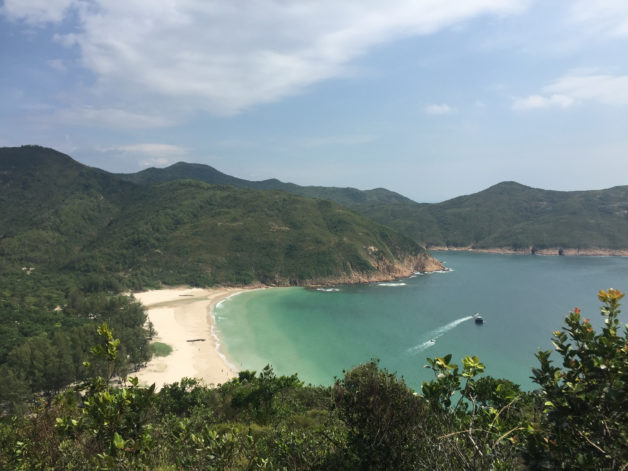 2. How long have you been reading The Frugal Girl?
I don't remember exactly when I started reading The Frugal Girl, but I'm pretty sure I came across it looking for a recipe. I think it was in 2013-2014! I was a quiet lurker for many years before deciding to comment every once in a while. I love reading everyone else's comments, so I thought it was only fair I'd contribute.
My favorite posts are the WIS, WWA; I always read all the comments on those.
I wonder how it feels for Kristen to have silent fans all over the world!
3. How did you get interested in saving money?
Hong Kong is an incredibly expensive place to live, mostly due to the insane cost of housing.
50% of my income went to housing when I first started my career – and that's because I was lucky enough to have a boyfriend to live with. I had to figure out a way to save money in other areas to compensate.
4. What's the "why" behind your money-saving efforts?
The first reason is many things that save money are also good for the planet: consuming less, avoiding food waste, etc. I'm not perfect with this, but I do try to be gentle with our resources – that's what my mother modeled for us growing up.
The second reason is that living below my means and having savings allows me to have peace of mind and options for how I want my life to go.
For example, I was fed up working for my last employer, and I knew working for another company in our industry wouldn't be much different. Having a cushion of savings allowed me to take a risk and start my own business, knowing I won't be able to draw a salary for a while.
When I think back to my early 20s, where I sometimes struggled with money, I don't miss the stress and sleepless nights, worrying about how I would pay rent!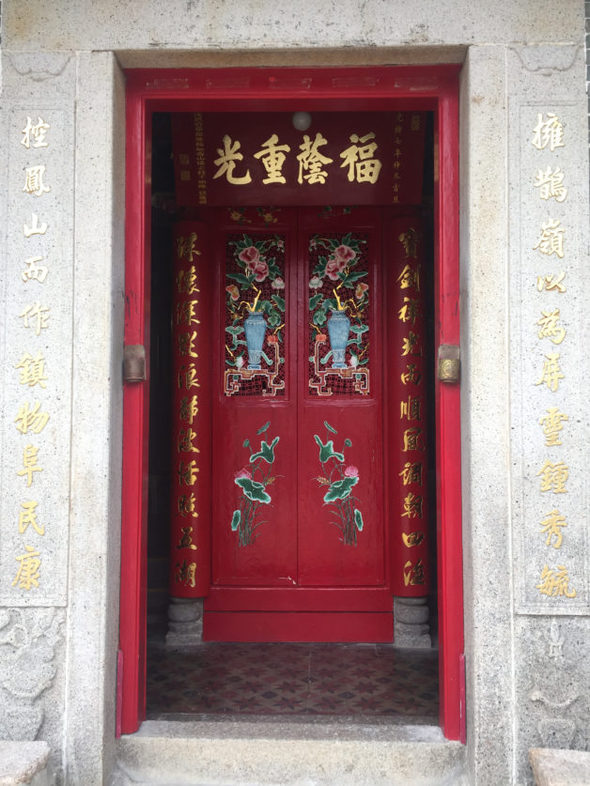 Temple entrance
5. What's your best frugal win?
Having a great landlord!
Our landlord has replaced our washing machine when it broke, fixed the toilet seat several times, had our apartment painted the colour of my choice, had our ACs serviced, etc. I had some pretty bad landlords before and ended up paying for stuff that should have been their responsibility (e.g. a new washing machine for the building).
A good landlord can save you a lot of money!
6. What's a dumb money mistake you've made?
Not having a budget when I moved out for university.
I'm really ashamed to admit this, but my grandfather had given me EUR 10k when I graduated high school, and I can't really say where it went. That's a lot of money to just disappear!
I didn't understand the concept of "money out < money in" and I used that fund to supplement my living expenses throughout my undergrad.
7. What's one thing you splurge on?
In normal times: travel. We usually travel twice a year to visit our families, and a few trips here and there to explore Asia. I get the cheapest flight, but I have a weakness for fancy hotels and indulge when I can.
During COVID: I sometimes treat myself to the fancy version of a regular item.
For example, I got myself a really comfortable athleisure set for my birthday, and I have been buying kitchenware without worrying about the cost too much. I figure it's worth it to spend the money on something I use every day, rather than something I only use every once in a while!
8. What's one thing you aren't remotely tempted to splurge on?
Electronics!
I use my electronics until they fall apart and only have the basics – phone, laptop, and (my boyfriend's TV). I don't care at all for gadgets like smartwatches, fitbits, consoles, etc.
9. If $1000 was dropped into your lap today, what would you do with it?
Put it my savings to eventually draw on for living expenses – I'm not sure when I will be able to pay myself a salary again! I'm currently saving all the business' income to invest in staff.
10. Share a frugal tip with other Frugal Girl readers
If you have a friend group who typically does expensive things together (going out for dinners, etc), proactively suggest other outings! I find most people are happy to change things up and doing something frugal (say, meeting for a hike), you just have to be the one to suggest it.
You can then skip the pricy outings without missing out on social time.
(Note from Kristen: That reminded me of this post, where I said that if something matters to you, you have to take the most responsibility for making it happen!)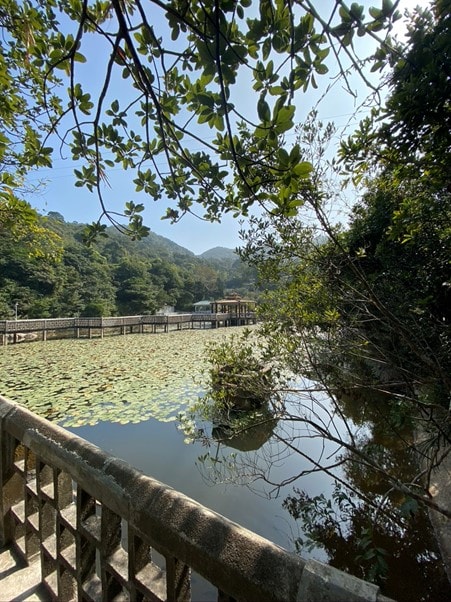 An abandoned Japanese style Garden
11. Is there anything unique about frugal living in your area?
Eating out at small eateries can be cheaper than cooking at home. The meals I make at home are typically more expensive than what's available to buy in some restaurants because I use mainly Western ingredients (especially dairy) in my cooking and they tend to be extremely expensive.
The most budget-friendly way is to skip grocery stores and get most of your food from the "wet markets". They are usually housed in municipal buildings and sometimes in small streets.
At a wetmarket
They are called "wet" markets, because the floor is usually wet as the meats and seafood are displayed on ice which melts on the floor and they also hose down the floors to clean frequently. They usually have one floor for meats and seafood (some of it still alive, e.g. chickens), one for fruit, vegetables, fresh tofu, and such products, and another floor with cooked food stalls.
For those of us who don't speak Cantonese, it can be a bit of an adventure shopping there – I sometimes end up with a different cut of meat than I set out to buy.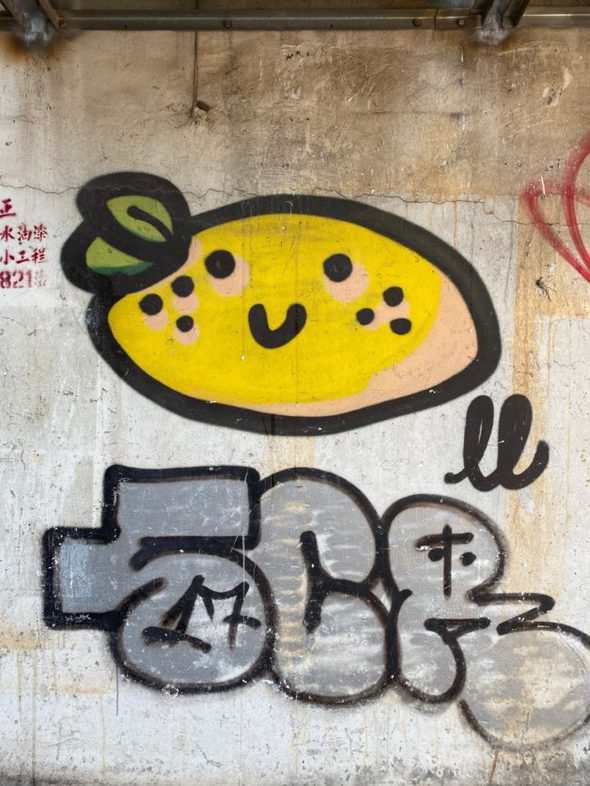 This lemon graffiti always makes me smile when I see it.
_______
Thanks so much for this post, Curious Reader! I loved getting a peek into life in Hong Kong, which is a place I know little about. You said you wondered what it was like for me to have readers all over the world, and I'd say it feels both lovely and surprising. And when I ponder it, I almost always come away thinking about what an amazing thing the internet is; I could never have imagined something like this when I was a kid!
A question for you: can you tell us about the weather where you live?
Readers, the floor is yours!