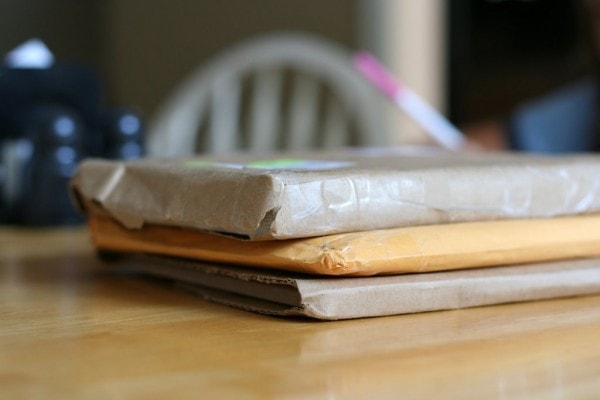 I think I might need to still buy one more book, so the title isn't quite correct, but I'm pretty much all done.
I spent $114.39 at half.com and $87.61 at Amazon. However, thanks to the many of you that signed up for Swagbucks using the links in my Swagbucks post, I had enough Amazon gift cards to pay for my Amazon order. Yay! You all are awesome…thank you!
So, my total out of pocket expenses for schoolbooks this year was only $114.39. And even without the Swagbucks, my total still would have been just $202. This is a huge, huge discount from the normal prices for these books. A single Saxon math book can easily cost $40-$50 alone, and I've got 3 people using Saxon math.
And don't worry…I did actually buy a lot of books for my kids (they're not going without!). I just didn't pay anything close to full price for them.
My biggest and best bargain-hunting tool is half.com, a site I've written about before (I am not affiliated with them, though! I just love them to pieces.). It's like a frustration-free, no-auction version of Ebay and it rocks. I can find non-consumable schoolbooks with nary a problem there, and I can often even find consumable books.
So, half.com is my first stop, and if I can't find something there, I will sometimes look on Ebay even though I dislike the auction format and I think that most of the Buy It Now stuff is overpriced. This year, because of my Swagbucks rewards, I checked Amazon
. They've got a lot of good second-hand book for sale, so if half.com doesn't have what you need, Amazon is a good alternative (and if you have Swagbucks rewards, Amazon is a GREAT alternative!).
Half.com is still my first love, though.
Of course, buying books on half.com isn't quite as easy as ordering them brand new, so here are a few tips.
First, if you know what book you want, find the ISBN on a traditional online store, and then enter that into the search box on half.com. Half.com, lovely though it is, is not long on book descriptions. So, if you're searching for Math 76, it's hard to tell which result is the teacher's manual, which is the student text, and which is the meeting book. Having the correct ISBN ensures that you'll be ordering the right book.
Buy a book that's Like New or Good instead of one that's Brand New. In most instances, this can save you a lot of money, and the quality will only take a slight hit. If your kids are like mine, their schoolbooks are going to look, uh, not brand-new by the end of the year anyways, so it doesn't make sense to pay more for a book that just has a nicer cover.
Consider buying a partially-used consumable book. As a rule, consumable books are much harder to locate on the used market, so the pickings are sometimes slim. Oftentimes you can find a consumable with only the first 10-20 pages used, though, because a family will buy a book, start using it, and then decide it doesn't work. As long as you don't think the early pages are going to be super-essential for your child, this is a great way to save some money.
If possible, buy several books from the same seller to get a discount on shipping. There are some pretty big book sellers on half.com, so if you keep an eye on the seller you're buying a book from, you may be able to score a few from the same seller and save yourself a few dollars on shipping. Half.com automatically reduces shipping costs when you purchase 2 or more items from a single seller, so this requires no effort on your part or on the part of the seller.
If you're a homeschooler still in need of books, you should definitely give half.com a try. And if you're in college and still need some books, you should really check half.com before you head out to the (over-priced) college bookstore. The amount of money you can save yourself is staggering (and you can sell your books back on half.com when you're done with them. But that's another post for another day.).
Today's 365 post: My sewing machine has been busy.
disclosure