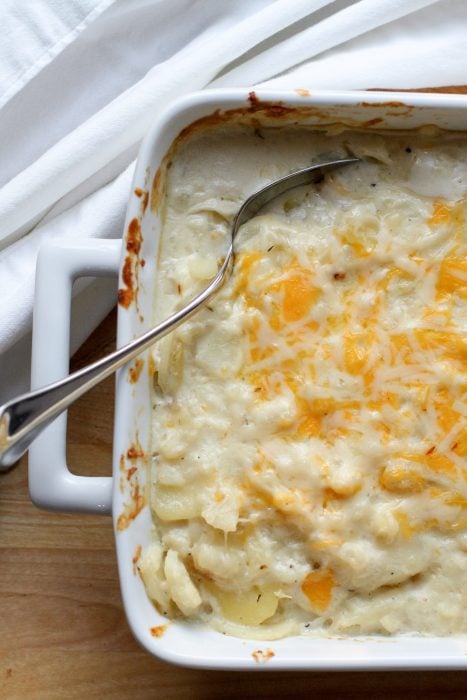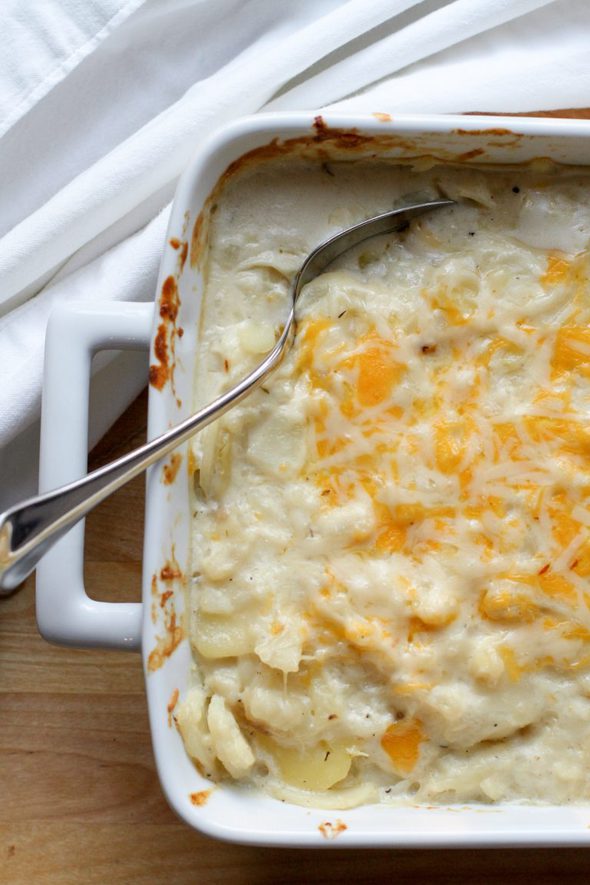 We don't eat tons of potatoes here at Chez FG (no particular reason, really!), but when we do, one of our favorite dishes is scalloped potatoes.
Of course, I use a recipe from Cook's Illustrated, because Cook's is awesome.
Mmm-hmmm.
This version of Scalloped Potatoes is not remotely low-fat (however, it is delicious!).
In fact, it calls for 3 cups of cream plus a cup of whole milk. However, I have varied the proportions of milk to cream (2 cups cream, 2 cups milk) when necessary, and the potatoes have still been quite good. I would not, however, advise you to replace all of the cream with milk. If you want to use milk instead of cream, you'll need a difference sort of recipe, one that has some method of thickening the sauce.
If you're like us and only eat these a few times a year, though, I say use the 3 cups of cream. Live a little!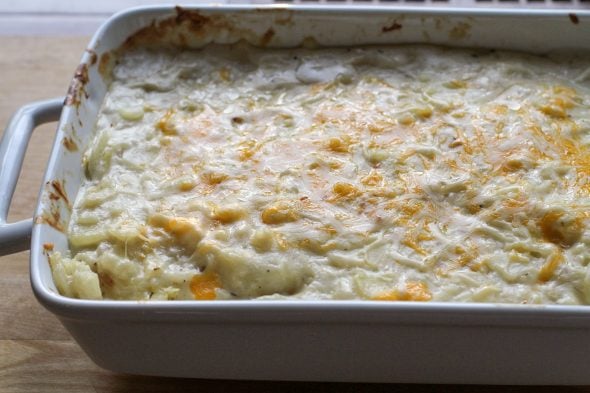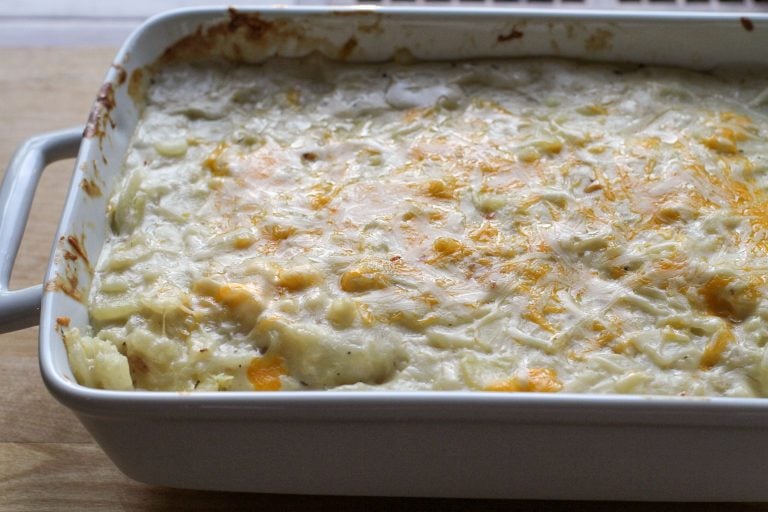 A handy thing about this recipe is that it actually doesn't take two hours to bake. Basically, you slice the potatoes very thinly (a food processor is really, really helpful), cook them in the sauce on the stovetop for 15 minutes, and then put them into the oven for about 20 minutes. Because the potatoes are so thinly sliced, they really do bake through that quickly.
If you don't own a food processor, this recipe will be much more difficult to manage, just because it's hard to slice potatoes evenly, and because slicing this many potatoes takes a while!
Alrighty. Here's how to make these.
First, melt 2 tablespoons of butter in a heavy-duty pot, and add the chopped onions. Cook them until they're softened and brown, then add the garlic and cook for about half a minute.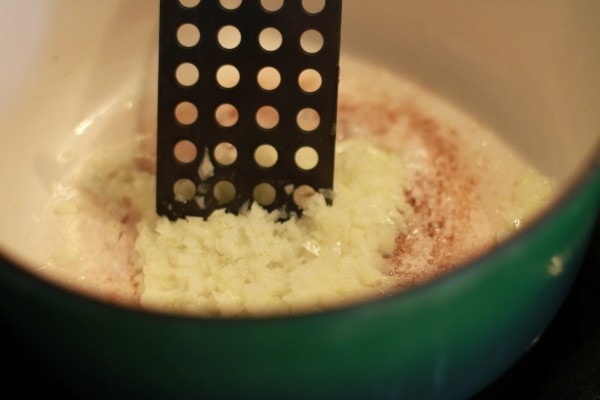 Then stir in the cream, milk, thyme, bay leaves, salt, and pepper.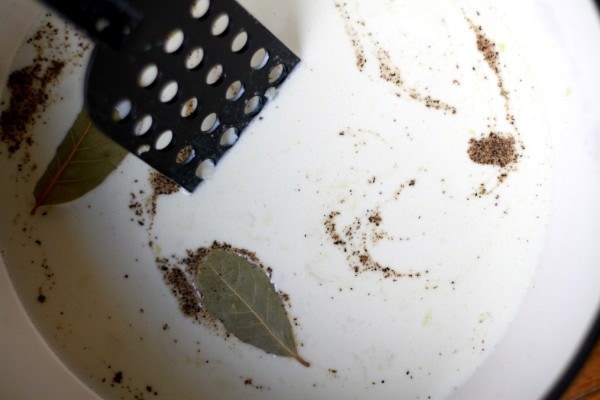 I never happen to have fresh thyme around, so I just use about 1/2 teaspoon dried thyme.
Next, add the potatoes.
See how thinly sliced they are? 1/8 of an inch.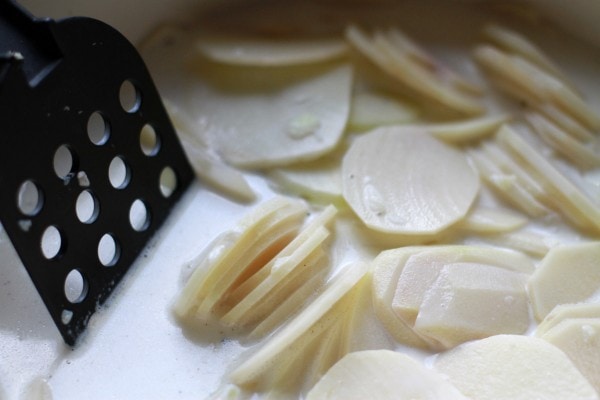 Cover the pot and bring the potato mixture to a gentle simmer. Cook for 15 minutes, or until a paring knife slips in and out of a potato fairly easily. Remove the bay leaves and discard. Transfer potatoes to a 9×13 inch pan.
I got a little carried away with the stirring this time around, so my potatoes got a bit broken up. They tasted just fine in the end, though!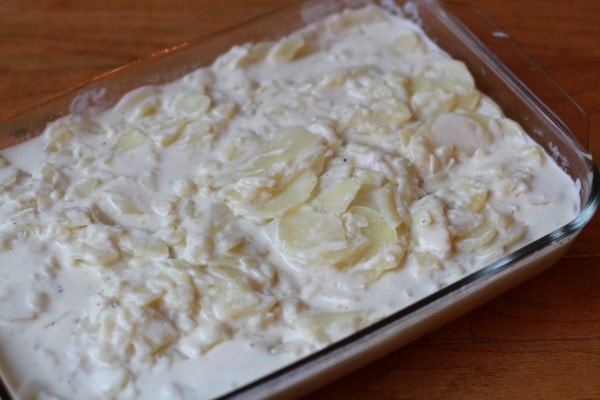 Sprinkle potatoes with shredded cheese, then bake for 20 minutes. Let the potatoes cool down just a bit before serving.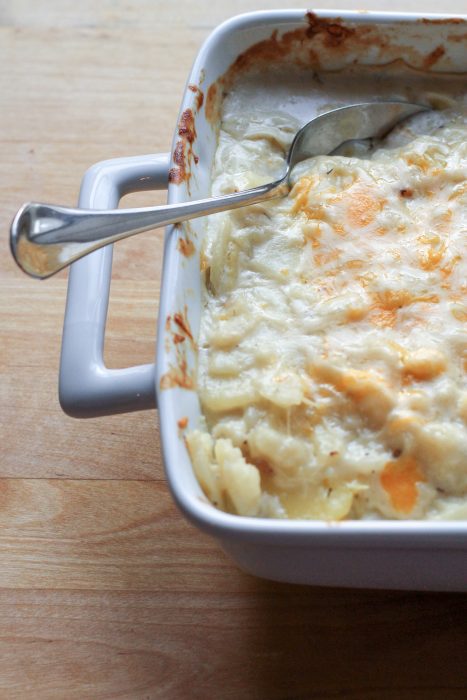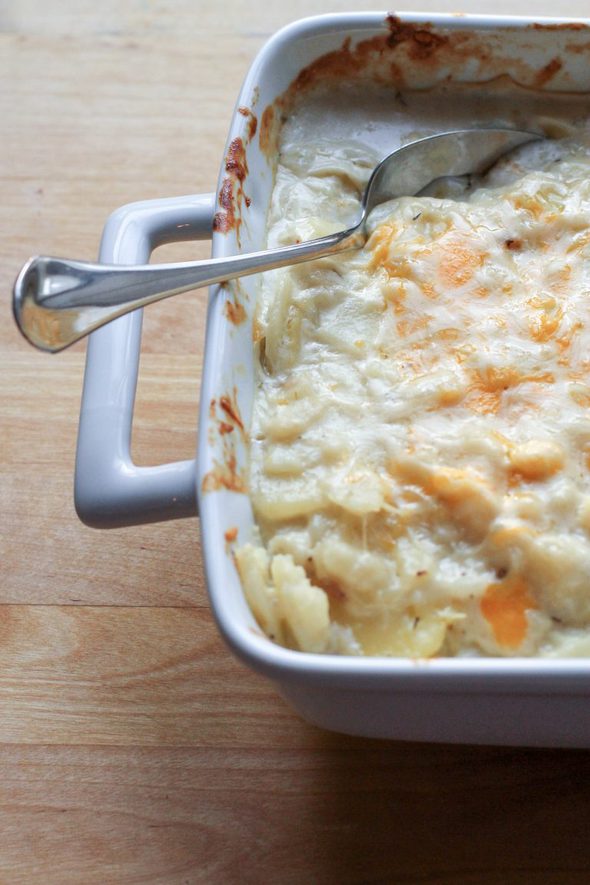 If you want to make the potatoes ahead of time, cool and refrigerate them after you transfer the potatoes to the 9×13 inch dish, and then bake them when you're ready to serve. Just keep in mind that you'll need to allow about twice the amount of baking time since the potatoes will be starting out cold.
Scalloped Potatoes
Printable Scalloped Potatoes Recipe
2 tablespoons unsalted butter
1 small onion , minced
2 medium cloves garlic , minced (about 2 teaspoons)
3 cups heavy cream
1 cup whole milk
4 sprigs fresh thyme
2 bay leaves
2 teaspoons table salt
1/2 teaspoon ground black pepper
4 pounds russet potatoes , peeled and cut into 1/8-inch-thick slices
1 cup shredded cheddar cheese (about 4 ounces)
Heat oven to 350 ° F. In a heavy saucepan over medium heat, melt the butter. Stir in the onion and cook, stirring occasionally, until onions are softened. Add garlic and saute for half a minute. Stir in cream, milk, thyme, bay leaves, salt, and pepper. Stir in potatoes.
Cover and bring to a gentle simmer. Cook for 15 minutes, or until a knife slips in and out of the potatoes fairly easily. Remove bay leaves and discard. Transfer potatoes to a 9×13 inch baking dish, and sprinkle with cheese. Bake for 20 minutes, or until sauce is bubbly and thickened. Cool for a few minutes before serving.