Mr. FG and I have been using Ting Wireless for nearly three years.
(Craziness! I can't believe it's been that long.)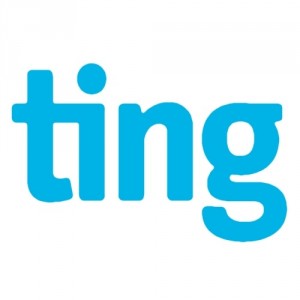 That also means that it's been nearly three years since I bought my first smartphone (a refurbished iPhone 4s).
And it's been that long since I joined Instagram.
(Being able to get Instagram was actually what made me break down and buy a smartphone. I love me some Instagram.)
We have been super happy with our Ting service, and we haven't thought about switching to a contract provider once in three years.
How much is our current Ting bill?
We started out with an average bill of about $20 for both phones, but now we've got Joshua's phone added onto our bill (there's a $6/month base charge per phone) and Mr. FG and I have been using our cellular data a bit more than we did three years ago.
So, on a high month*, our bill for three phones has been about $50-$60, and our overall average monthly bill is $34.76.
*If Mr. FG is traveling, we always end up using more cellular data than usual.
Even $50 a month for three phones is super affordable in my book!
Ting's Usage Buckets
I really love that Ting separates usage into three categories so that you get billed for what you actually happened to use that month.
For instance, if you have a heavy data month but barely used any minutes, you will have a small minutes bill and a higher data bill.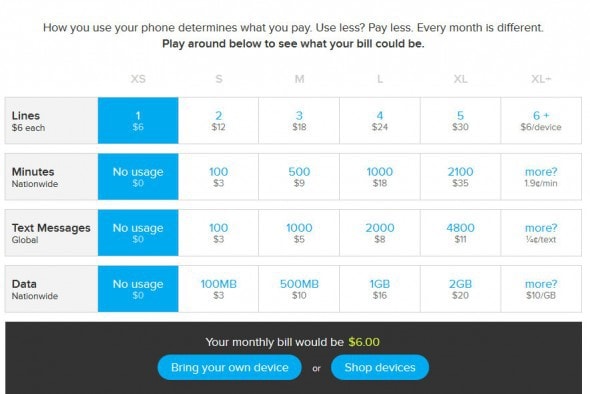 Or if you used a lot of minutes but very few texts, your bill will reflect that.
Since the bill is calculated at the end of every month, it flexes with your usage, which means you're not stuck with a pre-chosen plan. Your bill changes to fit your unique needs every month.
So great.
Ting's new, lower data rates
Ting has just lowered their data rates!
This is pretty exciting news for us, because data is what we use most often.
(We kind of rarely talk on our phones. 😉 )
Here's a breakdown of the data rate changes:
101-500 MB went from $12 to $10
501-1GB went from $19 to $16
1GB – 2GB went from $29 to $20
and instead of charging 1.5 ¢ per MB after the 2GB mark Ting now only charges $10 per 1GB.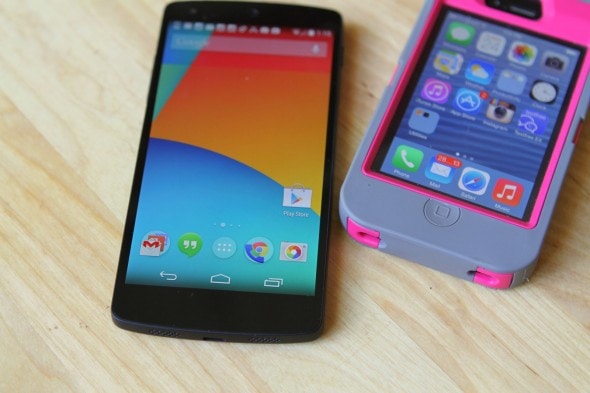 Hop over to their website and click on the "What Would You Save?" button to see what your bill would be with Ting.
(Just grab last month's wireless bill so you can type in your current text, minutes, and data usage for comparison.)
The average Ting bill is $23 per phone, with no contract required, so odds are SUPER good that you'd save money with Ting!
If you're stuck in a contract, Ting will pay you 25% of your early termination fee, up to $75. Sweet.
AND if you open a Ting account through any of the links on my blog, you'll get a $25 credit.
I'm giving away 3 Moto E phones!
Ting set aside 3 brand new Moto E phones for you guys. These will be ready to activate on the Ting network so you can start saving pronto.
The Moto E is a basic Android smartphone (currently on sale for $57 on Ting's site), which can take photos, browse the web, download apps, send texts, and so on.
Ting sent me one to try out, and while I still prefer my iPhone (even though mine is getting to be pretty old!), this would be a really great starter phone, especially for a teen. And you can't beat the price.
Three of you are gonna get one for free, though, which is really the best price of all. 😉
To enter, leave a comment with your best tip for minimizing your data/text/minutes use.
(Or if you don't have a tip, you can totally just tell me you want a free phone!)
____________________
NO PURCHASE NECESSARY. Void where prohibited. Odds of winning depend upon the number of entrants. Winner will be selected at random. Entrants limited to residents of United States. Links in this post are affiliate links. We are paying Ting customers, so all enthusiasm for the service is 100% authentic.
Save
Save