I know. My life is sooo exciting.
Try to contain your jealousy.
I use my blender several times a week, mostly to make yogurt/fruit smoothies (they're especially frugal if you make your own yogurt!) I own a fairly basic Braun blender that I bought back in 2007 (it's no longer available) and I liked that it came with a heavy-duty glass jar, since most blenders come with plastic jars.
What I have not been happy with are the gears on the bottom of the blade. They're plastic. And not very sturdy plastic at that.
One by one, they've broken off, despite me being really careful, and when I was down to one last plastic bit, I finally decided to order a new blade.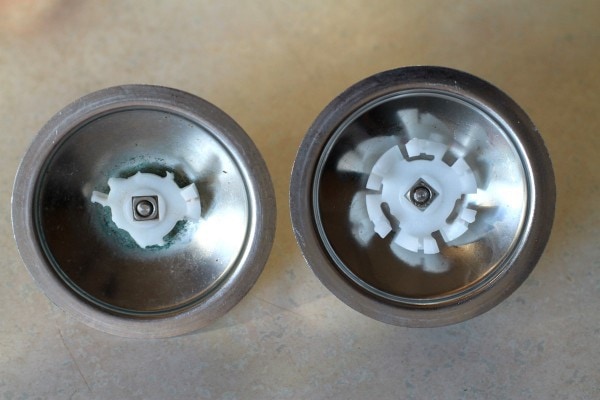 My goodness, my blender works SO much better now. But, it's probably just a matter of time before the gears start popping off again (though maybe I will be lucky enough to get another 5 years out of the blender!)
I did consider this before I bought the blade assembly, but I wasn't in a place where I was ready to research and buy a new blender, and I was in a hurry to get mine up and running.
(one can only go so long without smoothies, you know.)
I paid $45 for the blender 5 years ago, I paid $7.50 for a replacement gasket in 2010, and now I just spent $15 on a replacement blade assembly.
So, I've spent about half the blender's value in replacement parts.
That did make me hesitate a bit before ordering.
But….
-if I didn't buy the new part, I'd have to throw away/recycle my blender, which isn't a great ecological choice.
-if I didn't buy the new part, I'd have to pay a lot more than $15 for a blender because I really want to make sure I buy one that will last.
So, for right now, the replacement part seems like the right choice.
Once this blade starts to lose gears, though, I'm going to think hard about saving up for a sturdier blender.
On that note, a few readers have said wonderful things about the Vitamix
and the Blendtec, two expensive blender brands.
If any of you own one, do share your opinion. Have you felt that it was worth spending the money? Has yours lasted for a long time?
If I knew it was pretty much the last blender I'd ever have to buy, I'd be open to starting up a blender fund at ING. Or maybe I should just start saving up all of my Swagbucks. 😉
Save