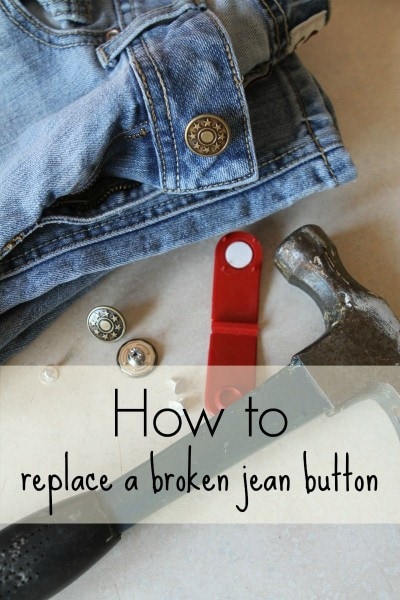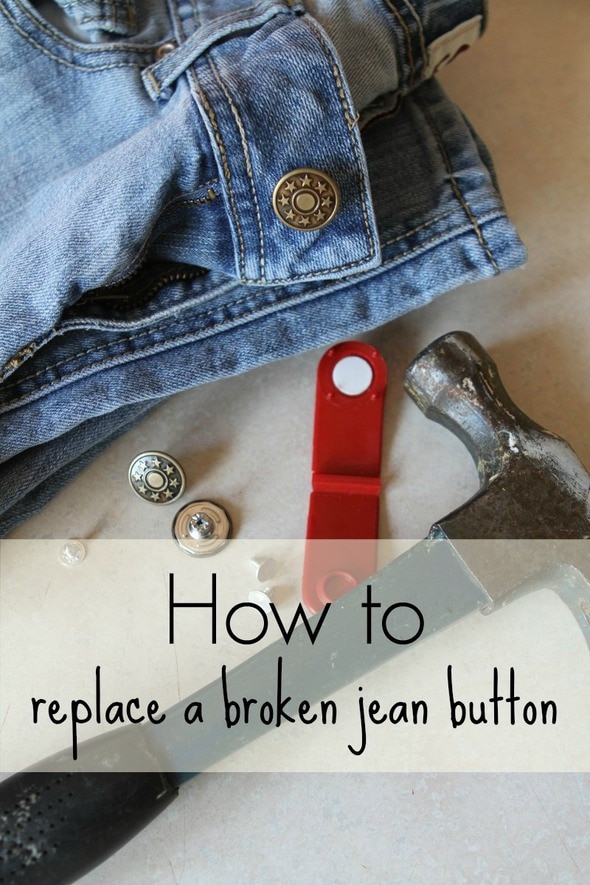 This recently happened to a pair of my jeans: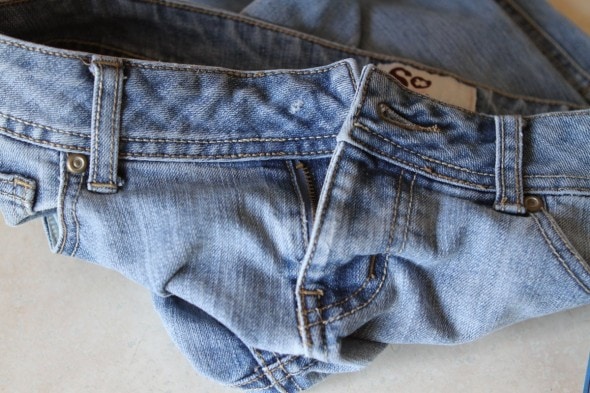 Unlike Lisey's shoe situation, this wardrobe malfunction didn't happen right before church, it happened AT church.
(Fortunately, I was wearing a belt.)
(But I'm here to tell you that jeans really stay up better with a belt AND a button.)
I've replaced lots of buttons before, but never this sort. I figured it couldn't be too hard, though, so I stopped in at JoAnn Fabrics to find a replacement.
Sadly, all they had were 11/16″ buttons, which were too small for this pair of jeans.
I figured I'd be able to easily find a larger button on the internet, but good heavens, it's a little tricky to find something bigger than 11/16″.
Which is weird, because those buttons look kid-size to me.
Anyway, Amazon came to the rescue, and I found these for bachelor star buttons for less than $7.
(Does anyone know how this style got its name? I tried googling it, but the results were full of stuff about stars from the Bachelor TV show.)
When my package arrived, though, it was clear I'd been sent the wrong ones.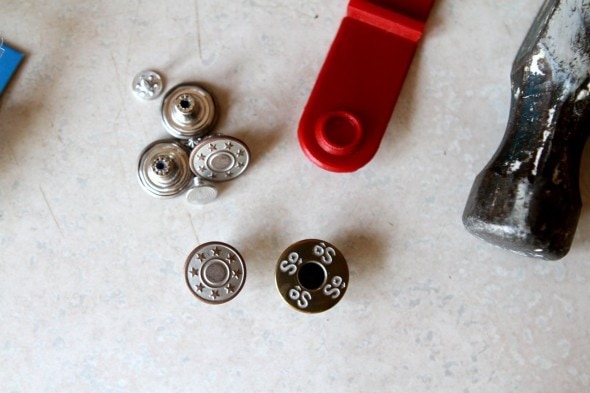 Too small.
I emailed the seller, and he kindly sent me a new package of the correct buttons and he didn't even ask me to send the other ones back.
(Also: I now have enough jean buttons to last me for the rest of my life. If your jean button pops, I am the person to see!)
These buttons basically just snap together, and a handy-dandy tool is included to make this job easy.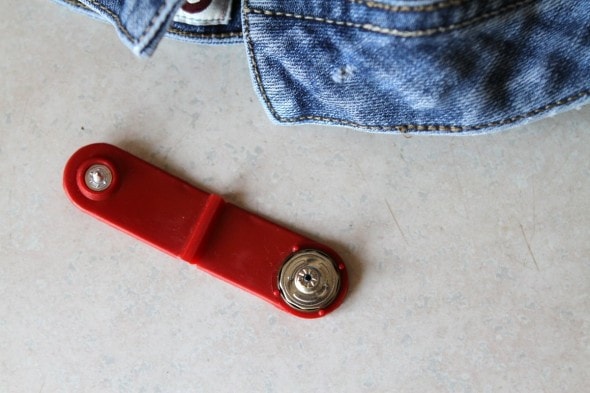 Also included: an illustration of Mom Jeans.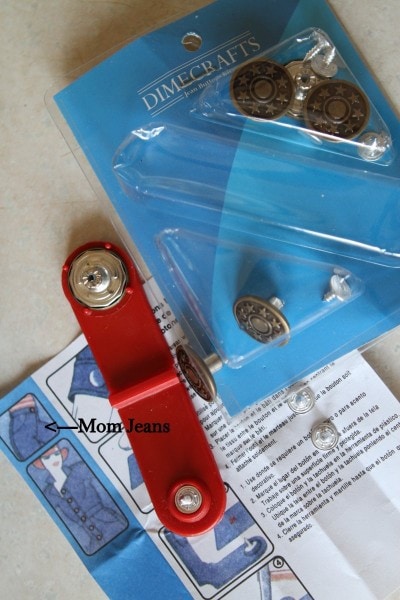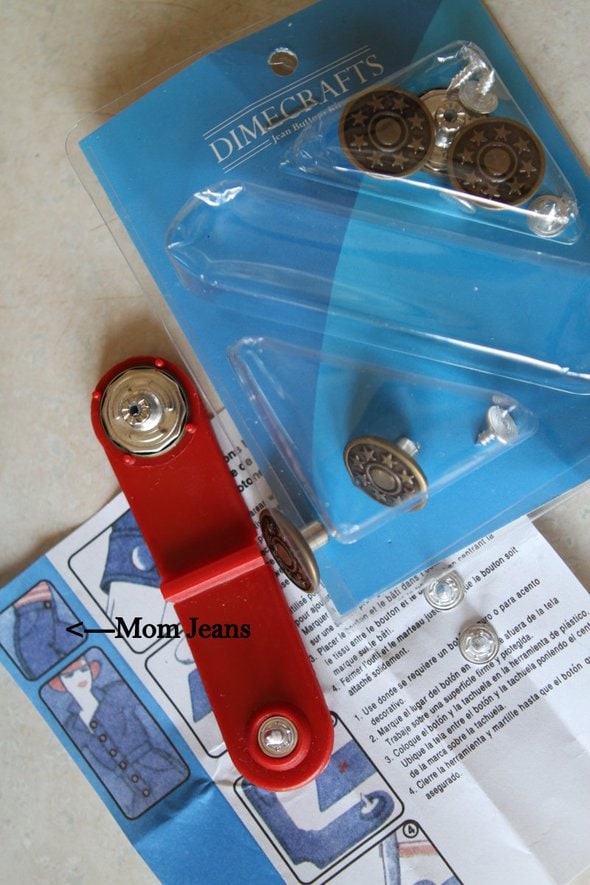 So, you load up the tool with a front and back piece, and then bend it over the jeans to press the pieces together.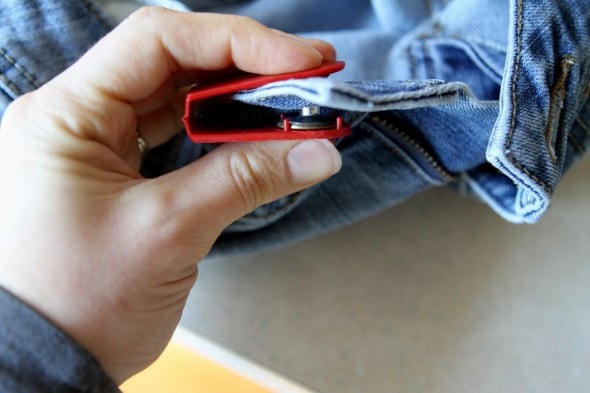 You can manually squeeze it enough to keep it together, and then you'll need a hammer and a hard surface to finish the job.
I didn't take a picture of this part (because I can't hammer and hold my camera at the same time), but you just whack away until the two pieces are firmly stuck together, and then you can pull the plastic installing tool off.
And ta-da! You've got yourself a brand new button.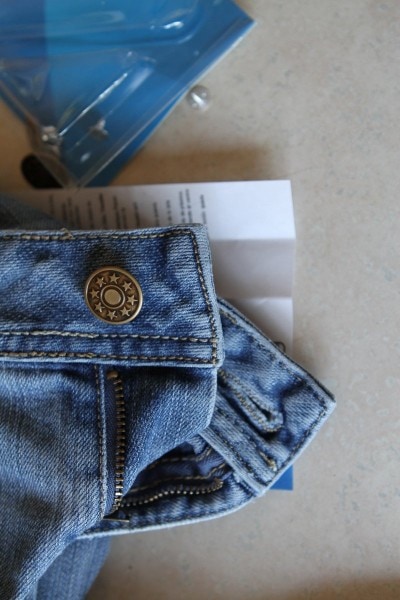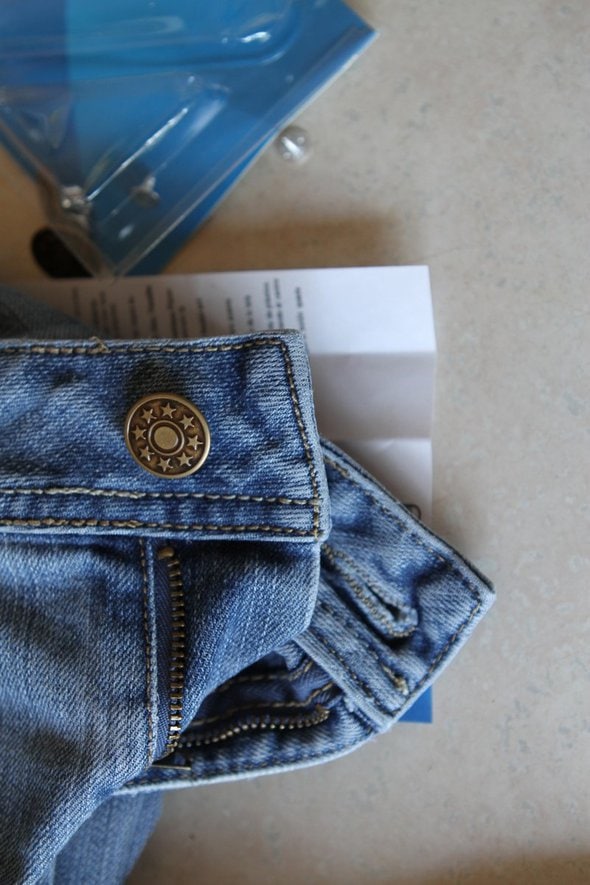 This was actually kind of a fun repair.
A side note: if the material where your button used to be is worn/shredded, you'd have to reinforce it before installing the button (I'd sew a scrap piece of material onto the underside.) Fortunately, mine was sturdy enough as is.
I spent $6.50 on this project, but that's way less than a new pair of jeans costs, and it gives this pair a new lease on life…I don't have to repurpose them or donate them now.
And I've got enough replacement buttons now to fix many pairs of jeans, so I'm guessing the $6.50 will eventually be spread out over multiple jean repairs.