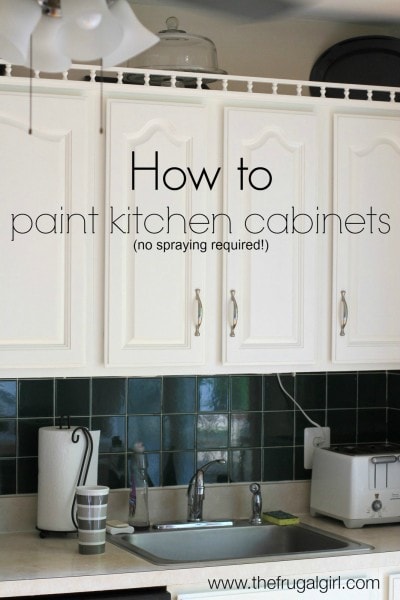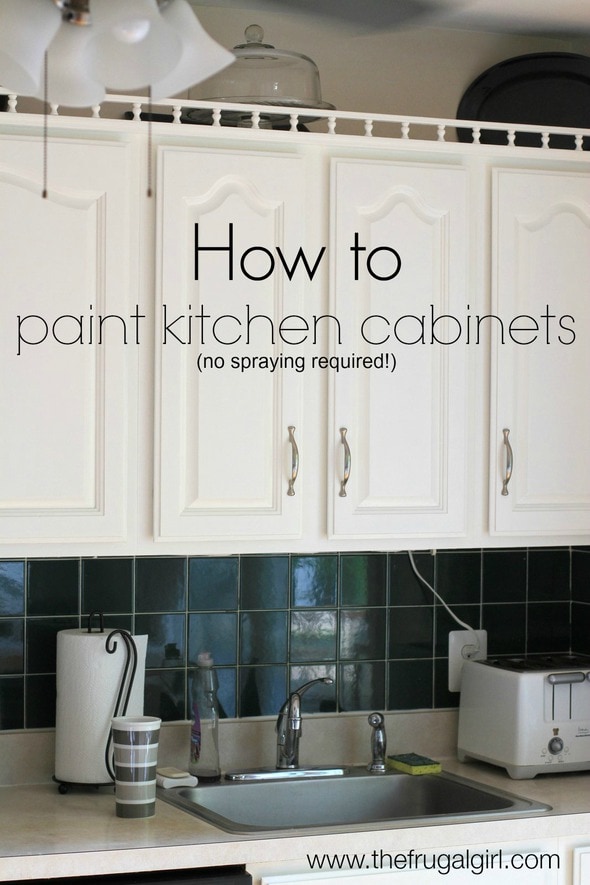 Last summer, I tackled the project of painting my worn, outdated kitchen cabinets. I'm super happy with the results, but oof. It was a big project, and I'm glad I won't have to do this again soon!
I don't have a huge kitchen, but it still was a really time consuming project, and having my kitchen taken apart was a little bit inconvenient.
But hello! They look so, so, so much better now.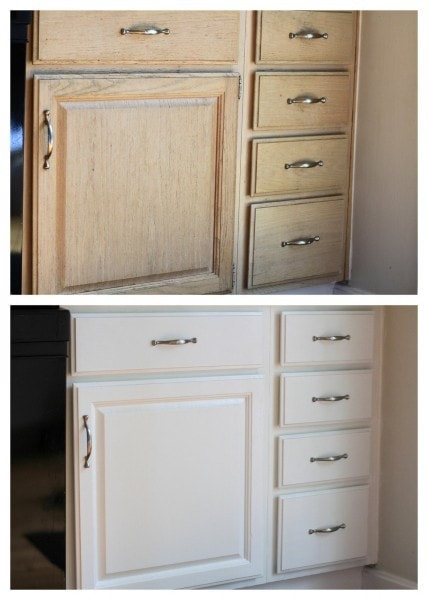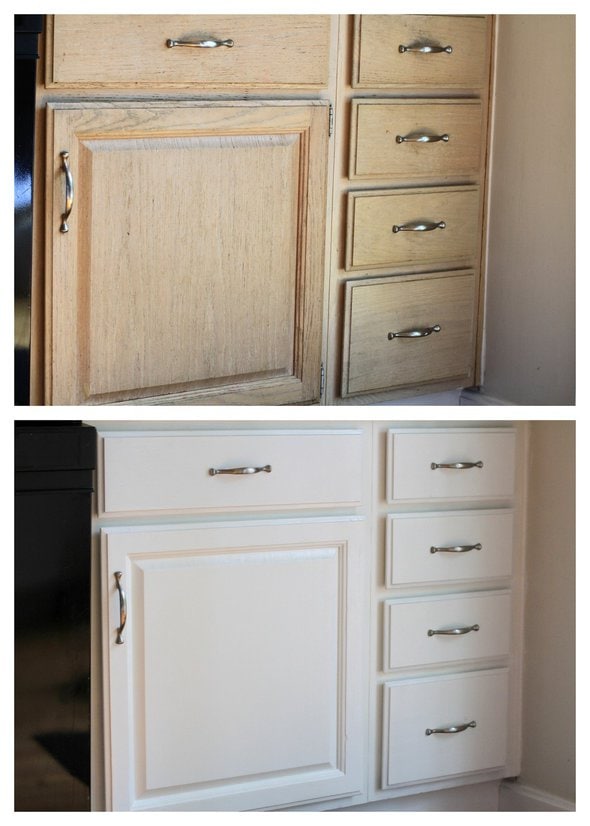 You can see copious amounts of before and after pictures in this post, by the way.
My cabinets are made of real wood, and aside from the worn finish, they were in pretty good shape, so it made a lot of sense to paint them rather than replace them.
The Cost
I spent $50 for a gallon of Benjamin Moore Advance paint, $35 for a gallon of primer, $15 for tack cloth and brushes, and $35 on new hinges (I kept the old handles.)
So I managed to rejuvenate my cabinets for less than $150 (plus lots of labor hours!)
The gallon of paint was more than enough to cover the fronts and backs of all my doors and drawers with multiple coats, so I've got plenty left for touch-ups.
The Time
I wish I'd kept a more detailed log of the hours I spent on this, but it's difficult to calculate. I did it in bits and pieces while still cooking and doing laundry and grocery shopping and serving at church, so the hours of painting and sanding and such were inextricably mixed in with other activities.
If I'd been able to work on it undistracted, nonstop, I think I could have gotten it done in five days. As it was, the process spread over a 3-4 week time frame.
If pressed, I'd say it took about 40 hours of labor.
The Paint
I opted to use an oil-based primer and a latex paint. The oil-based primer helps the paint to stick better, but I read that oil-based white paint sometimes yellows with time. Plus, oil-based paint is really just a pain to work with, so I wanted to avoid that if possible.
I used Benjamin Moore Advance paint, which is designed for painting cabinets, and after a year of using my newly painted cabinets, I'm pretty pleased with how it's holding up. There are a few spots where someone has dinged up a door, but I can touch those up pretty easily, and I think that type of thing can happen no matter what finish you use.
Brushing vs. Spraying
I know that spraying cabinets is the very best way to get a smooth, professional finish, but I did not want to take my cabinet frames off of the wall, and I also wasn't at all interested in enclosing my whole kitchen in paint-proof plastic drop cloths so I could spray inside.
If I'd had to face that prospect, I'd never have gotten this project done, so I decided to not let the perfect be the enemy of the good and opted for brushing.
If you use good paint and carefully do thin coats of a self-leveling paint like the Benjamin Moore Advance, you can get a pretty darn smooth finish without the headache of spraying.
I'm totally happy with my decision and wouldn't change a thing.
The How-To
Here are the basic steps I used.
1. Remove cabinet doors and drawer fronts.
2. Fill hinge screw holes (if changing hardware) and gouges.
I did this on the frames:
And on the doors: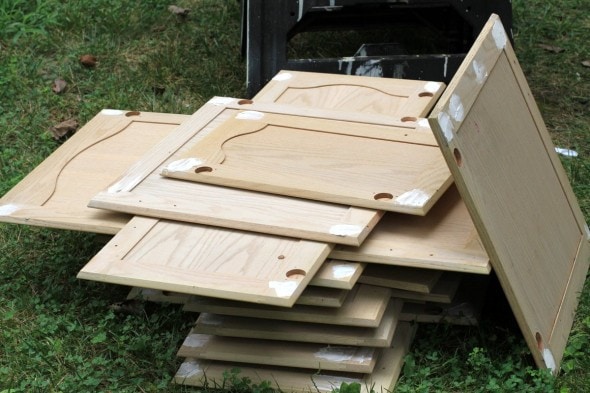 I used DAP DryDex spackle
, which is a pretty handy product. It looks pink when you first apply it, and then when it's dry and ready to sand, it turns white.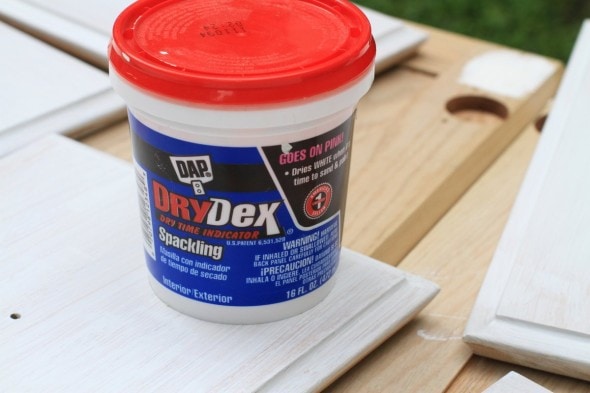 Also, it dries really fast and sands easily, and is generally just perfect for filling small holes.
3. Clean cabinet frames, doors, and drawer fronts with degreaser.
A reader's husband suggested this to me, and I must say, it worked great. Kitchen grease is tough to get off of cabinets normally, but the TSP made it pretty easy to scrub off.
This is a pretty heavy duty cleaner, so wear gloves, use ventilation if you're not outside, and follow the package instructions.
4. Sand frames, doors, and drawer fronts.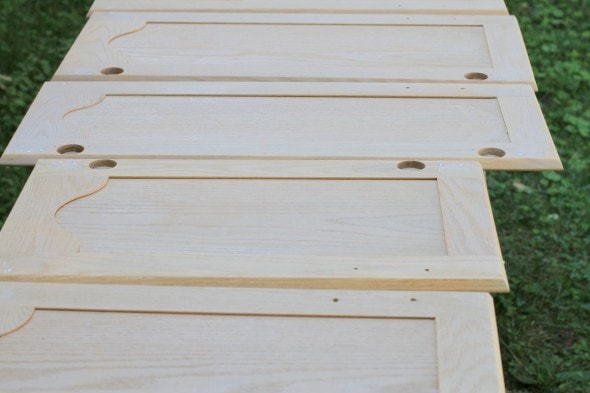 I borrowed my dad's Bosch orbital sander
for this project, and you guys, it was amazing. SO much better than the sander I normally use. It's much quieter, it spits out very little dust, and it doesn't vibrate nearly as much (my old sander makes my hands feel numb after a while!)
The dust factor isn't such an issue for the doors and drawer fronts, but I did not remove my cabinet frames from the kitchen, so I had to sand those indoors, and having the Bosch sander made the dust level so much more manageable.
I used a higher-grit sandpaper at first (80) and then a finer grit paper (120).
After I finished using the orbital sander, I went over all the doors and drawers with steel wool. This was especially helpful for the parts on the doors that the orbital sander couldn't reach (like the recessed areas).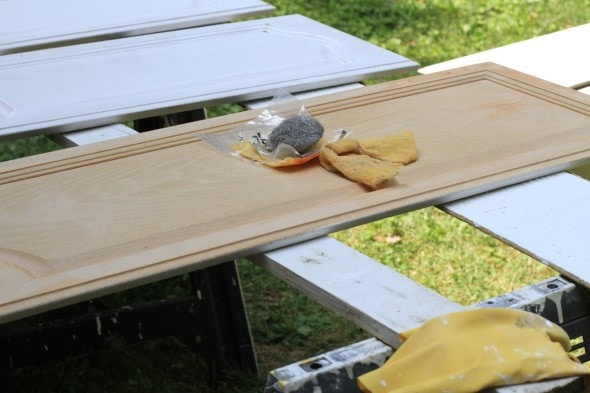 4. Brush off dust and clean with tack cloth.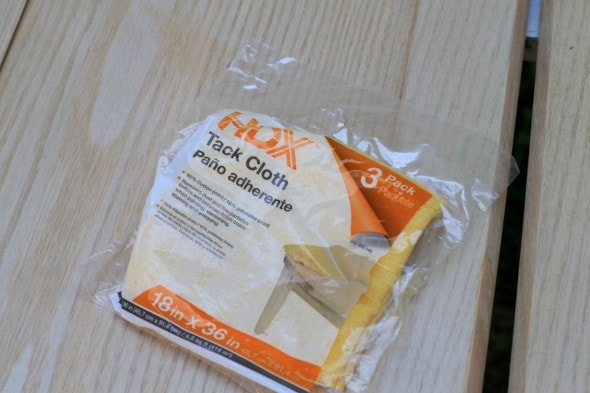 It's really important to get all the dust and bits of steel wool off of your surface before you prime. I used a dry t-shirt rags to get a lot of the dust off and then went over all the surfaces with tack cloth.
5. Prime frames, doors, and drawer fronts (single coat)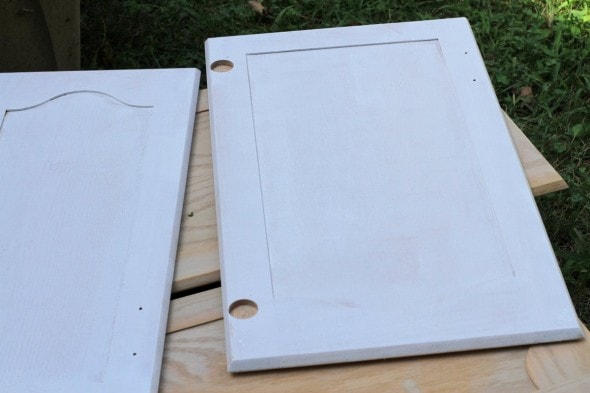 I used an oil-based Zinsser Primer
, because from what I read, an oil-based primer helps a cabinet paint job to last a lot longer.
I'm not gonna lie, though. This stuff is stinky. The pail said it was low-VOC, but it smelled baaa-ad. Again, not such an issue for the doors and drawer fronts, because I took care of those outside, but when I primed the cabinet frames, it was super important to open the windows and doors.
I used a mini microfiber roller and a small paint brush to apply the primer.
One coat is all you need, by the way. And I opted to do a light sanding after the primer dried. I don't know how terribly necessary this is, but I just decided to err on the side of caution.
6. Caulk as necessary
(between any seams that aren't perfectly tight-fitting) and also where cabinets frames meet walls.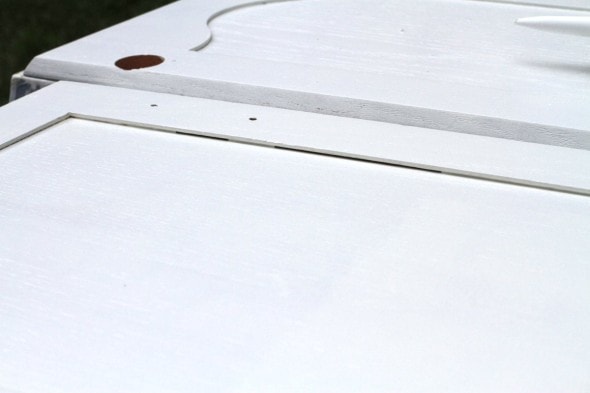 I use Dap latex caulk
for this kind of job. I find it works a lot better than the bargain basement types of caulk, so spend the extra dollar for the good stuff.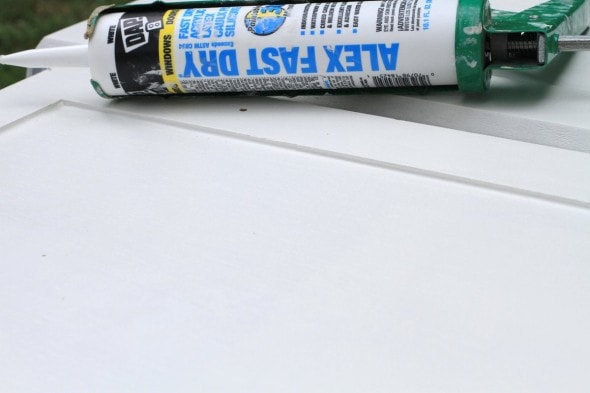 7. Paint frames, doors, and drawer fronts.(2-3 coats)
Based on recommendations I found around the web, I used Benjamin Moore Advance paint (a latex paint) in the satin sheen. I chose Cloud White, which is slightly warmer than pure white.
I'd never used this paint before, but I really did like it. It's pretty easy to get a smooth, brush/roller-mark free finish with it, and it dries to a nice, hard, slightly glossy finish that is not at all sticky.
Just like with the primer, I used a microfiber roller and I also used a regular paintbrush and a teensy-weensy paintbrush (like the type you'd use for watercolors).
The teeny paintbrush was FANTASTIC. If you have cabinets with any amount of detail on them, you should definitely get a small brush. It's perfect for reaching into small recessed areas, and since it's so small, you don't end up with tons of excess paint pooling.
Also, without that brush, I would have nearly died painting the trim above my cabinets.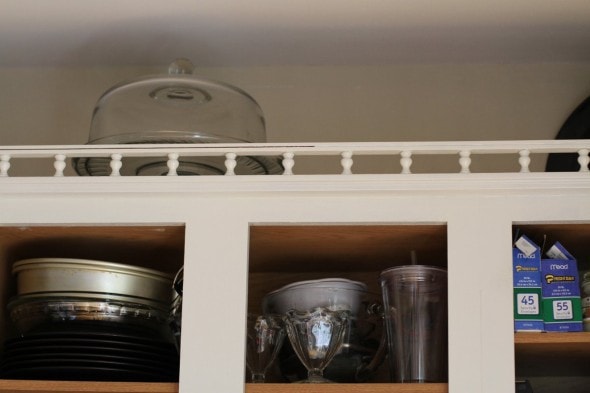 I did a steel wool/tack cloth treatment between coats. It was really light sanding, though, with very fine steel wool.
I think I ended up doing three coats on nearly everything.
Here's my super-duper fancy painting set-up (complete with a fan to blow mosquitoes away from my legs)
I had way more doors than sawhorses, so as I painted the doors, I moved them from the sawhorses to all sorts of makeshift drying spaces…
a wagon,
the fire pit,
a compost bin,
and that ever-handy Cozy Coupe.;)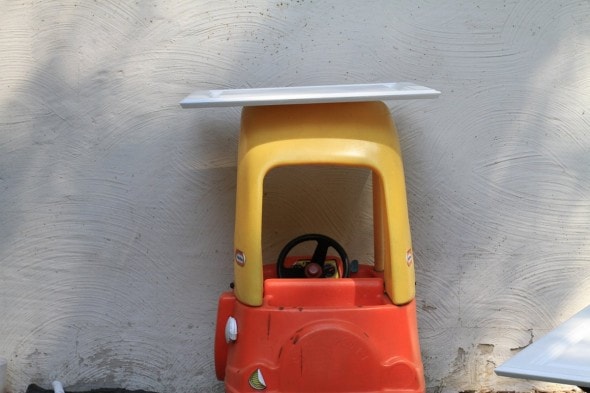 Whatever works, right??
8. Reinstall doors and drawer fronts and reinstall hardware.
Fortunately for me, my dad came over to help me with this (well, actually he did it and I was the helper!) We were done in just an hour or two, and it would have taken me WAY longer on my own.
And then you're done!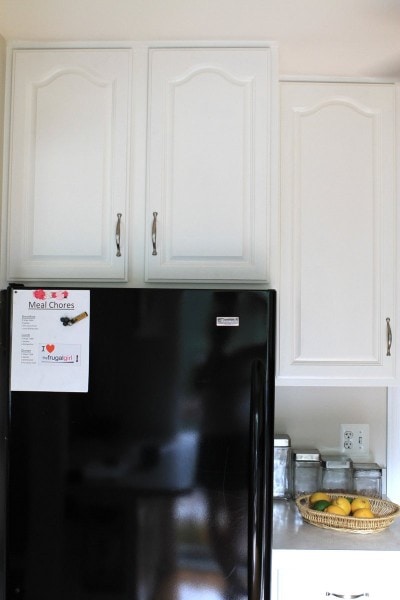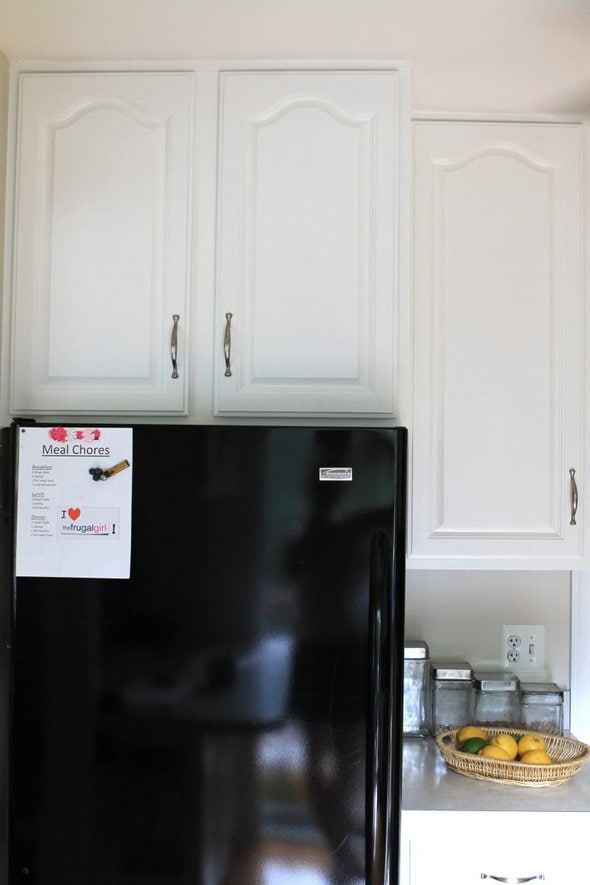 I'm so, so glad I bit the bullet and took this project on, and I'm so, so glad that my kitchen is all neatly back together now. Yay!
___________________________
Please do let me know if I've inadvertently left out anything, or if you have questions about any part of my process, and I'll do my best to answer.
P.S. A reader wrote to ask about the hinges I used. I bought Liberty 1/2 inch overlay hidden hinges. They do make a soft-close variety, but I opted for the regular kind to save money.
Save