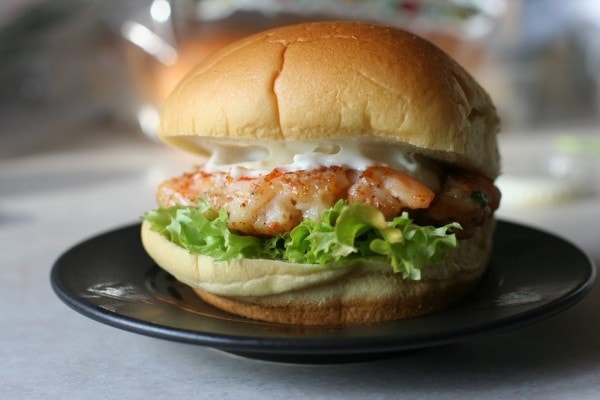 When I did my review of The America's Test Kitchen Healthy Family Cookbook
, one of the recipes I made were these Shrimp Burgers.
Unfortunately, I took only one (not-so-good at that!) photo, and we all know I can hardly bear to share a recipe without some photos.
However! I made them for dinner again last night and I'm here with the requisite photos.
(note: If raw shrimp grosses you out, you should stop reading right here. I apologize. There's just no way to make raw shrimp look really delicious.)
I'd never had shrimp burgers before I tried the ATK recipe, but they appealed to me because they seemed sort of like a crab cake, and I do love a good crab cake. They remind me of a cross between a crab cake and a fish sandwich (especially if you top the burger with tartar sauce), and I think they're really tasty.
Of course, a recipe calling for a pound of shrimp isn't exactly frugal, but since a lot of you wanted the recipe, I'm just going to post it anyway. And hey, if you compare the cost of this recipe to the cost of prepared, frozen seafood, though, or to the cost of takeout, it does seem downright frugal (you can practically eat lobster at home every night for the same cost as restaurant food!).
Ok! To start off, whisk together the mayo (the recipe calls for light, but I just used regular), green onions, parsley, lemon zest, salt, pepper, and cayenne.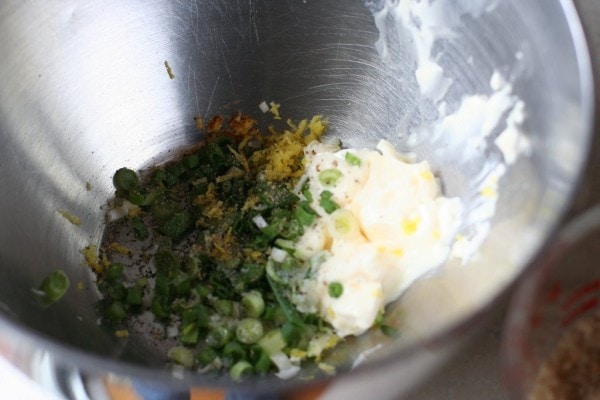 Process a slice or two of whole wheat bread in the food processor to form crumbs. You'll need 3/4 cup of crumbs, but the number of slices needed to produce this amount will vary depending on the type of bread you use. You could use white bread to make your crumbs too.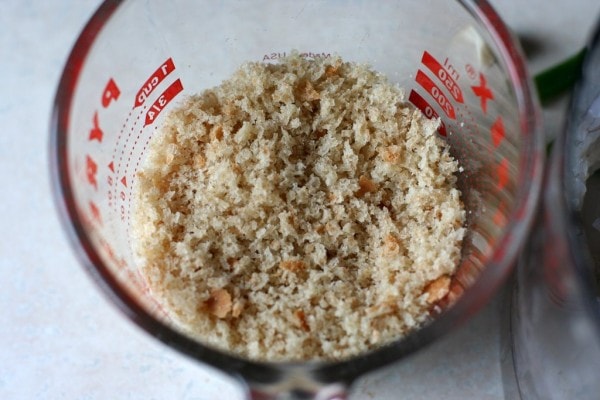 Shake the crumbs out of the food processor bowl and process the shrimp until there's a mixture of finely chopped pieces and larger chunks.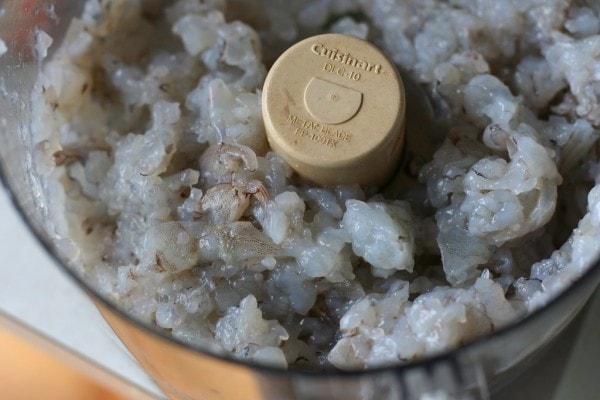 Gently fold the bread crumbs and shrimp into the mayo mixture.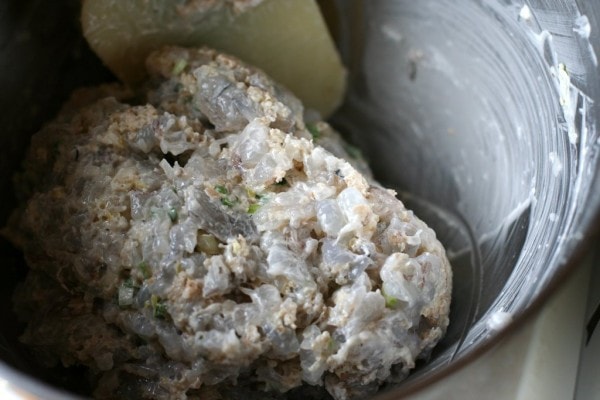 Gently form the mixture into patties. ATK recommends making four, but when I did that, I had a harder time getting the insides of the patties cooked through without burning the outside. So this time I made more burgers and made them a little thinner, which worked a lot better when it came time to cook them.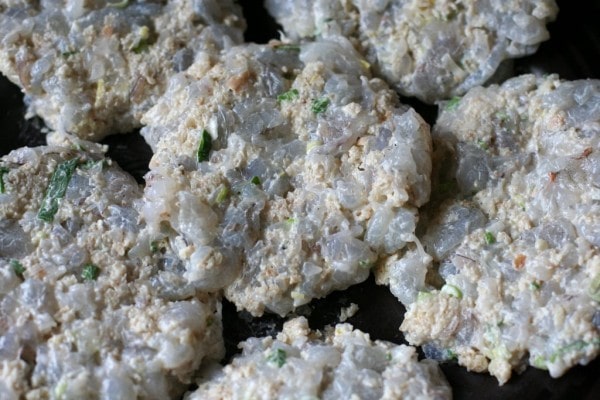 Cover the patties and refrigerate them for 30 minutes. You can refrigerate them longer, but don't refrigerate them less. They need time to firm up and become a little easier to handle…otherwise, they fall apart super easily.
I made mine mid-afternoon and put them in the fridge while I headed to the gym. I was pleased with myself for being that organized and ahead of the game (cooking when I get home from the gym is uninspiring to me!), but that all quickly faded when I got to the gym and realized I'd left my shorts at home. Rats.
I briefly considered working out in my jeans, but trashed that plan after about 2 seconds.
So, I ran some errands, and came back home to cook my burgers.
A nonstick pan is really useful for this recipe. You can use a regular pan, but you'll need more oil or butter, and your burgers might stick even then.
Melt 1 tablespoon of butter in a nonstick pan over medium heat (the recipes calls for canola oil, but I prefer butter, thankyouverymuch).
Gently place the shrimp patties into the pan and cook for about 3-5 minutes on each side. The cooking time will depend on how thick your patties are, of course.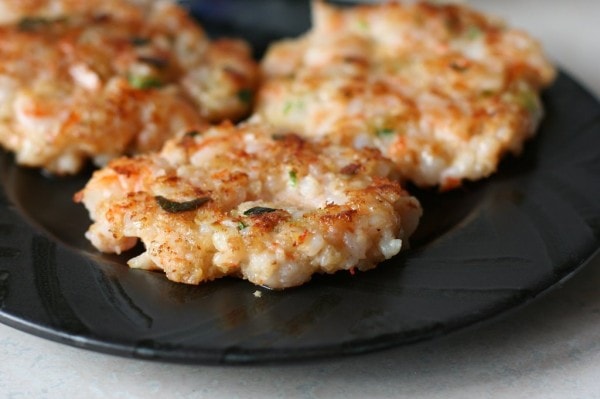 Serve as-is, with lemon wedges on the side, or on buns with lettuce, tomato, and tartar sauce.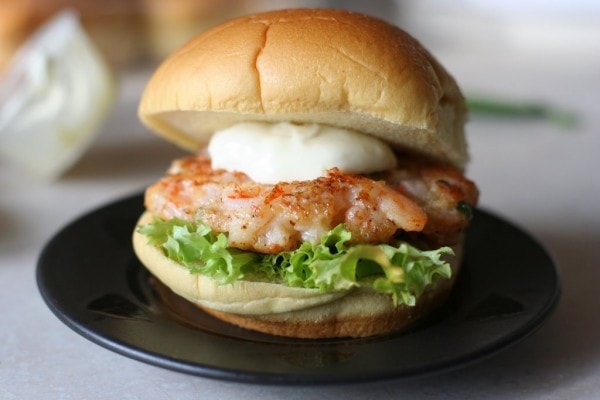 Shrimp Burgers
Serves 4
Printable Shrimp Burger Recipe, courtesy of America's Test Kitchen
It is best to buy shell-on shrimp and peel them yourself. Prepeeled shrimp are often treated with a
sodium solution, which affects their flavor and gives them a rubbery texture. (Kristen's note: totally agree! Raw, unpeeled shrimp taste the best.)
1 slice high-quality whole-wheat sandwich bread, torn into 1 inch pieces
1 pound extra-large shrimp (21 to 25 per pound), peeled and deveined (I used 51-60 shrimp…way cheaper, and the burgers were still very tasty)
3 tablespoons light mayonnaise
2 scallions, sliced thin
2 tablespoons minced fresh parsley
1 teaspoon grated lemon zest
1/8 teaspoon salt
1/8 teaspoon pepper
Pinch cayenne pepper
2 teaspoons canola oil (um, or butter)
Lemon wedges (for serving)
1. Pulse the bread in a food processor to coarse crumbs, about 4 pulses, and transfer to a bowl (you
should have about 3/4 cup crumbs). Wipe the food processor clean, and pulse the shrimp until there is an
even mix of finely minced and coarsely chopped pieces, about 7 pulses.
2. Whisk the mayonnaise, scallions, parsley, lemon zest, salt, pepper, and cayenne together in a large bowl
until uniform. Gently fold into the processed shrimp and breadcrumbs until just combined.
3. Scrape the shrimp mixture onto a small baking sheet, divide it into 4 equal portions, and loosely pack each into a 1 inch-thick patty. Cover with plastic wrap and refrigerate for 30 minutes.
4. Heat the oil in a 12ıinch nonstick skillet over medium-high heat until shimmering. Gently lay the
shrimp burgers in the skillet and cook until crisp and browned on both sides, 8 to 10 minutes. Gently
transfer the burgers to a platter and serve with the lemon wedges.
Per serving: Cal 190; Fat 7g; Sat Fat 1g; Chol 175mg; Carb 5g; Protein 24g; Fiber 1g; Sodium 370mg
Today's 365 post: Zoe's socks, though Joshua's lens and mine
Joshua's 365 post: All new! Socks with ventilation!