Sarah wrote in last week with this question, and initially thought I'd already written about it. I couldn't seem to find a post about it in my archives, though, so I wrote this post. Mea culpa if I'm repeating myself! 😉
I have a question about homeschooling. I hesitated to ask, but since our decision to homeschool versus paying school tuition will directly impact our frugality, I decided it was an appropriate question to ask you!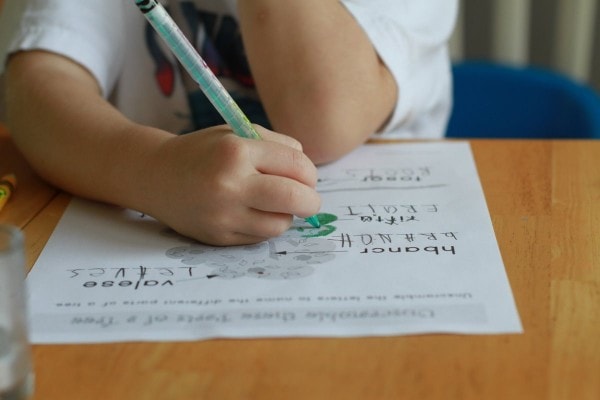 I'm wondering how to go about homeschooling older child(ren) when you have a baby and/or toddler vying for your attention as well. It's so important to me to pay enough attention to each of my children. I do have some difficulty with time management and I'm wondering if I'm up to the challenge of trying to properly teach my kindergartener while my 2-and-a-half-year-old is around, constantly needing something.
I realize some flexibility is going to be necessary, as well as establishing proper boundaries and expectations for each child. The other detail added to the mix is the fact that we are considering trying for another baby in the next year, which will make things even more interesting!
I am very, very favorable toward homeschooling all of my kids, but I would love to hear some advice about how to structure your days when you're trying to teach a kindergartener, with a toddler and baby around also. Thanks!
-Sarah
Hi, Sarah!
I'm not gonna lie. Homeschooling with small kids underfoot is a bit of a challenge.
But here's the good news: kindergarten doesn't need to take very long at all every day. In fact, with just one kindergartener and some dedicated quiet time, you can easily get a day's worth of work done in 45 minutes to an hour.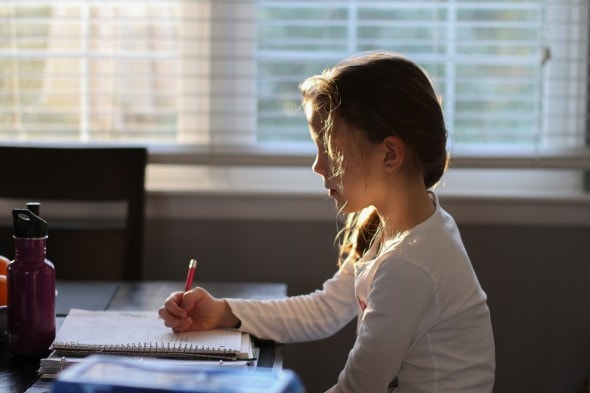 I'm assuming that your 2.5 year old still naps, so what I'd recommend doing is tackling school during naptime. That's what I did when my kids were in kindergarten (except for Zoe, because there was no one younger than her!)
Even if your 2.5 year old doesn't take good naps any more, could you set him/her up with some daily afternoon screen time? Or what about some enforced quiet time in the bed with books?
Because I'm a morning person, I'd naturally have been inclined to tackle school right after breakfast. But that can end up being an exercise in frustration, and I found it to be really easy to just do it right after lunch instead. You can get so much more done in a jiffy without a preschooler interrupting you!
If you do decide to try school in the morning, you could give your preschooler snacks, busy work, or play-doh, but none of those things is quite as effective as a nap. 😉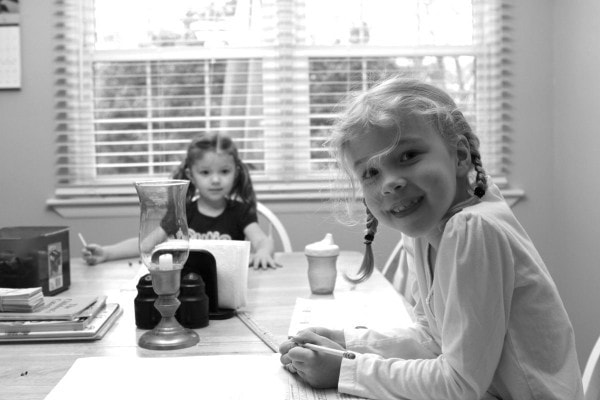 Oh, and aside from the bookwork that you do with your kindergartener, you'll probably be doing a fair amount of reading out loud, and your preschooler might like to join you for that. So, if you want to knock out some work in the morning, read-alouds are a good option.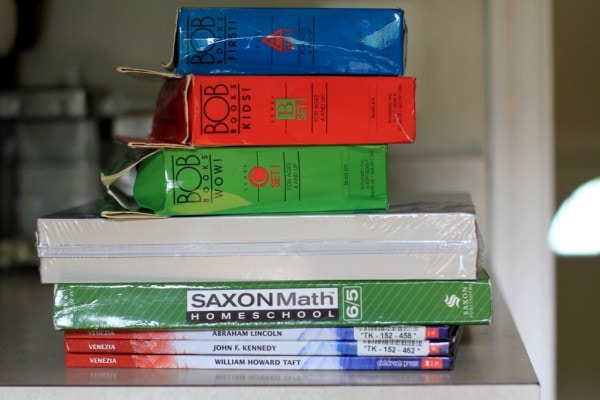 On a related note, here's what I did for kindergarten with my kids. At the time I wrote the post (2009), Sonia was in kindergarten.
My kids are now a senior, a sophomore, a 7th grader, and a 6th grader, and I'm pleased to say that our rather minimalist kindergarten routine seems to have worked out just fine for them.
(Zoe kind of skipped kindergarten, actually. She hung out with Sonia and me during our school sessions and picked up so much, she started reading the summer before she was due to start school. So we pretty much just moved right into first grade work the fall she was 5. )
One other word of encouragement as you look at the future of homeschooling multiple kids: it's not as impossible as you might imagine.
As kids get older, they can do more and more work independently. Plus, if your kids are pretty close grade-wise, you can often put them in the same history and or science curriculum and knock out two birds with one stone (Sonia and Zoe are one grade apart, so I always have them doing the same history and science!)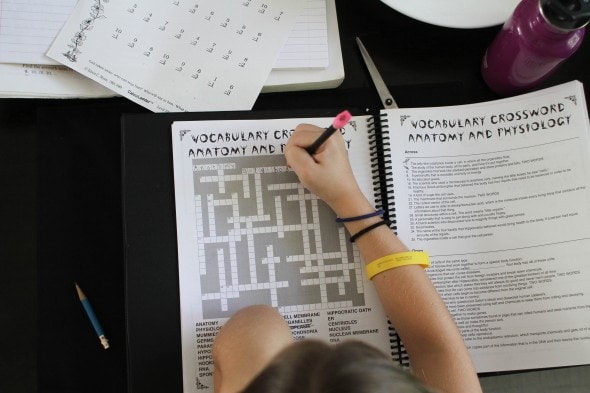 Ok, one other last thing (for real!): remember that you are never committing to homeschooling permanently. All you have to decide is what you want to do right now, and you can revisit the decision year by year. Thinking about it like that helps to take some of the pressure off.
I hope you and your husband come to a schooling decision you both feel at peace with for this year!
P.S. If you're new here and are wanting to read more of what I've written about homeschooling, you can read all of my homeschooling posts right here.
Save