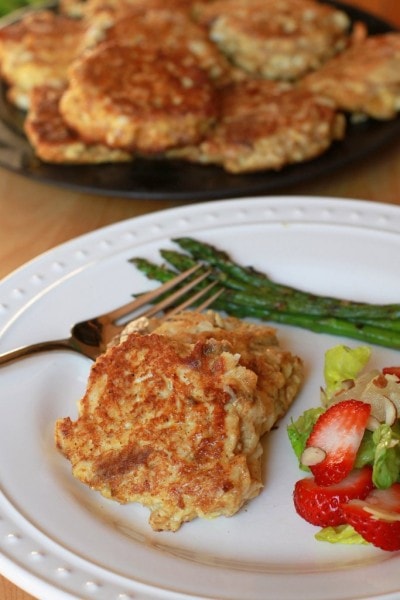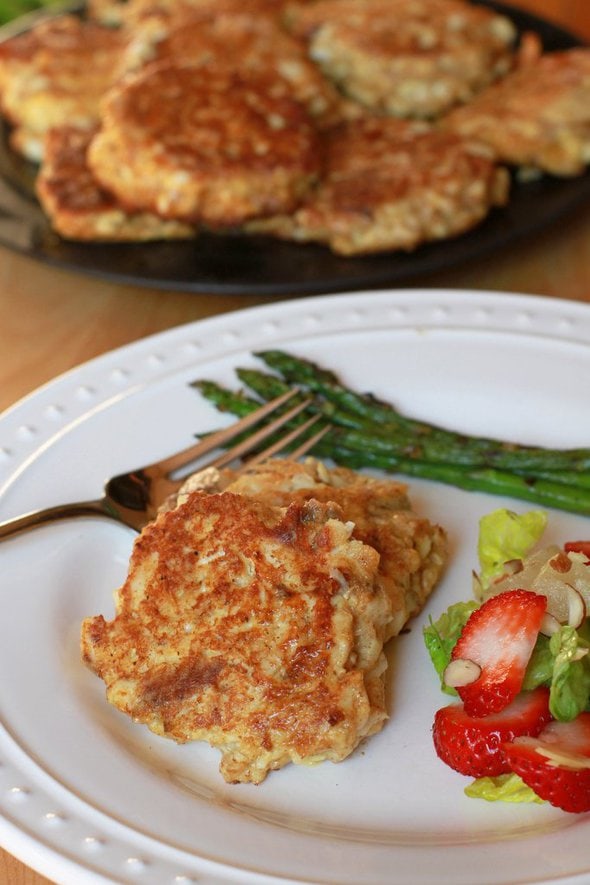 After trying some fish cakes at a restaurant a while ago, I was inspired to make some at home. I'm generally not a huge fish fan, but I actually like it when it's made into a cake.
Basically, I took the crab cake recipe I use and tinkered with it a teeny bit to make it work for fish cakes. I've been making these on a pretty regular basis now and since they're approved by the whole family, I thought I'd share the recipe.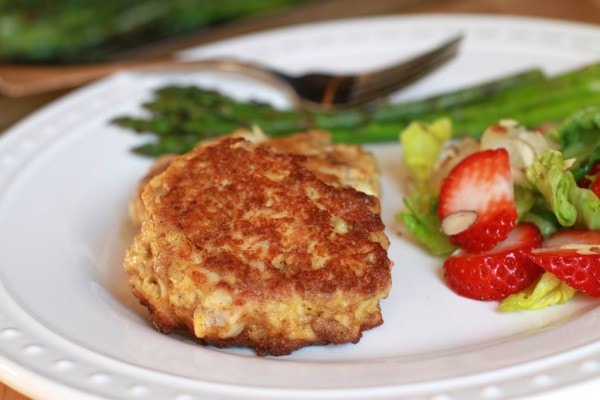 I think you could use pretty much any mild-tasting white fish you'd like, but I use frozen tilapia, which you can buy in a two pound bag at Aldi for $5.99.
You know what my one complaint about tilapia is, though? Pretty much anywhere I buy it, each fillet comes individually wrapped in plastic. The trash-y part of that annoys me, but it's also a pain to cut open each fillet, especially when you're using a whole bunch of fish for a family of six.
I digress.
Where were we? Oh, the fish. You'll need a pound of cooked white fish. I thaw my tilapia, season it with salt and pepper, and cook it over medium-high heat in a skillet (with enough butter to keep it from sticking). It only takes a few minutes on each side.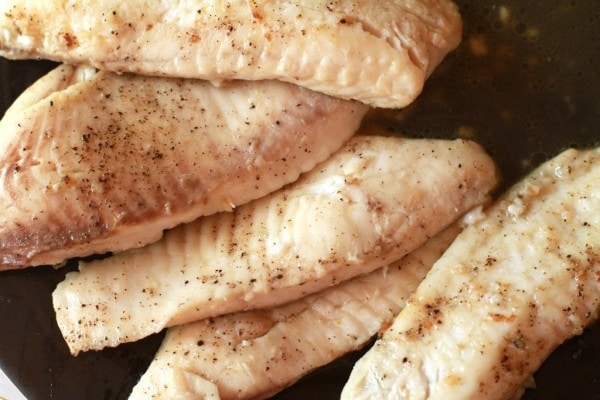 Let the fish cool for a few minutes. Meanwhile, whisk together mayo, mustard, parsley, seafood seasoning (Old Bay), and an egg, and then stir in the bread crumbs.
I usually make my own bread crumbs by toasting dried ends of bread and then running them through the food processor, but you can use prepared crumbs instead.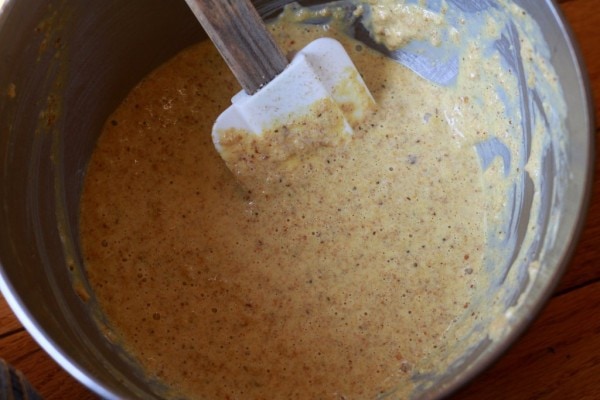 When the fish is cool enough to handle, break it up into small pieces and add it to the mayo/egg mixture. Properly cooked fish should flake really easily, so this isn't a time-consuming task at all.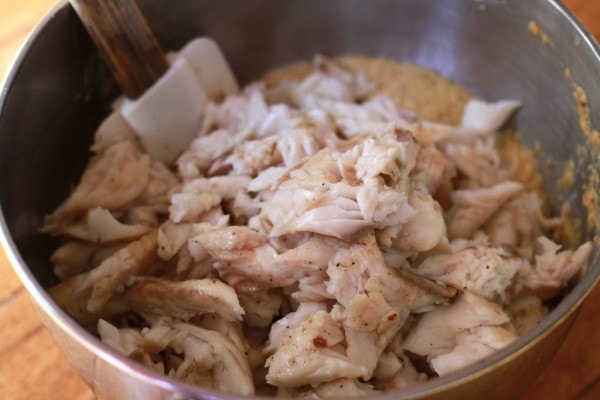 Gently fold the fish into the egg/mayo mixture until it's all evenly coated.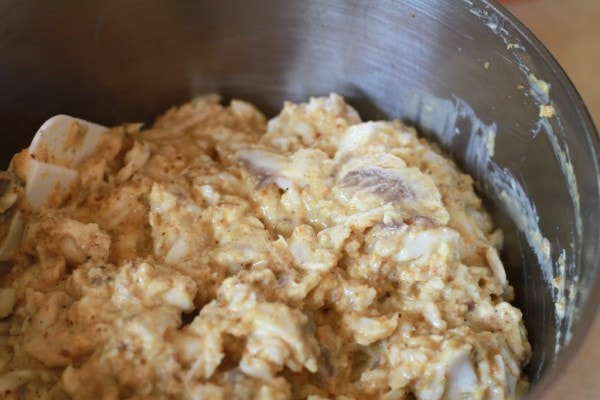 Using your hands, shape the fish mixture into patties. You can make them as large or as small as you want, but I usually go for something around the size of a hamburger. Place the patties onto a clean baking sheet.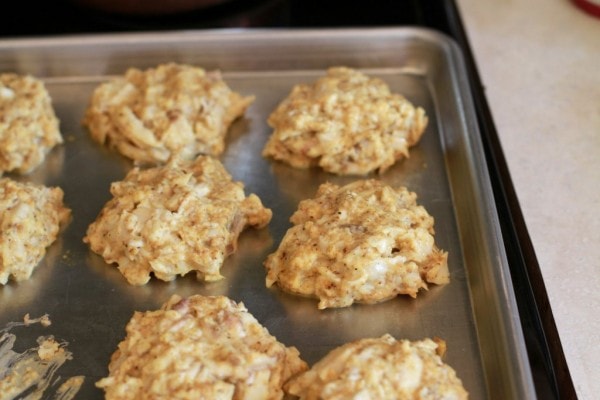 At this point, they're pretty delicate and would fall apart if you tried to place them in a skillet. To help them firm up, place them in the fridge for 10-15 minutes.
Heat a skillet over medium-high heat and add 2 tablespoons of butter. Add as many fish cakes as will comfortably fit in the skillet (leave room so you can easily flip them).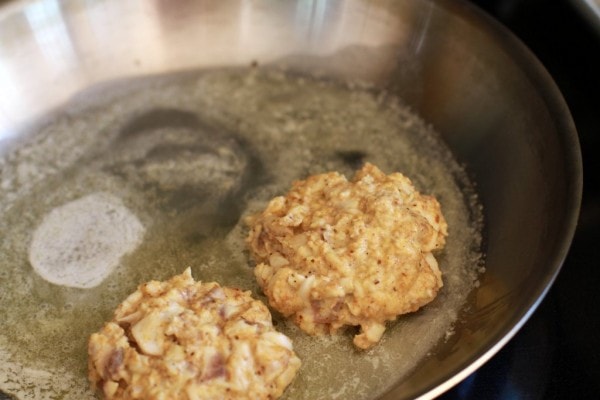 I'm not sure why there are only two in the skillet in this particular photo. Please imagine another three or four.
Let the cakes cook for 5-7 minutes (depending on the size), or until they're nicely browned on the bottom. Then gently flip them over and cook 'em until they're golden brown on that side.
Repeat with the remaining patties, adding more butter as needed, and then dig in!
You can serve these as-is, with tartar sauce on the side, or they're also good made into sandwiches, with tartar sauce, lettuce, and tomato.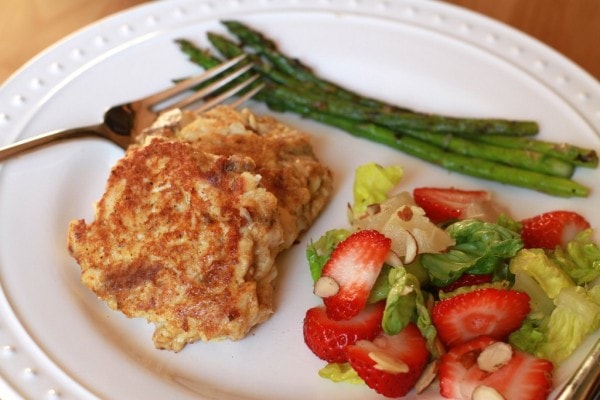 Fish Cakes
serves 4-6
1 pound of cooked white fish, flaked
1 egg yolk
1 egg
2 teaspoons seafood seasoning
1 teaspoon prepared mustard (not dry)
1/2 teaspoon dried parsley
1/3 cup mayonnaise
1/3 cup bread crumbs
In a bowl, whisk together egg yolk, egg, seafood seasoning, mustard, parsley, and mayo until smooth. Stir in bread crumbs, then gently fold in fish.
Shape fish mixture into patties and place on a baking sheet. Refrigerate for 10-15 minutes.
Heat a 12-inch skillet over medium heat and add two tablespoons butter. Gently place fish cakes in pan and cook for 5-7 minutes, or until golden brown on bottom. Carefully flip cakes and cook for another 3-5 minutes, or until golden brown on both sides.
Serve with tartar sauce, or make into a sandwich with a bun, tartar sauce, lettuce, and tomato.
__________________________
Food Waste Friday is over at Simply Being Mum today.
Joshua's 365 post: My Latest Origami