The back-to-back snowstorms we've been experiencing kept the kids and me home for a solid week. I didn't mind at all, as I like being home, and cabin fever and I have never even come close to making an acquaintance.
But, I was starting to need groceries after a whole week, so I cleaned off the enormous piles of snow that had accumulated on my van, and we headed out to the store.
Here's what we bought at Weis and Aldi.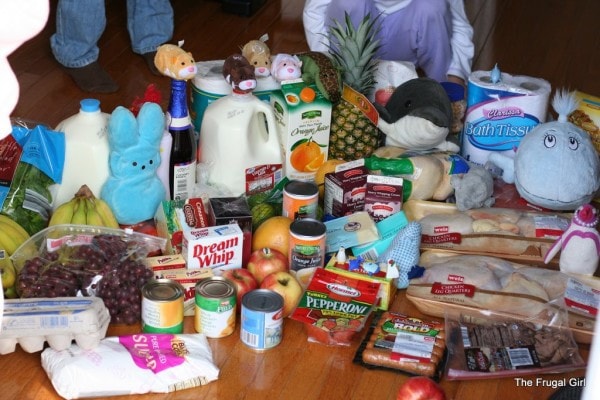 The kids wanted me to show you their newest acquisitions…some erasers from a friend.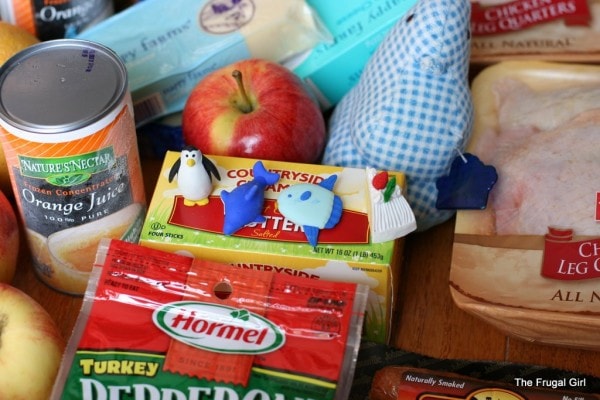 Zoe's is the fish, which she accurately identified as a mola-mola (I was completely unaware that this species of fish even existed until Zoe graced our house with her fish-loving presence!). The dolphin is Lisey's, the penguin is Joshua's, and the cake belongs to Sonia.
I bought a lot of meat this week…a chuck roast, two large packs of chicken leg quarters, and a whole roasting chicken, plus a package of pepperoni and a package of bratwurst that were marked down.
I spent:
$44.95 at Aldi
$58.17 at Weis
for a total of $103.12. That's just a tiny bit over my $100/week budget, but it is $20 over my wishful $80 goal. That's ok, though…given how much meat I bought this week, I shouldn't have to buy a whole lot next week.
Oh, and last night while on an errand, I stopped and bought this stuff…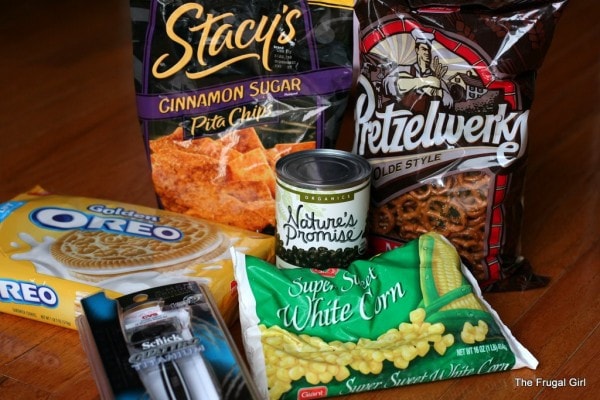 …for 48 cents. So, I'm actually $3.60 over budget.
Here's what we're eating this week for dinner:
Saturday
Sunday
Monday
Macaroni and Cheese for the kids, and seafood takeout for the husband me (it's our Valentine's Day tradition, but we usually do it right before or after V-day, so as to avoid the rush).
Tuesday
Beef Au Jus sandwiches on homemade french bread
green salad
Wednesday
a whole chicken, cooked in a crock-pot (this is the first time I've tried it)
fresh pineapple
Thursday (we're celebrating The Husband's birthday and Zoe's with a dinner mostly devoid of nutrition. Because that's how we roll on birthdays!)
Friday
Chicken Quesadillas
fruit salad