The Peeps are in honor of tomorrow's holiday, of course. 😉 I apologize for the way that they are obscuring the actual groceries….next week the stuffed animal population should be smaller.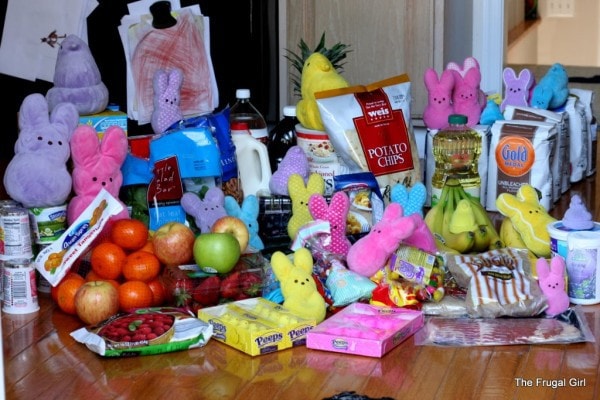 In case you missed it there in the back, I bought more flour.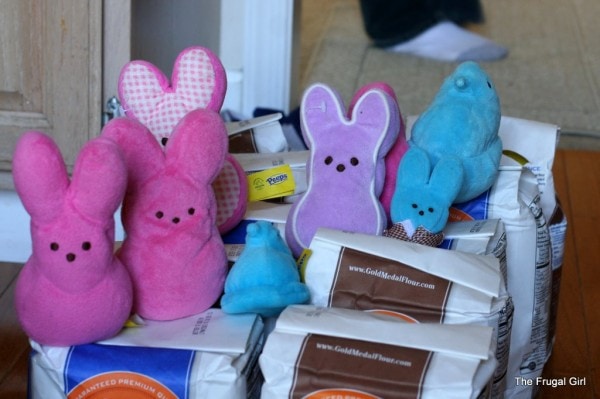 Weis had it on sale for $1.50/bag, so I bought ten bags. I also bought three boxes of General Mills cereal, as it was part of promotion, and as a result of my purchases, I got a coupon for $10 off my next shopping trip. So, I spent $21 on the flour and cereal and basically got $10 off of that, which means my net total for 10 bags of flour and 3 boxes of cereal was only $11. Sweet.
As you can see from the picture, Weis was a little low on unbleached flour, so I got a rain check that will allow me to buy 10 more bags of flour at the sale price once they have it in stock again.
It might seem crazy to buy this much flour, but considering that 10 bags of normally priced flour would run me $28.90, I think it's totally worth it. Plus, I know that I will have absolutely no trouble using up this flour before the Christmas sales start rolling out (I might even run out before then!).
Whenever I post about buying flour, someone usually wonders how I store it, so I'll just answer that question now! I keep mine in my laundry room on a shelf because I have not had any bug problems ever (lucky me!). If you do have bug problems, freeze your flour for 24 hours before storing it, or if you have the space, store the bags in large airtight Rubbermaid bins.
I spent $63.46 at Aldi this week and $45.98 at Weis. My total spending amounts to $109.44, and that's not counting my $10 coupon which I will use on next week's groceries. So, I expect that I will be at least $10 under budget next week and that will balance out this week's spending.
Here's what we'll be eating for dinner this week:
Saturday
Sunday
We're visiting with family and I'm bringing (surprise, surprise!) rolls. 😉
Monday
Tuesday
Beef Burgundy over egg noodles
green salad
Wednesday
French Chicken in a Pot (a new Cook's Illustrated recipe I'm trying)
Cucumber Salad
Thursday
Taco Salad
whatever fruit happens to be hanging around by then
Friday