These are my groceries.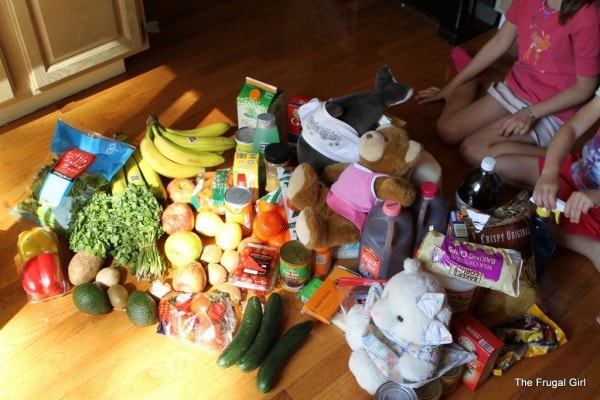 I used one coupon.
In case you were wondering. 😉
And this morning, thanks to a heads-up from MoneySavingMom, I printed out a $1.50/1 Wheatables cracker coupon from coupons.com
. These go on sale for $2 fairly often, so I think I should be able to snag a box for $.50. See, I am not entirely anti-coupon!
If you want to be kept informed about such coupons, you really should follow MoneySavingMom. Her uncluttered blog keeps me in the loop when there are high value or free coupons available, and I highly recommend it.
I'll stop talking about coupons now, but look for a post on the topic sometime soon. Hopefully it'll clear up some misconceptions about my coupon-related thoughts. If I was a smart blogger, I'd have published that post first and THEN posted about the $4/week shopper.
But, I am apparently not that bright.
Anyways.
This week, I spent $19.06 at Weis, and $55.88 at Aldi.
I also spent $51.45 at Costco, where I bought:
a large container of honey (I probably didn't need to say "large", did I? Everything at Costco is large!)
a container of vanilla (uh, that was large too. 😉 )
My total for this week is $126.39. That's $26 over my usual budget, but I had $28 left from last month's budget and I purposely spent it on the nuts from Costco.
So, I'm still right on budget for the month of May. And I have lots of nuts in my cabinets, which makes me happy.
Here's what I'm making for dinner this week.
Saturday
green salad
cream soda (we mostly drink water, but we have soda with our pizza once a week)
Sunday
I really don't know. Mr. FG has forbidden me to cook, so I'm not entirely sure what we'll be eating!
Monday
Tuesday
Salmon with Dill Sauce (it got bumped from last week)
green salad
Wednesday
Chicken/Vegetable/Pasta Salad with Cilantro Dressing
fresh fruit
Thursday
Asian Glazed Tilapia
Asian green beans
some kind of bread…not sure what yet
Friday
Grilled Chicken
Grilled Vegetables
ummm, the same kind of bread that we're having on Thursday. Hee.