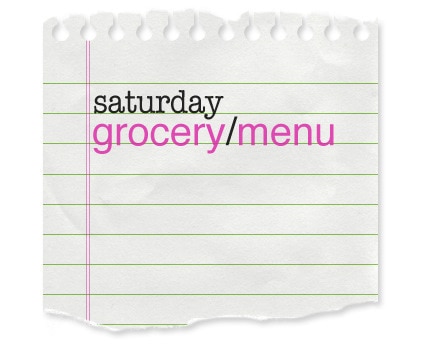 On Saturdays, I share my menu plan for the upcoming week along with a photo of my groceries and a tally of my spending. My goal is to spend $100/week for our food, toiletries, and cleaning products. I'm currently in the midst of trying to buy more local, sustainably-produced food while sticking to my budget. Can it be done? I don't know, but I'm going to try, and I'll share what I learn as I go along.
Since my last shopping trip got postponed so long, I was actually due to shop again this week (normally I shop every two weeks).
I spent $62.48 at Aldi, $48.41 at Weis, and $18 at the organic store (for packaging-free chicken and organic snow peas). So, my total is $128.29.
I would just like to say that chicken breasts were on sale for $1.79/lb at Weis this week and I resisted the temptation to buy them and instead bought the happy, local chicken at the organic store. For $5.99/pound.
I would also like to say that the employees at the organic store have a difficult time figuring out how to deduct the price of my glass container, and I almost always have to help them figure out the math. Oh dear.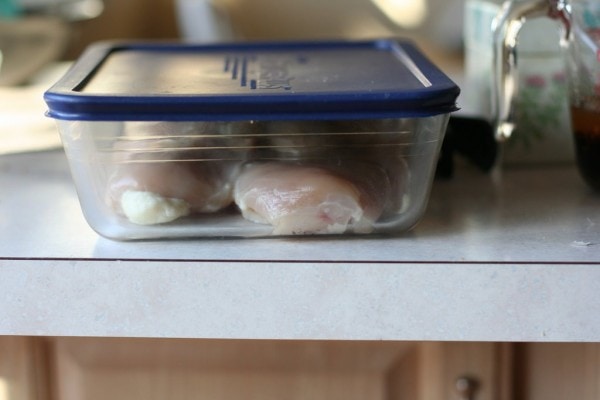 I assume this means that not very many people are bringing their own containers, which is weird. Usually people who eat organic food are also interested in being green. And hello! Opportunities to buy packaging-free chicken are few and far between, so I would think people would take advantage of it instead of putting their chicken in plastic bags.
As I mentioned, I bought chicken and snow peas this last trip, and the cashier was about to put my snow peas into a plastic shopping bag. I figure she probably was doing it out of habit instead of thinking about it.
Because if she'd thought about it, I'm sure she'd have figured out that people who bring glass containers for their chicken probably don't want a plastic shopping bag for their small bag of peas! 😉
Oh, I have a picture this week. With stuffed animals, even.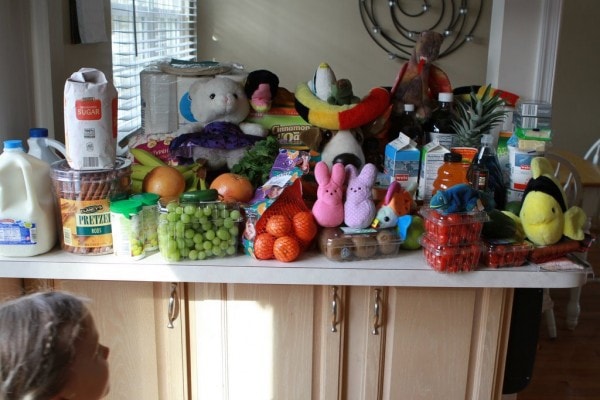 In fact, there may be more stuffed animals than groceries in this particular photo. My kids love adding their animals…"They will all be famous!".
My budget does include breakfast and lunches, but I don't usually plan those. For breakfast, we have Cream of Wheat, oatmeal, muffins, yogurt, toast, oranges, and cereal. Lunches are usually sandwiches, yogurt, fruit, and leftovers as necessary.
Here's what we're eating for dinner this week!
Saturday
maybe a green salad if I am feeling virtuous
Sunday
Snacky stuff since Mr. FG and Joshua will be watching the Super Bowl (the girls will join them for the sole purpose of eating snacky food)
Monday
Parmesan Chicken Cutlets (made with happy, local chicken)
green salad
Tuesday
Mr. FG and Joshua will be at an actual hockey game (we gave tickets to Joshua for Christmas), so the girls and I will eat something super-duper simple. I'm just not sure what yet!
Wednesday
Chicken Tacos (the chicken, it is local and happy)
fruit salad
tortilla chips and salsa
Thursday
BBQ Beef Brisket (made with local beef)
green salad
Friday
Takeout date night for Mr. FG and me, something easy for the kiddos
Today's 365 post: I spy…
Joshua's 365 post: Why I am happy right now