Here's what I bought this week: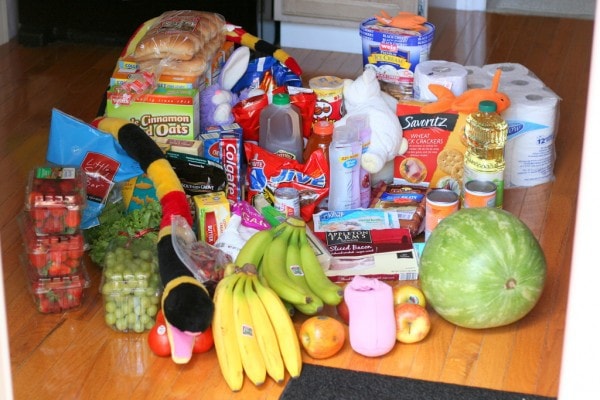 And I also stopped by the produce stand to pick up cucumbers, corn, and peaches.
I spent $56.74 at Aldi, $40.99 at Weis, and $6 at the produce stand for a total of $103.73.
What will we be making with our groceries?
For breakfast, we'll be eating homemade granola, homemade yogurt, fruit, scrambled eggs , and cereal.
Lunches will be yogurt smoothies, fruit, nuts, sandwiches, and leftovers as necessary.
Saturday
My cousin (the one you've seen in the engagement pictures) is getting married, so that's where we'll be at dinnertime tonight. 😉
Sunday (we're having our 4th of July meal on Monday)
French Toast
OJ
scrambled eggs
Monday
Grilled Bratwurst
chips
fruit salad
Tuesday
The kids have some free meal coupons from our library reading program, so we're going to go out and take advantage of those.
Wednesday
BLT Chicken Salad ( a green salad)
Cheese Bread
Thursday
Seafood Subs
raw veggies
chips
Friday
Chicken Quesadillas
green salad