For a change this week, I divided my groceries into piles, and took pictures of each. A lot of you have asked for more detail about my shopping, so I'll explain a little bit about why I bought the items in each picture.
First up, the cold stuff. All of it is from Aldi except the Yoplait. The milk is for cereal and baking purposes, the heavy cream will top our oatmeal, the butter is for baking and using on bread, the cheese is for some dinner meals, the cottage cheese is for lunch (my kids think it's a big treat!). The OJ is for my kids to drink at breakfast. We usually need more than this, but we had some left from last week. Lastly, the Yoplait is a treat I bought for my husband's lunches.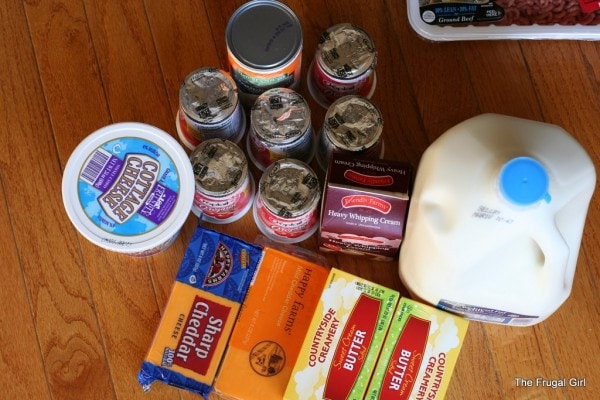 Here's the meat. I bought the leg quarters for $.59/pound. We'll BBQ some of them, and I de-boned some of the chicken thighs for a future teriyaki chicken meal. The sausage is for a pot of Tortellini Soup and it was not on sale…I like it so much better than other sausage, though, I'm willing to pay for it. The ground beef was on sale for $1.79/pound. I'll use half to make hamburgers this week and half will go into some other future meal. The deli meat is from Aldi, where it's SO much cheaper than at the deli counter. I sometimes keep a package around for those days when I don't happen to have leftovers to send in my husband's lunch.
This is my produce…not much explanation needed. Most of it is from Aldi. I have some greens left from last week, so I didn't buy any lettuce or spinach, which is unusual. None is organic except for the carrots and tomatoes.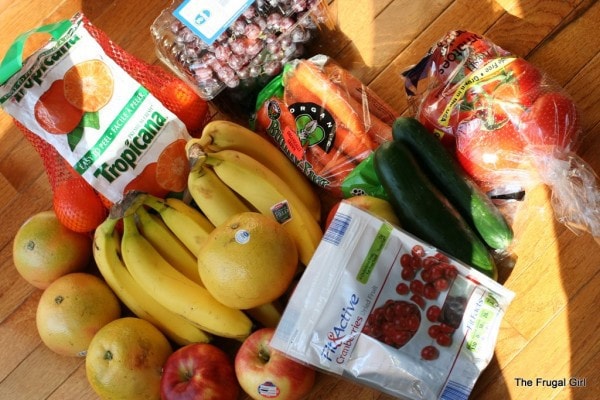 And here's the rest of my stuff. I'll just mention the noteworthy things. Bulls Eye BBQ sauce was on sale, but this flavor was on closeout, so it was even cheaper: $1.12. The canisters of oatmeal were $.66 apiece after a coupon, and the cereal was a sale/coupon deal I paid $4 for the 4 boxes of General Mills cereal, and I paid $5 for the 4 boxes of Kellogg's cereal (so $9 total). Given how little cereal we are eating these days, these 8 boxes should last us for a while.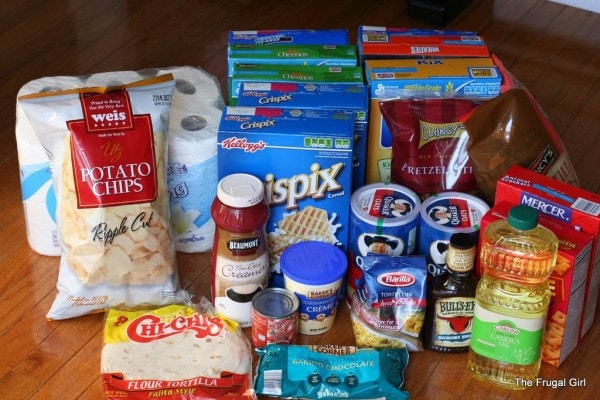 Interestingly enough, the cereal would have cost $31.74 instead of $9 had I paid full price and not had coupons. Yikes. Several of those boxes are normally $4.19, and considering that price gets you less than a pound of cereal, it's not anything close to a bargain.
(In case you're interested, I got two of my cereal coupons from the paper and two from Coupons.com
. The coupons.com ones were the best…$1.50/2 boxes).
How much did I spend altogether?
My Aldi groceries cost $45.95 and my Weis groceries cost $39.03.
So, my total for this week is $84.98, and I'm quite pleased with that.
Breakfasts this week will be typical…yogurt, bananas, muffins, toast, and oatmeal. Lunches will be homemade yogurt, yogurt smoothies, fruit, sandwiches, and leftovers as necessary.
Dinner plans are as follows (recipes that are currently posted on my blog are hyperlinked).
Saturday
Usually I make pizza on Saturday nights, but tonight we are going to do something unusual and pick up a pizza. Of course, we will have root beer (which we will not be buying at the pizza place because it's crazy expensive there!).
Sunday
French Toast
OJ
fried eggs for anyone who wants one (usually Lisey and me)
Monday
Glazed Chicken Breasts
English Muffins
green salad
Tuesday
Grilled Hamburgers
grapefruit halves
potato chips
Wednesday
Thursday
BBQ Chicken Pieces
grilled vegetables
Cheddar Twists (a new roll recipe I'm trying)
Friday
Broiled Tilapia
green salad