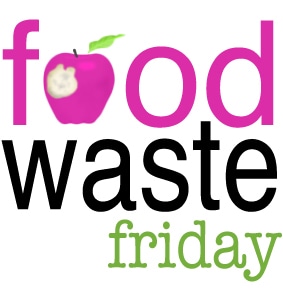 Every week, I post a picture of the food that has gone bad over the last seven days. Why do I do this? Because in March of 2008, I finally got fed up with the amount of food I was wasting, and I thought that showing my waste to other people would motivate me to use up my food instead of wasting it. Because this often embarrassing practice was so helpful for me, I invited other bloggers to join me in posting their food waste photos, and Food Waste Friday was born. If you're not a blogger but still want some food waste accountability, feel free to participate by leaving a comment.
First off, thanks to all of you that weighed in on the e-book topic question! I wouldn't say there was an overwhelming topic winner, although the grocery topic and Christmas topic were probably mentioned the most, so I'll likely make those two a priority.
On to food waste!
This week, I let a portion of pizza dough go to waste. I'd made enough dough for 4 pizzas, ended up needed to make only 3 and then I put the dough in the fridge with grand intentions of baking up another fresh pizza for lunch the next day.
But that didn't happen and didn't happen and ultimately a whole week went by. At that point, the yeast was sort of exhausted, and if I'd made pizza with the dough, it wouldn't have risen right or tasted right, and then I'd probably have wasted tomato sauce, cheese, and toppings along with the pizza.
I also wasted a mango. I thought it was ripe, but it was way past ripe…it was brown and icky inside. I don't buy mangoes all that often, so I'm not super skilled at figuring out when they're ready to eat.
Unfortunately, I have no photos to share of these two items because I threw them out in a hurry earlier in the week. My apologies!
_______________________________________________
How did you do this week? If you blogged about your food waste, link us up by entering your info into the widget below. You'll save money, reduce your trash output, and get a little publicity for your blog! And if you don't blog, you can still share about your food waste by leaving a comment.
Today's 365 post: My goodness, I love fall!