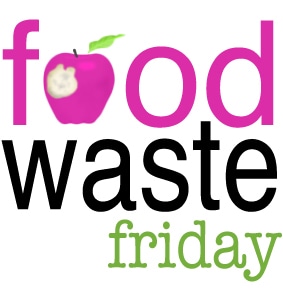 Every week, I post a picture of the food that has gone bad over the last seven days. Why do I do this? Because in March of 2008, I finally got fed up with the amount of food I was wasting, and I thought that showing my waste to other people would motivate me to use up my food instead of wasting it. Because this often embarrassing practice was so helpful for me, I invited other bloggers to join me in posting their food waste photos, and Food Waste Friday was born. If you're not a blogger but still want some food waste accountability, feel free to participate by leaving a comment.
Not just clean as in, not-filled-with-rotting-food, but clean as in I-wiped/washed-the-whole-thing. I took drawers and shelves out, even. It was a rare event, indeed.
(I'm sure some of you super-duper-housekeepers are cringing at the thought that I don't do this very often, but alas, it is true.)
Since I cleaned a little deeper than usual, I found some things that had been lurking in the deep dark depths of my fridge for a while.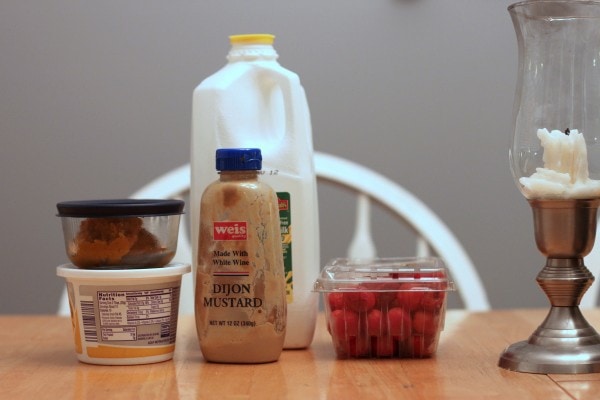 We'll go from left to right. First, we have Honey Nut cream cheese spread, which was just…weird. My kids wanted me to buy it, but most of them thought it was weird too.
Atop that is a bit of canned pumpkin. I should have just thrown it into the pumpkin bread batter, but I was being precise (baking being sort of scientific and all that).
The Dijon mustard had been in there for eons and I had a newer opened container on the shelf as well. So, there didn't seem to be much point in keeping the last bit of the super old stuff.
I bought the buttermilk from Target when I had stopped in for a few other things, and apparently buttermilk doesn't move too quickly at Target because when I got home, I realized the buttermilk was almost at its sell-by date. I used up most of it, but the last bit went bad before I could get to it.
And lastly, the red things are some very, very, very shriveled up grape tomatoes. And not only are they shriveled, they are also very, very, very old.
Then again, most very shriveled things are also very old, aren't they?
(this thought has been brought to you by Captain Obvious and the word "very".)
Anyhoo! I'm pleased to be starting out a new food waste week with an organized AND clean fridge.
________________________________________________
How did you do this week? If you blogged about your food waste, link us up by entering your info into the widget below. You'll save money, reduce your trash output, and get a little publicity for your blog! And if you don't blog, you can still share about your food waste by leaving a comment.
________________________________________________
Today's 365 post: Silhouette
Joshua's 365 post: The New Fad