Every week, I post a picture of the food that has gone bad over the last seven days. I started doing this in March of 2008 to help motivate myself to use up my food instead of wasting it and it's been very effective. Since it helped me so much, I invited other bloggers to join me in posting their food waste photos, and Food Waste Friday was born.
This is probably the worst picture I've had since spring of 2008. I totally planned to diligently clean out the fridge before vacation, but this week didn't go quite like I planned. I spent Monday getting ready for the three hour drive to the hospital, arrived there Monday night, spent all day and night at the hospital Tuesday, and didn't leave the hospital to go home until Wednesday afternoon. I got back Wednesday night, exhausted, so I obviously haven't had a lot of time to think about using up my food!
My fridge is all cleaned out now, though, and this was a week filled with pretty extenuating circumstances. So, I'm not going to beat myself up over it…there are things in life that are way more important than food waste, and helping my sister-in-law was definitely one of those things.
Here's the damage, which I'm not going to itemize because I'm short on time.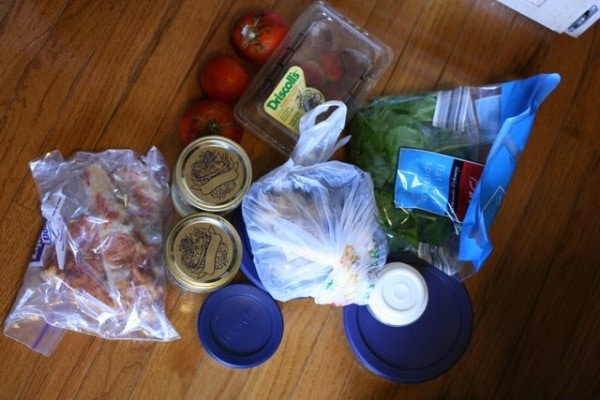 Believe it or not, this is after I salvaged a number of things (it could have been worse!).
A few items went into the freezer, some lemon slices got squeezed into glasses of water, we finished up a bag of carrots, we ate a raw cucumber (sliced up with salt).
My best salvaging was at lunchtime, though. I used up three egg yolks, some almost bad buttermilk, and some slightly spoiled vanilla yogurt by altering the whole wheat pancake recipe a bit. The pancakes were delicious and it worked out perfectly because we had pretty much no bread options for lunch today anyways.
Tonight we'll be eating some more odds and ends for dinner, and hopefully the fridge will be pretty much empty of food by then.
___________________________________________________________________________________________
How did you do this week? If you blogged about your food waste, link us up by entering your info into the Mister Linky Widget below. Participants get a spot on my Food Waste blogroll for the upcoming week, so join us! You'll save money, reduce your trash output, and get a little publicity for your blog!