Every week, I post a picture of the food that has gone bad over the last seven days. I started doing this in March of 2008 to help motivate myself to use up my food instead of wasting it and it's been very effective. Since it helped me so much, I invited other bloggers to join me in posting their food waste photos, and Food Waste Friday was born.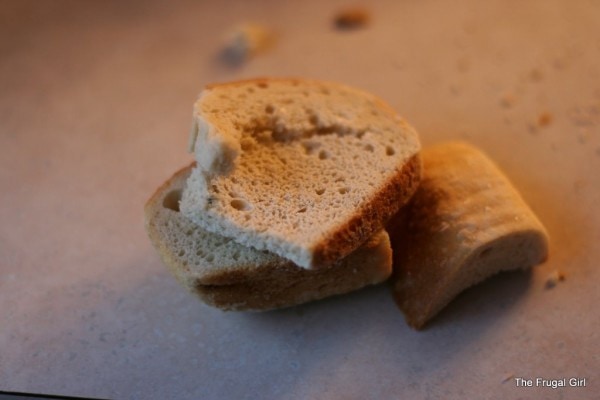 ('scuse the weird lighting…as I mentioned on my Facebook page, it's rainy and dark here today!)
I was super close to having a zero waste week. However, I have a bit of bread waste to report. Panera donates day-old bread to our church, and we sometimes pick some up. I found a half-loaf of sourdough bread from Panera in the freezer this week and thawed it. I think we picked it up not realizing it was sourdough bread, as none of us are big fans. We did manage to eat almost all of it (if you toast it and spread it with jam, it doesn't taste so sour, we found!) but the last few pieces got neglected and moldy when there was some tastier bread to eat (soft and fluffy rolls left over from dinner, to be specific).
That's the extent of my waste, though, so I'm pretty pleased with that.
I'll be back this afternoon with a post linking you to some awesome blog posts I found this past week. 😉
________________________________________________________
How did you do this week? If you blogged about your food waste, link us up by entering your info into the widget below. You'll save money, reduce your trash output, and get a little publicity for your blog! And if you don't blog, you can still share about your food waste by leaving a comment.