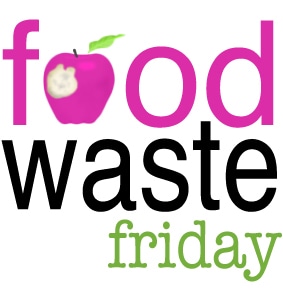 Every week, I post a picture of the food that has gone bad over the last seven days. Why do I do this? Because in March of 2008, I finally got fed up with the amount of food I was wasting, and I thought that showing my waste to other people would motivate me to use up my food instead of wasting it. Because this often embarrassing practice was so helpful for me, I invited other bloggers to join me in posting their food waste photos, and Food Waste Friday was born. If you're not a blogger but still want some food waste accountability, feel free to participate by leaving a comment.
So, since arriving home from vacation last Saturday, I have not made an honest-to-goodness trip to the grocery store. I made a quick stop to pick up some milk, OJ, and produce, but that's been it.
This means that we've been eating down our fridge, and it's quite barren at the moment. My fruit and vegetable drawers are almost never empty, but they're pretty darn close right now.
I do have some cilantro to get rid of (it was a pre-vacation purchase),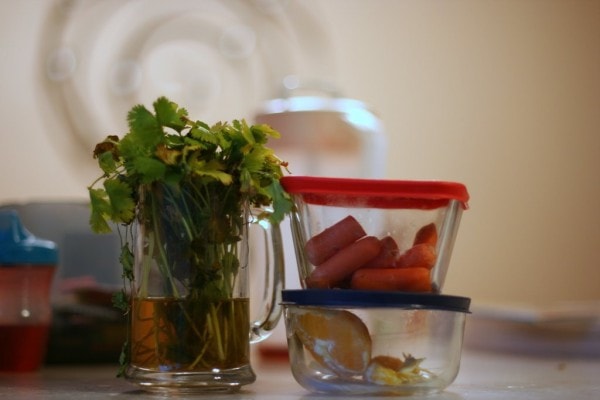 plus an orange that I peeled pre-vacation (it was one of those duddy oranges that didn't taste quite right and so no one wanted to finish it off) and some old baby carrots. The carrots were kind of dry and aged but we were feeding them to the hermit crabs. Unfortunately, the hermit crabs recently expired (all 3 of them on the same day! We think they got too cold when our power went out), so there's no one left to eat the carrots.
So, that's what's new (or, um, old!) on the food waste front for me.
Oh, and the oven barbecued brisket I made the other night was delicious. The only trouble was, I had difficulty cutting it into slices (it kind of fell apart!), so I just cut it up/pulled it, mixed in some extra BBQ sauce and we made sandwiches out of the meat.
I've never made brisket before, but after an afternoon in a low, slow oven, it definitely reminded me of chuck roast. That's good news for me, because I have several recipes that use chuck roast (Beef Au Jus sandwiches being one), and so brisket is no longer scary to me.
________________________________________________
How did you do this week? If you blogged about your food waste, link us up by entering your info into the widget below. You'll save money, reduce your trash output, and get a little publicity for your blog! And if you don't blog, you can still share about your food waste by leaving a comment.
Today's 365 post: I was going to throw these out before we left…
Also, don't forget to enter in the Walgreens giveaway and the GE giveaway before it's too late!