So. Life was a little bit less crazy at my house this week and I AM SO GRATIFIED.
(Pardon the caps yelling there.)
I've even had some days where I got to stay home for a large portion of the day, which makes this homebody a happy camper.
The Bad
I spent a bit of my time going through my fridge, where I found some things that were pretty old. The sweet potatoes probably were bad a week or so ago, but I just missed them, I guess.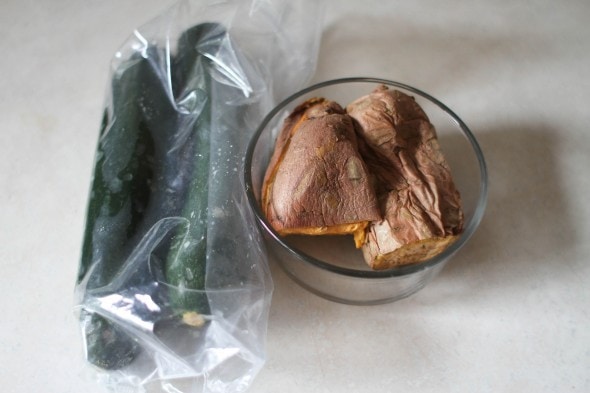 I thought the zucchini were going to be ok, but they were speckled with small moldy spots.
In other bad news, I discovered some rotten potatoes in a fridge drawer. I was making potato wedges a while ago, and I'd sliced and parcooked too many.
So, I thought I was being brilliant by setting some aside to cook for breakfast (freshly cooked would be better than leftover!)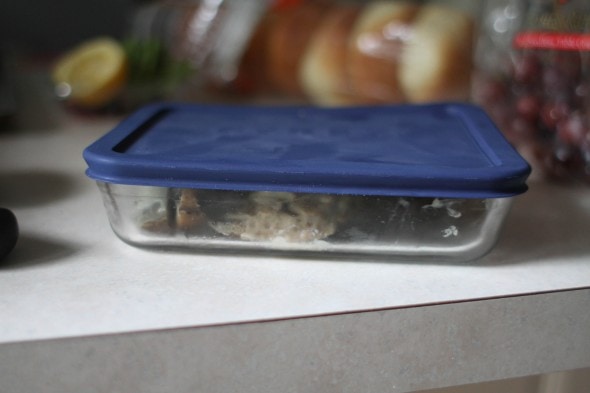 Except I completely forgot about them, mainly because they were out of sight.
Though I've gotten better at this over the years, my perennial problem is forgetting about food. In this case, I should have turned the glass container upside down so I could see more than just an opaque lid.
The Good
How about some happier news??
I made a batch of banana chocolate chip muffins to rescue three very dark bananas.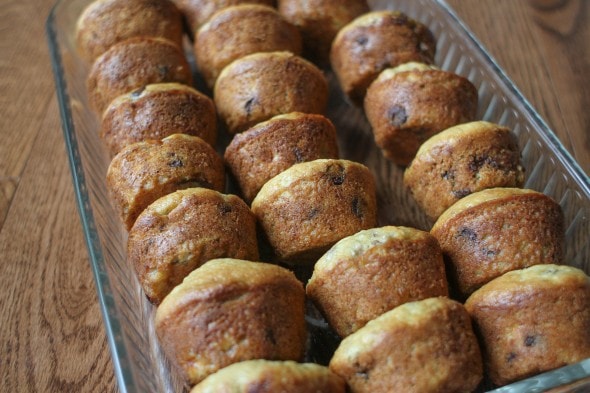 And I cut up and set out a cucumber, the last of some grapes, and some honeydew melon.
Because if these things are on the counter in an open container, they're quite likely to get eaten over the course of an afternoon.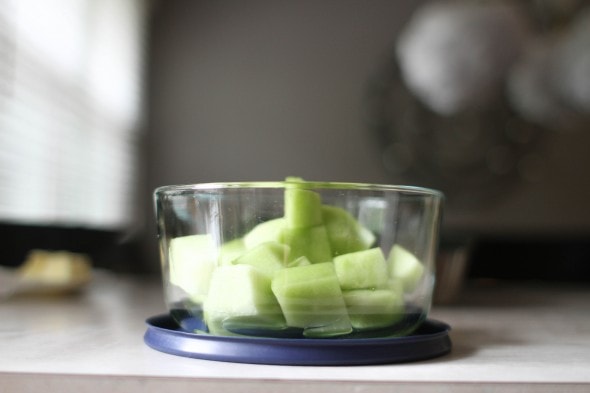 I also made a small batch of rice pudding with some dry leftover rice from a date night with Mr. FG.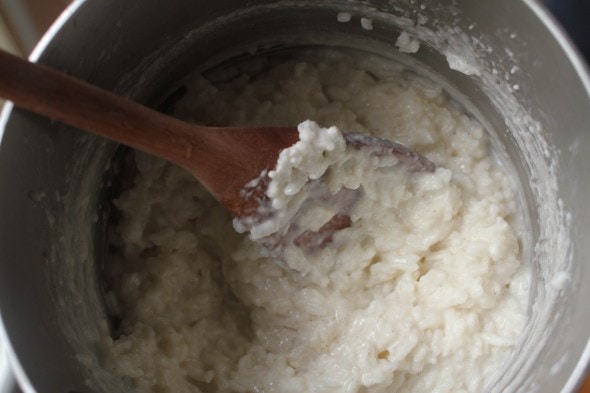 An unidentified family member poured a cup of milk and didn't finish it. Since I had no idea whose it was, I put the cup in the fridge and used the milk when I made some fluffy hamburger buns yesterday.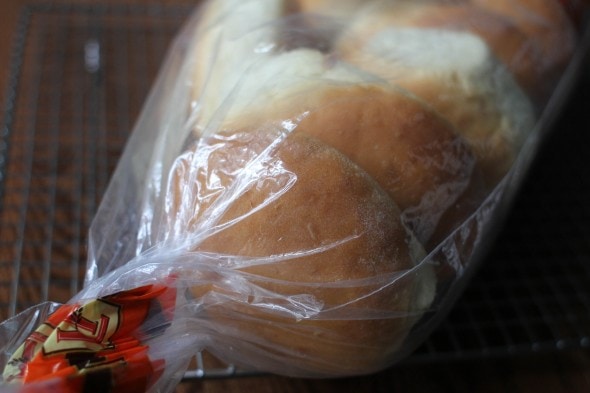 I know some people would shudder at the thought, but no one here is sick with any sort of infectious disease, and besides, the bun ingredients get cooked at high temperatures. So, all is well.
On the topic of buns…I had Joshua film a quick instagram video of me shaping the hamburger buns since the shaping technique is a little bit hard to describe with words.
(You should be able to view the video with that link even if you don't have instagram.)
Oh, and speaking of Instagram, I posted a photo of my produce box leeks there this week, asking for advice. Several people mentioned leek potato soup, so I looked up a Cook's Illustrated recipe, and it was really good!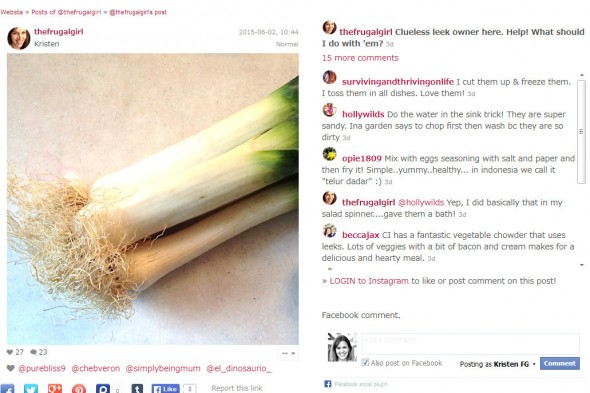 (Though I'm noting that I need to wash the leeks even MORE thoroughly than I did, because I detect a bit of sandiness in an occasional bite of soup. I'm a little surprised because I thought I was being super thorough with the washing. Live and learn!)
The Fridge/Freezer Pics
Here's my fridge door…pretty boring.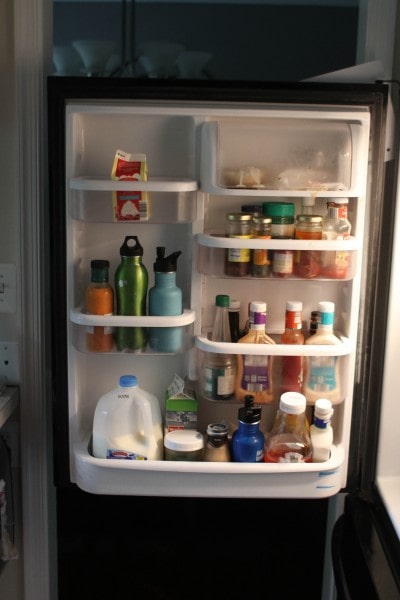 And the fridge itself: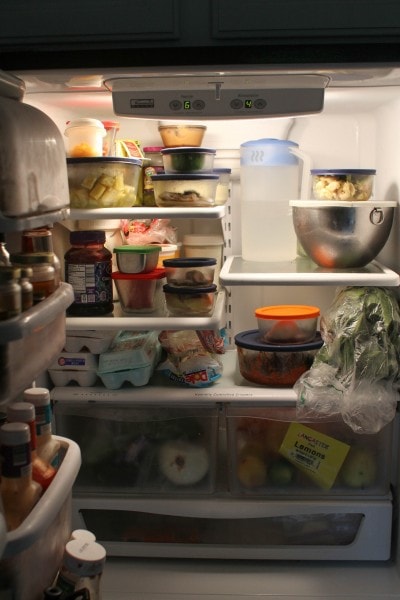 I'm noting that I have many smallish containers of odds and ends. Nothing in them is bad right now, but having that many bits and pieces makes me nervous…too many food waste possibilities!
So, I'm gonna work on using those up today.
Oh, and here's my freezer.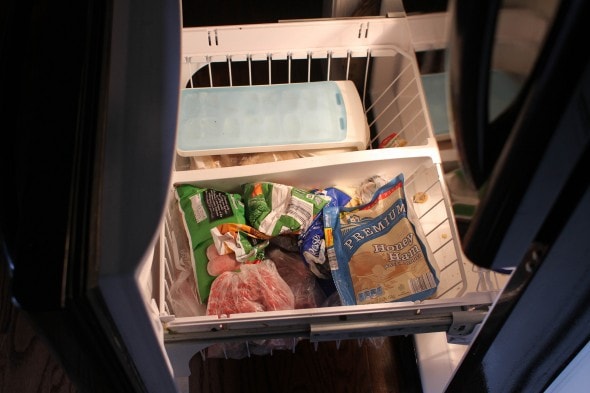 Not a lot has changed there, for better or for worse, which is good, I guess!
______________________________
How are things food-waste-wise at your house this week? Dish in the comments!
(Also, leek-washing advice is welcomed. I rinsed em, then chopped them and soaked them in a salad spinner bowl of water, and then spun them dry. Should I maybe have done the soaking twice?)