Every other Monday (or so!), I answer reader questions. Got one for me? Send me an email with Q&A in the subject line, and I'll answer it in a future post.

I have recently found your blog and feel inspired by your bread making! I have used my bread maker for nearly 12 years and it is wearing out!! For obvious frugal reasons I don't want to purchase a new one AND I do have a Kitchenaid.
My questions are: which would be the simplest bread for me to start with and why don't you use your kitchenaid for kneading the bread? Or have I missed something?
-Jo
So glad to hear that my blog is inspiring you!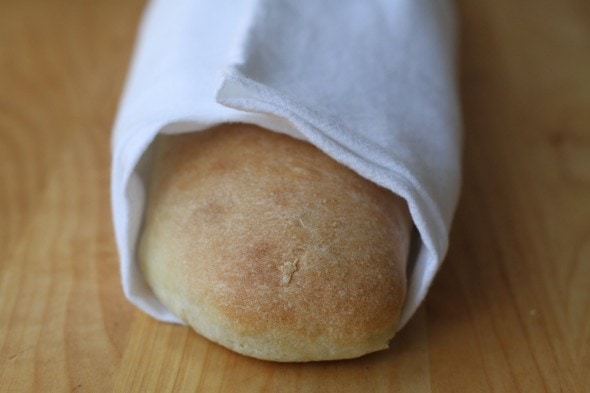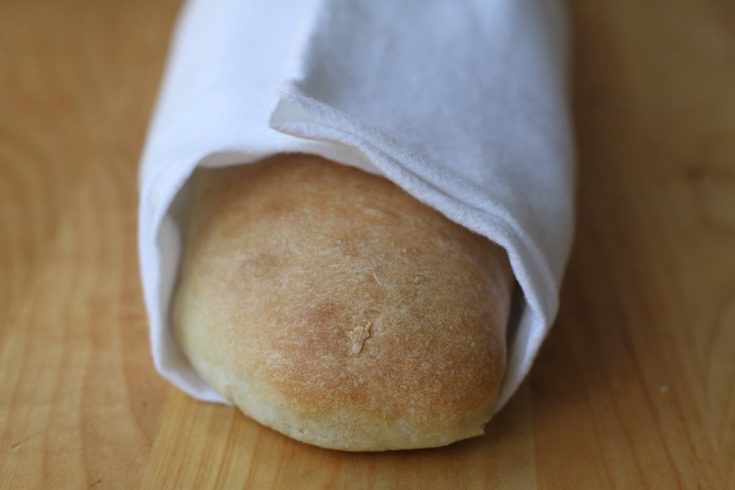 First, if you try making bread without a machine and you end up hating it, do check thrift stores near you. I see bread machines there all the time, so you might be able to replace yours on the cheap. Craigslist is probably another good place to find an inexpensive used one.
Secondly, I do use my Kitchen-Aid to start my bread dough. After a good mixing, there's not a ton of kneading left to do. I could use the dough hook in the Kitchen-Aid to do the kneading, but I prefer to do it by hand.
Why? I feel like I have better control of how much flour I'm adding when I knead by hand. Also, I frequently am making a pretty large batch of dough, and it's tough to keep the dough from climbing up the dough hook when I've got a lot of dough in the bowl.
But if you try kneading in the Kitchen-Aid and you totally love it, I say go for it! No one is handing out gold stars to people who knead by hand, after all.
Thirdly, here are some recipes I'd recommend for starting out.
This is a batter bread, which is made with a really soft dough that is simply mixed in the mixer…no kneading required. Super-duper easy!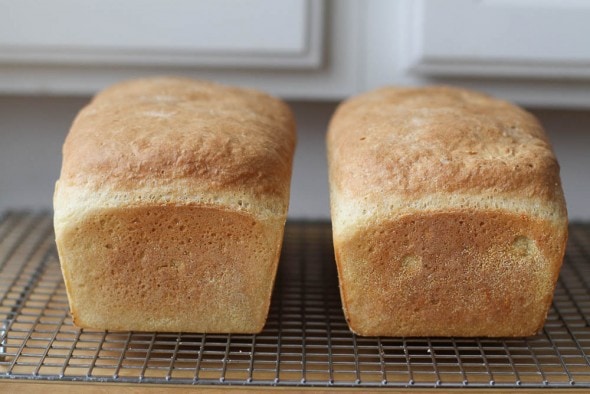 Lots and lots of beginning bread bakers have used this recipe with success, so I feel confident in recommending this one to you.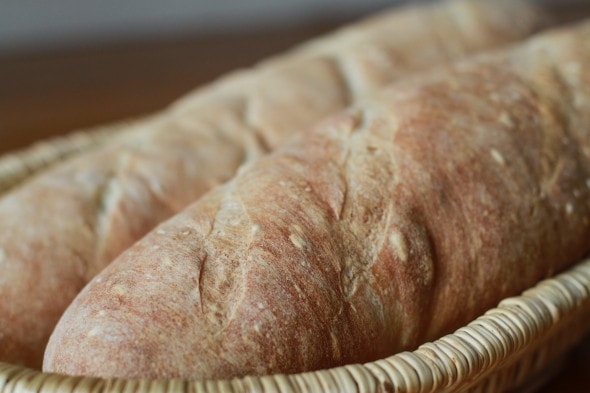 These are super soft and fluffy, and so delicious, I'd rather eat one than a donut! My fluffy hamburger bun recipe is very similar.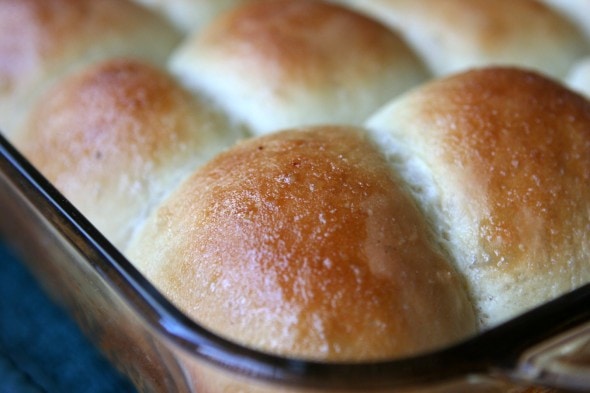 This is our breakfast toast/lunch sandwich mainstay. It's not 100% whole wheat, which makes it a little fluffier and more fool-proof than 100% whole wheat recipes.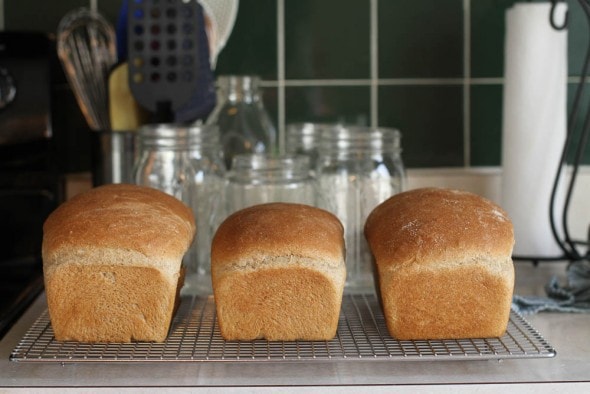 Is buying beef in bulk worth it?
I am on the fence. I can get 1/4 organic grassfed cow at about $6/lb. that sounds like a fantastic bargain BUT I would need to purchase another freezer. I have an under drawer in the main fridge, the upper in a "beer fridge" and a smallish square chest freezer. These are always full of extra meat, stock and bones/veggies for stock. My main is full of the usual daily needs type items.
We eat beef maybe 2-4 times per month. Is it going to go bad on us? We are a family of 4 where kids are 6-girl eats like horse; 3-boy only wants candy, fruit or yogurt!
I am considering an additional stand up freezer with shelves because I am putting in so much fruit to grow in the yard. But it will be 2-4 years before its fully established and making it a good idea to freeze for winter.
Do I need all that meat? Is it worth also buying a freezer? Can I commit to always buying my meat this way? What about the other meats? We eat tons of chicken and fish.
-Holly
Whether or not it's worth it for your family depends on a lot of factors.
Regarding the freezer: I would be inclined to get a chest freezer rather than a stand-up freezer. A non-self-defrosting chest freezer will keep your food fresh and not freezer burnt (the self-defrosting cycle contributes to freezer burn.) I've stored my beef in my chest freezer for over a year and it's still tasted fresh!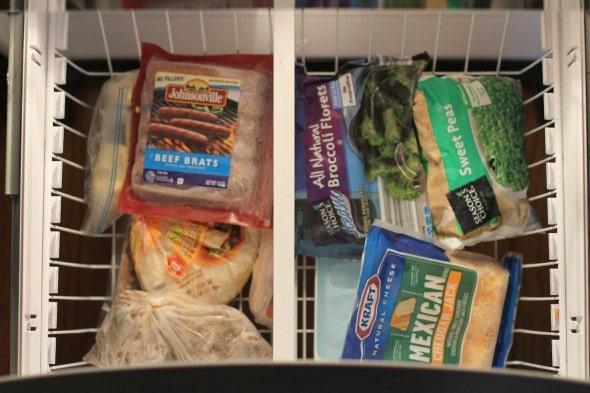 If you bought a decently-sized chest freezer, could you maybe get rid of your smaller chest freezer, thus consolidating a bit?
I personally adore having a chest freezer because it allows me to store my bulk beef and also seasonal food (like all the applesauce I make in the fall, or the berries I freezer in the summer). I'm not sure I'd buy one JUST for beef purposes, but since it sounds like you'd also use it for other purposes, it might be worth it for you.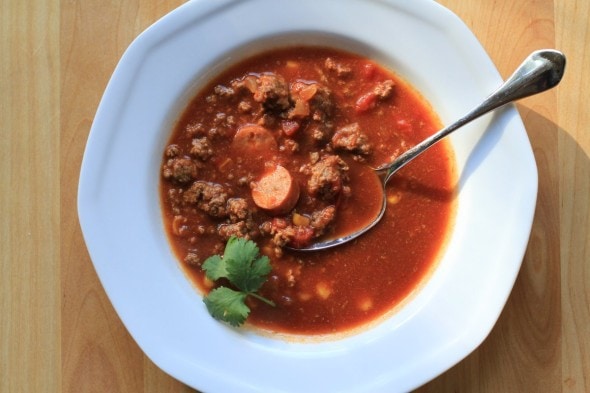 If you only eat beef 2-4 times per month, a quarter of a cow will probably last quite some time for you, but if you have a chest freezer, that shouldn't pose an issue.
Since I started buying bulk beef, we end up eating a little more beef and a little less chicken, just because the beef is available. You might find yourself subtly shifting in that direction once you have a freezer full of beef too, so you may go through it faster than you think.
_________________________
Readers, what are your thoughts on the beef/freezer issue? What would you do?
And what bread recipes would you recommend for Jo?

The floor is yours.