Item #3 today was particularly spendy…but not as spendy as it COULD have been. 😉
1. I got my book club book for $0.99
I accidentally forgot to get this month's book from the library. Book club is on Thursday and I realized this on Sunday. That left no time for my usual cheap-book-acquisition practices! What to do??
I looked at buying the Kindle version and then saw it was free with Kindle Unlimited. So I signed up for a $0.99 two-month trial and downloaded the book.
And while I was at it, I ordered next month's book on eBay for $3 (it is unavailable at my library).
2. I saved $94 on an eye doctor bill
Cigna processed my claim as out of network for some odd reason, even though this doctor is most definitely in-network.
So you know what's coming next: I called them. I (nicely) dispute every medical billing error I find!
(Sometimes I think Cigna is probably very tired of me. But on the other hand, if they stopped making errors, I would stop calling them.)
At first, the phone rep told me, "Yep, this was an out-of-network service." but I politely pointed out that Cigna's own website lists this doctor as in-network. So, after a hold where she chatted with an adjuster, she was able to reprocess it as in-network. Yay!
So, a $94 refund should be coming my way.
3. I used a Hershey Park discount
I got an email from them offering good-for-any-day tickets at the kid price vs. the adult price.
This is still pretty expensive, but it is less outrageously expensive this way.
So, I bought three, and I will take Zoe and a friend there for a day this summer.
I also bought pre-paid parking, which will save me $5.
4. I took advantage of a Native deodorant sale
I keep meaning to finish my post about this, but I switched away from conventional deodorant a few years back, and Native is my favorite non-conventional brand.
It is definitely not cheap in comparison to conventional deodorant (it's usually $13/stick!), so I try to keep an eye out for deals on it. I got an email saying that Native was having a 20% off sale, so I bought a three-pack (a discount is automatically included there) + a single, and used the 20% off coupon on all of that.
And that was enough to qualify for free shipping.
So, I got four deodorants shipped to me for a total of $36, which works out to $9/apiece. I'm guessing these four will last me a year, so that works out to about $0.09/day, which is quite reasonable.
(Hmm. I just saw that you can get a three-pack on Amazon for $29, so that's pretty close to the deal I got from Native directly. Although it always feels slightly better to buy direct than through Amazon. Heaven knows Amazon gets enough of our money!)
5. I used a $5 Grove credit
They randomly sent me a $5 coupon, plus I had $25 in credits in my account, so I got a whole box of stuff for $7 out of pocket.
Yay!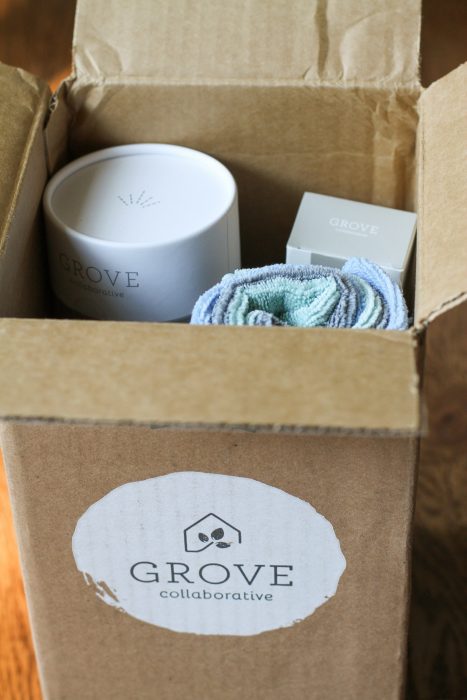 FYI, Grove is most definitely not the cheapest place to get cleaning products these days, but they do usually have a good introductory offer for new customers…you can check out the current offer here.
Your turn! What frugal things have you been up to?