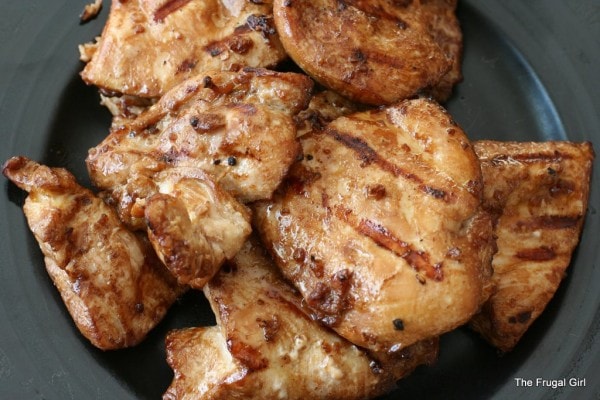 This recipe is so simple and easy, I almost feel silly sharing it with you…I could just link to the recipe on the Taste of Home site and be done with it, really. But, in case you are the sort of person who really needs a good nudge in the form of pictures before giving a recipe a try, I'm here to help!
This recipe is perhaps not as frugal as a lot of the recipes I've shared here before because it consists of just…meat. It's actually pretty rare for me to serve any sort of meat on its own as a main dish, as I'm far more likely to use meat as an ingredient in a dish. But sometimes, I need to make something very easy or I will end up resorting to takeout of some sort. And compared to takeout, this dish is very frugal.
Here's how to make this dish.
Combine all the marinade ingredients, and pour over your chicken pieces. I like to use boneless, skinless chicken breasts that have been sliced lengthwise into cutlets (just like I do when I make Chicken Tacos), but you can use bone-in chicken pieces if you prefer.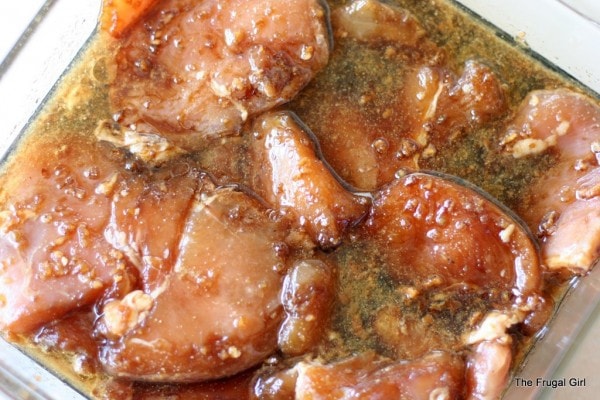 You can put the chicken and the marinade in a plastic bag, but then you'd have to throw the bag away afterwards, and I'm not a big fan of that. So, I just put the chicken and marinade in a glass dish.
Let the chicken marinate for 2-8 hours (I find that chicken breasts are sufficiently marinated in just a few hours, which is good to know for those days where you haven't thought ahead about dinner. Not that I ever end up in that situation. Ahem.).
Cook the chicken breasts on a preheated grill for 5 minutes on each side, or until cooked through.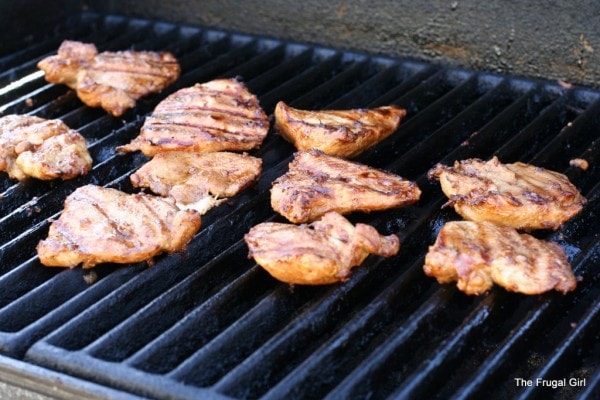 Let the chicken rest on a cutting board for 5 minutes before serving.
The marinade in this recipe acts like a brine, and like a brine, it makes the chicken dense, moist, and delicious. You really should give it a try.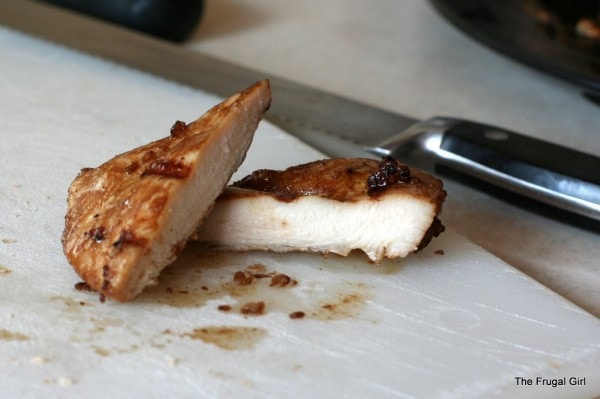 Because it's always good to have more recipes in your anti-takeout arsenal. 😉
If you want more meal ideas, check out the other main dish recipes I've posted.
Tropical Island Chicken (printable version on Taste of Home's site)

Ingredients
1/2 cup soy sauce
1/3 cup canola oil
1/4 cup water
2 tablespoons dried minced onion
2 tablespoons sesame seeds
1 tablespoon sugar
4 garlic cloves, minced
1 teaspoon ground ginger
3/4 teaspoon salt (I don't usually add this)
1/8 teaspoon cayenne pepper
2 broiler/fryer chickens (3 to 4 pounds each), quartered, or chicken pieces, or boneless skinless chicken breasts

Directions
To make marinade, combine the first 10 ingredients. Place chicken pieces in bowl or dish. Remove 1/3 cup of marinade for basting (I don't bother basting chicken breasts) and pour remaining marinade over chicken. Cover chicken and refrigerate for 8 hours or overnight.
Discard marinade. Grill chicken pieces, covered, over medium-hot heat for 45-60 minutes or until juices run clear, turning and basting often with reserved marinade. Grill boneless chicken breast cutlets for 5 minutes or each side, or until juices run clear.