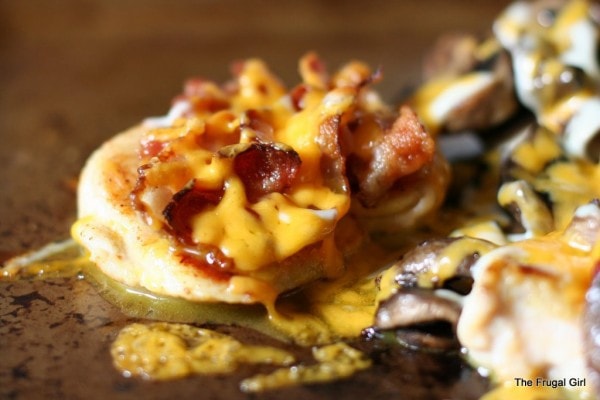 When I last posted this meal in my weekly menu plan, someone asked me why exactly this is called Aussie Chicken (it's not because it's made with vegemite!). As far as I can tell, this is a knock-off recipe of a dish that used to be served at Outback Steakhouse, and that's how it got its name. Given that Outback doesn't exactly serve authentic Australian food, this recipe probably should have a different name.
But, "Bacon Mushroom Honey Mustard Chicken Topped With Cheese" is a much more unwieldy title, so I'm going to keep calling it Aussie Chicken.
This is not as frugal as something like beans and rice, but it is way cheaper than takeout (you can make pretty much anything at home and save money over takeout!), and as long as you get your chicken and bacon on sale, this is also going to be cheaper than a meal made of prepared foods.
I usually serve this with a spinach salad so that there's some redeeming nutritional value in the meal. Because bacon, cheese, and chicken are a tasty combination, but I wouldn't say they're a nutritional powerhouse. 😉
I found my recipe on allrecipes.com a number of years ago, but I've seen lots of variations of this floating around in magazines and online.
Here's how I make mine.
I combine mayonnaise, honey, mustard, corn syrup, and dried onions with a whisk. If you use a spoon, the mayonnaise will stay in lumpy white bits.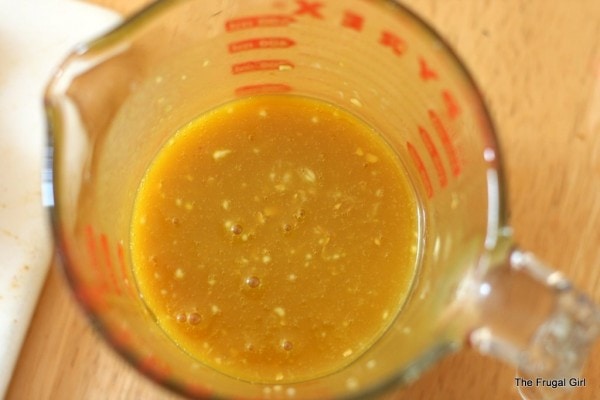 The white bits in mine are the onions. I don't have any mayo lumps, thank you very much!
Then I sprinkle seasoned salt over my chicken breasts. You can use SeasonAll, but I just use the generic brand. I cut my chicken into thin cutlets just like I do when I make Chicken Tacos. Because I don't do big lumps of chicken meat (at least, not well!).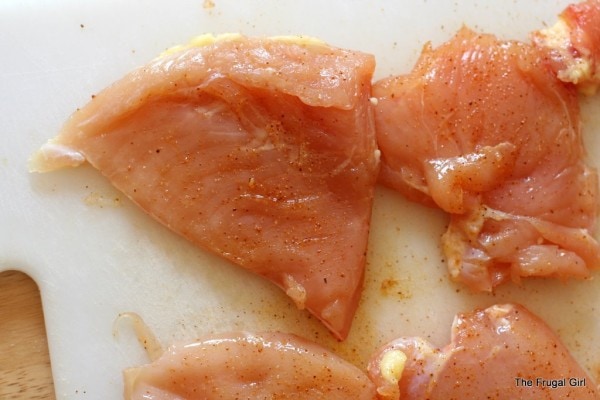 Then I heat my cast iron skillet and cook up some bacon slices and some sliced mushrooms.
(it was kind of dark when I took this picture…I apologize for the blurry bacon and mushrooms!).
After that, I cook my seasoned chicken breasts in the same skillet, which gives them a lovely bacon-ey flavor. I completely forgot to take a picture of this step. But, if you have thin chicken cutlets like mine, this should only take about 5 minutes on each side.
Place the chicken breasts in a baking pan, brush them with the honey mustard mixture, top them with bacon and mushrooms, and sprinkle with shredded cheddar cheese.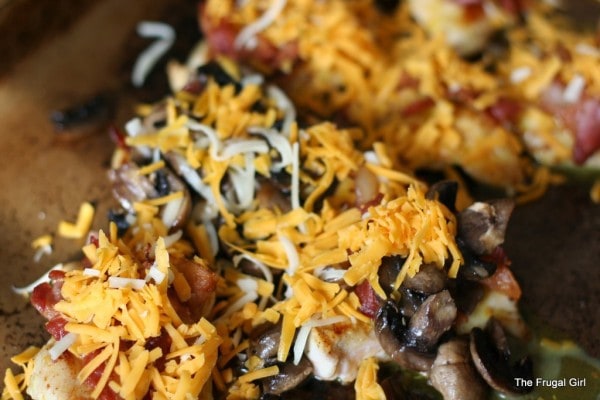 Bake at 350 for 5-10 minutes or until cheese is melted.
My kids and I aren't big fans of mushrooms, so I make some with.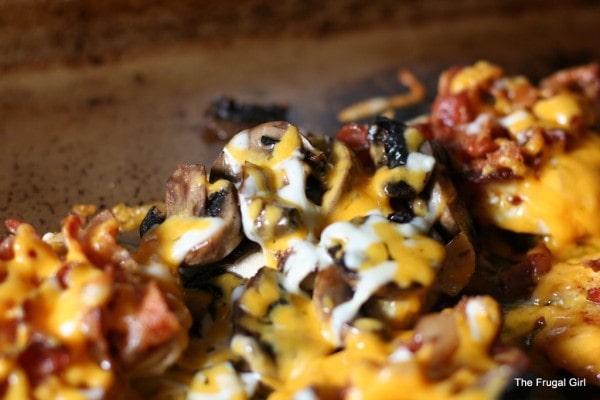 And some without.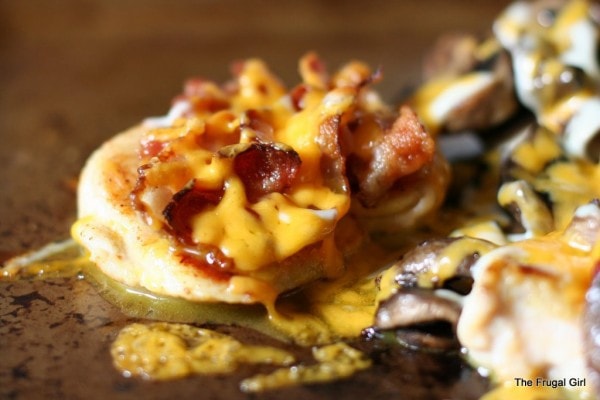 This is the one area my husband has a leg up on me when it comes to eating vegetables. I eat almost everything else under the sun, but I am not a mushroom fan!
Happy cooking, and I hope your chicken is delicious, with or without the mushrooms. 😉
Aussie Chicken
Printable Aussie Chicken Recipe
Chicken
4 skinless, boneless chicken breast halves – pounded to 1/2 inch thickness (I just sliced mine in half to make cutlets)
2 teaspoons seasoning salt
Sauce (I halve the sauce, but if you really love honey mustard, you might not want to halve it!)
1/2 cup prepared yellow mustard
1/2 cup honey
1/4 cup light corn syrup
1/4 cup mayonnaise
1 tablespoon dried onion flakes
Toppings
6 slices bacon, cut in half
1 cup sliced fresh mushrooms
2 cups shredded Colby-Monterey Jack cheese
Directions
1. Rub the chicken breasts with the seasoning salt, cover and refrigerate for 30 minutes.
2. In a medium bowl, combine the mustard, honey, corn syrup, mayonnaise and dried onion flakes. Remove half of sauce, cover and refrigerate to serve later.
3. Preheat oven to 350 degrees F (175 degrees C). Place bacon in a large, deep skillet. Cook over medium high heat until crisp. Set aside. Saute the mushrooms in the same skillet until tender; set aside.
4. Place the breasts in the skillet and saute for 3 to 5 minutes per side, or until browned. Remove from skillet and place the breasts into a 9×13 inch baking dish. Apply the honey mustard sauce to each breast, then layer each breast with mushrooms and bacon. Sprinkle top with shredded cheese.
5. Bake in preheated oven for 15 minutes, or until cheese is melted and chicken juices run clear (if you use thin cutlets, they'll already be cooked through, so you just need to bake them for 5 minutes, or until the cheese is melted). Serve with the reserved honey mustard sauce.
Want more? Browse through the other main dish recipes I've posted, and give some a try. Because cooking dinner at home is one of the most effective ways to save money.